Back to School Shopping During a Pandemic
Parents face new challenges and higher costs for back to school spending in 2020
It's that time again: school starts this month for most of the country. But education will have a different structure for many. With stay at home orders still enforced in many regions, schools are taking the partial or full at-home learning route. This is increasing costs for parents, particularly since at-home-learning requires technology.
However, one thing hasn't changed: Your child still has a list of school supplies, but do you have a budget? If you don't, you aren't alone. We've compiled this year's best resources for controlling your school spending. Here's how parents are buying supplies this year.
How other families shop for back to school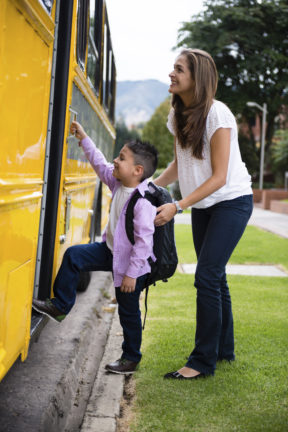 This year, families like yours will spend hundreds of dollars on school supplies, electronics, and clothes (kids are still growing, even if they're not in the classroom.). Before we break down how families spend their money, let's take a look at how they plan to tackle the shopping in general.  According to Deloitte's annual survey…
37% of parents expect to spend their budget online.
40% of parents plan to buy fewer traditional school supplies
81% of shoppers plan to shop at mass merchants, a.k.a. large retail stores such as Walmart or Target
Technology spending is up 28%
As for spending, the National Retail Foundation reports that it breaks down to the amounts in this infographic:
Get started with Consolidated Credit's Back to School Budget Calculator
Once you have your expectations all set, it's time to start creating your own back-to-school budget. Follow your child's school supply list if their teacher provided one and use the calculator below to create a personalized budget before you shop.
Prevent these shopping mistakes
If you follow the sales, stick to your budget, and only buy the items on your shopping list, you should be able to finish back-to-school shopping without breaking the bank. However, temptation is everywhere when you shop. In fact, a 2019 survey from RetailMeNot found that over half of parents shop for themselves while they look for school supplies. That's a lot of personal shopping!
It's easy to slip up and spend too much money on school supplies or buy things you don't need. Review these common mistakes before you start the process to make sure you're prepared.
Mistake No. 1 – Failing to create a budget
The first step any parent needs to take before leaving their house is to establish how much money they are able to spend on clothes and school supplies. Failing to do this can lead to overspending, which may result in people falling short for other expenses. That being said, it is important for consumers to examine their expenses so they are able to know exactly how much money they can spend without going over budget.
Mistake No. 2 – Not strategically picking a credit card to use
Often, parents will make back-to-school purchases on their credit card, but if they don't choose the right one this can lead to financial trouble down the road. For instance, the best card to use is sometimes the one with the lowest interest rate. It would also be smart to buy items with plastic that offers cash back rewards, but only if you can pay off the balance quickly; otherwise, you risk offsetting any rewards you earn with interest charges. Even consumers who believe they will be able to pay the balance in full should avoid buying their children's supplies with a high-interest credit card, as there are numerous things that could happen that can lead to them being forced to carry the balance and incur a lot of interest.
Mistake No. 3 – Not shopping online
When back-to-school shopping, many parents still choose the traditional route and go to physical stores, but this could be costing them money. Instead, consumers should stay in the comfort of their homes and shop online. Oftentimes, retailers offer discount codes during the months leading up to the new school year, and these aren't always available in stores. Additionally, free shipping is a staple of the back-to-school months, so there is no reason to head to the physical store, unless a local store happens to offer better discounts than you can find online.
Mistake No. 4 – Not buying on-sale items for the future
As the school year approaches, many retailers begin to discount items to get them off the shelves. At this time, parents should take full advantage and stock up for next year. Folders, notebooks and pencils don't go bad, so buying them at a steep discount could be a great money saver. Just make sure that you will use items that you buy in bulk. Supplies like glue or whiteout may not last long enough for you to use all of a bulk purchase before the quality starts to decline.