Free webinar helps parents save during the second most expensive shopping season of the year.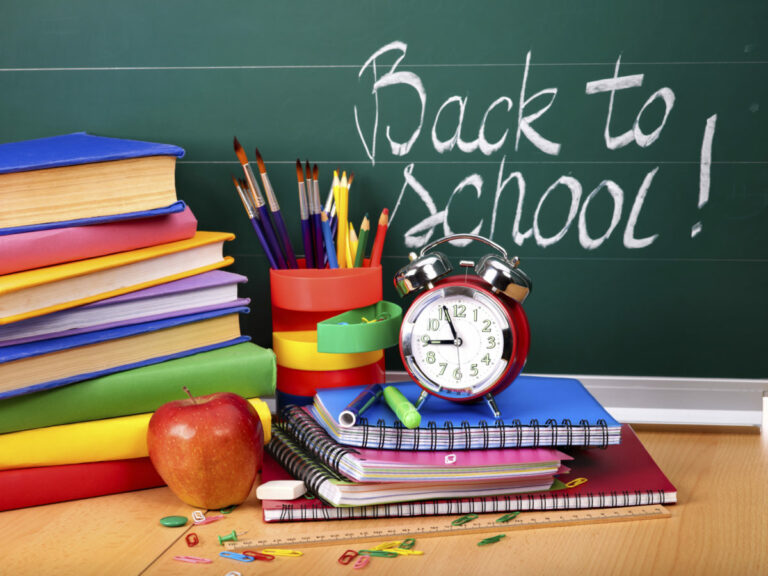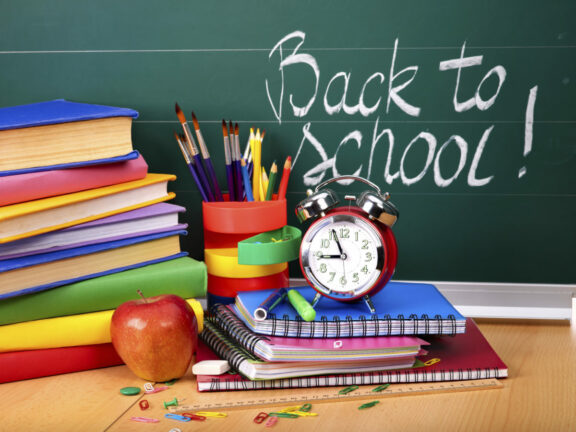 Back-to-school shopping is big business. Last year, parents spent nearly $40 billion – almost as much as the nation spends on holiday shopping. So, before your kids learn how to read and write, you need to learn how to save with some simple arithmetic.
With inflation on the rise, money is tight. The best thing you can do is plan ahead and make a list of what you actually need. Sure, Timmy wants a sweet pack of gel pens, but does he really need them? Back-to-school shopping shouldn't be a spending spree. Some states also have tax-free weekends before summer vacation ends. Taking advantage of those and other sales can help keep you on budget. You can also join Consolidated Credit's certified financial coaches on Jul 13 for a free class in saving cash on back-to-school shopping.
Featured Video
How to Get an A+ on Your Back to School Shopping
Get a sneak peek of what you'll learn in Consolidated Credit's Back to School Webinar, then Join us on July 13 at 1:00 p.m. to learn how to save smart on back-to-school shoppig.
Your kids may not be ready to think about a new school year, but you should be. Because there's no better way to save than to start early, and Consolidated Credit's certified coaches are here to help with a free webinar. Learn how to buy online for less and save more with your kids' help. Sign up for "Back-to-School Shopping A Class in Saving Cash" today and then tune in on July 13th!
Average back-to-school costs
When it comes to back-to-school shopping, parents spend almost as much as they do on Christmas. And the amount spent just seems to keep rising. Families with children from K-12 plan to spend an average of $848.90, a $59 increase from last year. This absurdly high number helps explain why 1 in 3 parents EXPECT to go into debt.
But maybe they don't have to.
If you believe that you are struggling to meet the demands for your child this year, join us on Wednesday, July 13th for our free webinar "Back-to-School Shopping: A Class in Saving Cash." Find out how to properly budget and make sure you pass your back-to-school shopping class.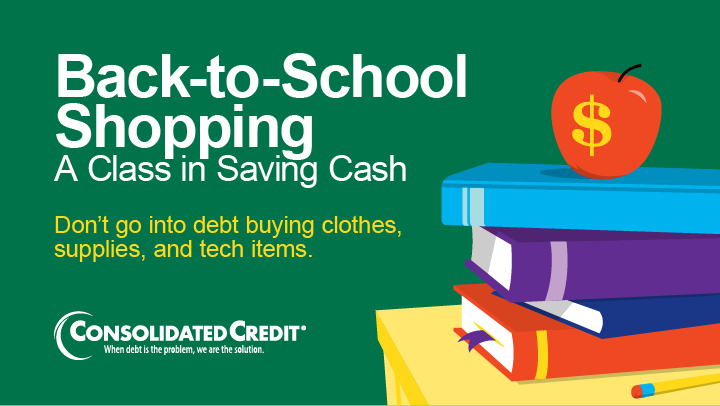 Webinar On Demand
Back-to-school season brings stress and headaches, but it doesn't have to be that way. We have a few tips and tricks that can help ease your shopping experience with the kids.
See Details
Get started with Consolidated Credit's Back-to-School Budget Calculator
Once you have your expectations all set, it's time to start creating your back-to-school budget. Follow your child's school supply list if their teacher provided one, and use the calculator below to create a personalized budget before you shop.
How to save on school supplies and clothes
Make sure you have a back-to-school budget
If you don't already have a budget, start one. Back-to-school shopping will be a yearly expense until your kids graduate from college, so help yourself out by setting money aside every. Factor in regular items such as clothing and food. Don't forget school uniforms as well as clothing and supplies for extra-curricular activities. Some schools have very specific dress code rules or uniform requirements, so make sure you're up to date on those.
Keep on top of required back-to-school technology
If your school does any part of their curriculum online, then your kids may need certain technology to log in and complete their work. For example, the Washington D.C. public school system states that devices can be Windows 10, macOS, or IOS but recommends against Chromebooks and Android tablets. Additionally, make sure you buy clothing (or uniforms) that adhere to the school's dress code.
Shop in the right place at the right time
More than half of all K-12 shoppers don't take advantage of online sales events. Don't be like them. Pay attention to things like Amazon's Prime Day, Target Deal days, or Walmart's Deals. You can also time your purchases to take advantage of tax-free holidays. During these "holidays," some states give consumers the opportunity to buy clothing, school supplies, and certain types of tech without paying state taxes on the purchase.
That alone can save you a lot of money depending upon your state's tax rate. The tax-free weekend in your state also applies to qualifying purchases made online during that time.
Pair discounts with rebates to double up on savings
In addition to shopping on your state's tax-free weekend and taking advantage of retailer discount shopping days, also make sure you're shopping smart—especially if you shop online.
One of our team's favorite ways to save is to use internet browser extensions. These are add-ons that you can add through browsers like Chrome and Edge. They look for savings on websites as you shop. Apps like Honey search for coupon codes that give you a discount at checkout. Apps like iBotta or Rakuten look for rebates, so you get cash back on purchases. You can use both at the same time. So, you can get a discount at checkout and then get cash back. This helps maximize your savings!
If you're having trouble balancing your budget because of credit card debt, we can help. Talk to a certified credit counselor today for a free debt and budget evaluation.