Tax-free weekends for back-to-school can help you save.
Attention all parents and students who are looking to save— back-to-school tax-free weekends will be starting this month and continuing through early September. Tax-free weekends are an easy way to save because they eliminate the state sales tax on certain back-to-school shopping items.
What is a tax-free weekend?
A tax-free weekend or tax-free period is when a state that typically has sales tax waives it for certain purchases for a set amount of time. In most states that have a tax-free period, items are only tax-free up to a certain dollar amount. This means that a single item must fall below a certain price to qualify.
There are also usually exclusions. For instance, a common exemption is for sports equipment and protective gear. Some states, such as Alabama and Missouri also allow counties and municipalities to opt out of participating in their tax-free period. This means that you may have to leave your area to take advantage depending on where you live.
Shopping during a tax-free weekend means saving money you would normally have spent on sales tax.19 states have a tax-free weekend or week for back-to-school shopping. In addition, one state—Illinois—will not waive their sales tax but suspend the 1% low-rate tax so the tax rate will be 0%. Note: in the state of Illinois, this only applies to grocery items under a certain price threshold.
When is my state's tax-free weekend?
The days your state's tax-free weekend will fall on usually depends on when the school year starts in your state. Eight states—Arkansas, Iowa, Missouri, New Mexico, Ohio, Oklahoma, South Carolina, and West Virginia—all have their tax-free weekend on the weekend of August 5th this year. However, nine other states have their weekends throughout the month of July.
A few states actually have a tax-free period longer than 2-3 days, rather than just a weekend. Connecticut, Florida, Illinois, Maryland, Missouri, New Jersey, and Tennessee, all have tax-free periods of 6 days or longer.
5 states are tax-free year-round
If you live in one of these five states, you don't pay sales tax regardless of what time of year it is. Thus, they have no tax-free weekend or week.
Alaska
Delaware
Montana
New Hampshire
Oregon
In Oregon, New Hampshire, and Delaware, tax-free means no sales tax at all, including local taxes. However, in Montana and Alaska, local sales tax is still allowable. So, you may end up paying minimal local sales tax in certain counties and municipalities.
What items are included in tax-free weekend?
Most states limit the products that are exempt from sales tax during these weekends. In most cases, you can only buy clothing, shoes, accessories, and electronics for school tax-free. In almost all states there is also a dollar limit per item. This applies unless you live in South Carolina, where there's no limit on price. This table shows a typical breakdown of spending limits on back to school purchases:
| Item | Spending Limit |
| --- | --- |
| Clothing | Up to $100 per item |
| Shoes | Up to $100 per item |
| School Supplies | Up to $20-50 per item |
| Computers | Up to $500- $1500 |
Again, these limits vary by state, so tap on your state on the map to see the restrictions there. You can also click or tap on the source link in your state's map for increased information for your area. You can also visit your state's Department of Revenue website for more detailed information.
Have states increased tax-free spending limits in 2023?
Unfortunately, most states have not increased the spending limit caps on back-to-school items listed above. So, despite the fact that prices are higher on almost everything this year thanks to inflation, most states kept their limits where they were last year. Only Florida seems to have increased the spending limits over the last few years. For example, in 2021 Florida's tax-free cap on computers was $1,000, in 2023 it's now $1,500.
Shop strategically on your tax-free weekend
There's a good reason to take advantage of no sales tax if your state offers it. The back-to-school shopping season is the second most expensive time of year for families with children attending school. Experts say K-12 parents can expect to spend an average of $864 each year on back-to-school shopping. College families can expect to spend $1,334.
"Back to school just keeps getting more expensive each year, and even more so this year after kids were learning remotely at home for the past few semesters," says April Lewis-Parks, Education Director for Consolidated Credit. "If you want to avoid credit card debt, you need to take advantage of every opportunity you can to save money."
These tips can help you save money over your tax-free weekend:
Set a budget for how much you want to spend over the weekend: Check your budget and see how much cash flow you have available to spend that weekend. Try to avoid spending more than that, since any extra purchases would end up on a credit card.
Start with the most expensive items first: For example, if you're buying school supplies and electronics, buy the electronics first so you can make sure to get those items tax-free.
Pair a tax-free weekend with other sales to maximize your savings: This year, retailers are offering big sales to try and drive more business following the huge dropoff in sales during the pandemic. Look for sales and see if you can double up on savings. Check for coupons, follow your favorite retailers on social, and sign up for their emails to get details on exclusive sales.
Consolidated Credit's financial coaches are also here to help you save. We have monthly webinars that will help you maximize your savings on back-to-school shopping and more, find out more here.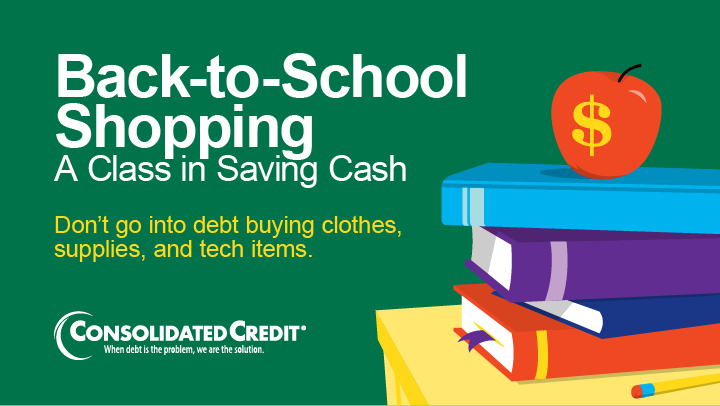 Back-to-school season brings stress and headaches, but it doesn't have to be that way. We have a few tips and tricks that can help ease your shopping experience with the kids.
Date & Time
Wed , Jul 12 | 01:00 pm – 02:00 pm
Online Service
GoToWebinar
See Details