COVID-19 Financial Relief Guide for Hospitality Workers
Dealing with unemployment or loss of income brought on by the current crisis.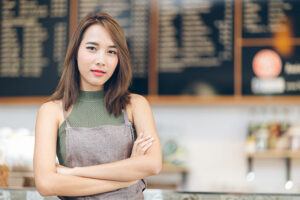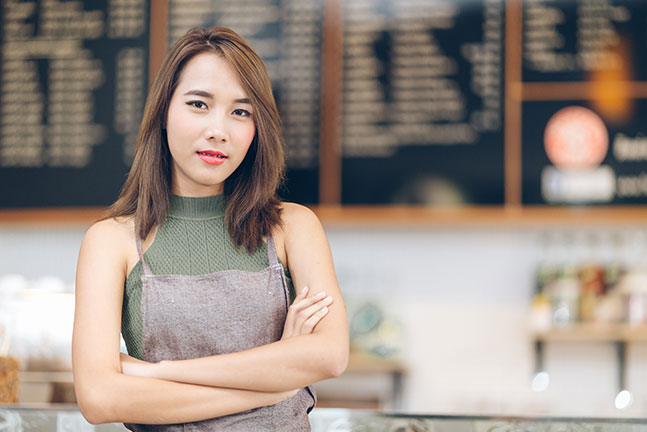 Asian Woman Startup Ownership with Apron Restaurant – Small business owner people concept.
The hospitality industry has been one of the hardest hit by COVID-19. Layoffs for restaurant workers, bartenders, hotel staff, and other service professionals are staggering.
Nearly half a million hospitality professionals lost their job in March, accounting for nearly two-thirds of the jobs lost last month.[1]
The National Restaurant Association predicts 5 to 7 million service professionals will lose their jobs if the shutdown continues for three months.[2]
"This crisis is overwhelming for people working in the service industry," says Gary Herman, President of Consolidated Credit. "No one knows when restaurants, bars, and hotels will be open for business again, or once they are how quickly the industry can bounce back. People need help now."
To help people in the service industry get through the economic crisis caused by COVID-19, Consolidated Credit has put together this financial relief guide. We hope that it will help direct you to resources and income solutions that you may not have considered.
If you have questions, you can call Consolidated Credit's Financial Hotline at 800-745-2513 for free financial counseling. Certified counselors are available Monday – Friday from 8 am to 10 pm (Eastern Standard Time).
Applying for Unemployment Insurance Benefits
The U.S. Department of Labor has expanded the guidelines for qualifying for unemployment insurance (UI).[3]
Even if you haven't been fully laid off from your job, you may be able to qualify through your state's program. The new guidelines allow you to qualify for UI:
if your employer temporarily closed due to COVID-19
you're unable to work because of a quarantine order
you left due to a risk of exposure, infection, or to care for a sick family member
If you are on paid sick leave, you would generally not qualify. Otherwise, this is a good path to pursue.
Each state has different rules for unemployment insurance benefits. You can look up the benefits for your state through CareerOneStop.org.<
Take note of:
if you meet the eligibility requirements in your state
how much you can receive
how long you can receive benefits
This information will help you plan accordingly. You will be able to estimate how much of your budget you can expect to cover with UI.
Most state programs allow you to file for UI online or over the phone. Due to the high volume of claims being made, phone lines may send you straight to a recorded message to try back later.
Filing online will help you get your claim in as quickly as possible and help you avoid the stress of trying to get your call through.
In normal circumstances, the Department of Labor says that it can take up to 2-3 weeks to begin receiving benefits.[4] In the current situation, you may need to plan for benefits to take extra time to receive.
Explore hospitality relief funds
There is a range of relief funds and grant programs for restaurant workers, bartenders, and hospitality workers. These programs aren't a long-term solution, but they may provide extra cash to replace at least some of your income while you wait for businesses to reopen.
Restaurant Opportunity Centers United has a comprehensive list of national resources for hospitality workers, as well as state listings.
Check with your state's Restaurant or Hospitality Trade Association, which may have additional local programs you can research
Contact the hotel chain or restaurant group that you are or were employed through. Companies such as Marriott have their own programs.
Be aware that most relief funds and grant programs provide limited amounts, usually as a one-time distribution. Apply for as many programs as possible to supplement as much lost income as possible.
Seeking out other sources of funds
Besides UI and hospitality relief programs, there may be some other avenues that you have available to get some much-needed income.
Tips for addressing challenges with bill payments
Depending on your situation, you may be forced to make some tough choices when it comes to your budget. The important thing to keep in mind is that many service providers, creditors, and lenders have programs set up to address payment issues caused by COVID-19.
"Talk to your providers and creditors if you're having trouble making a payment," Herman encourages. "An open line of communication may be key to getting relief without ruining your credit. Ask about forbearance, which can pause or reduce your payments. But talking to someone is essential. Don't hide because you could face late fees, penalties, and added stress that you don't need"
Advice if you still have a source of income
"It's imperative that you do everything you can to shore up your finances if you still have income coming in," Herman advises. "If shutdowns continue, you may still face layoffs or severe pay cuts. Being proactive can put you in the best possible position if the worst happens."
Cut anything that's not absolutely essential from your budget. As hard as it may be, cut back streaming services and cancel any subscriptions you can. Limit yourself to one streaming service, so you're not left without any entertainment
Pad your savings as much as possible. Find items you can sell, file your tax returns to get your refund and deposit all of your stimulus into savings when you get it
Avoid credit card debt whenever possible. Adding to your balances now is risky right now. Balance your budget to avoid new debt
If you're currently carrying balances on multiple credit cards that you need to pay down, consider a debt management program. It's a repayment plan for credit cards that can help minimize or even eliminate interest charges. This will help you pay off your balances faster and may lower your monthly payments as well.
"We recognize that service professionals need help," Herman says. "In addition to the shutdown hotline, we're waiving setup fees on debt management programs for hospitality workers and other service professionals effected by COVID-19. If you have the means to start paying down your debt, we want to make that as easy as possible."
Call Consolidated Credit's free hotline at 800-745-2513 for free one-on-one financial counseling.