Winter storms have swept across the country, hitting Texas particularly hard with massive power outages, rolling blackouts, supply shortages, and burst water pipes. Extreme weather events like these often cause significant financial challenges to people living in the affected area. With that in mind, Consolidated Credit has established a toll-free disaster relief hotline to help people struggling with bills and high credit card balances in the aftermath.
Certified credit counselors and HUD-certified housing counselors are on standby now at 844-331-7534. They can answer your questions and help you find the best way to recover without facing a second disaster with debt. The disaster relief hotline will remain open through the end of May 2021 to help Texans deal with the ongoing financial challenges that follow an event like this.
"Natural disasters are one of those unexpected life events that can derail even the best-laid financial plans," says Gary Herman, President of Consolidated Credit. "Particularly with a storm like this, people may be facing property damage and increased credit card debt from emergency spending. We want to make sure people have access to the resources they need to recover. We also want to help those facing challenges with credit card debt to regain stability as quickly as possible."
Infographic
Use this infographic to know what steps to take to get disaster relief in Texas following these extreme winter storms….
Read more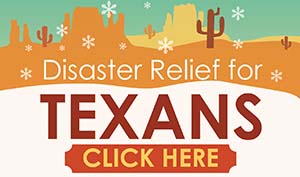 A debt management plan can offer relief from credit card debt
In addition to the free hotline, households in the affected can take advantage of discounted rates on Consolidated Credit's debt management program.
"Whether you had existing credit card debt before the storm that's now creating stress on your budget or you've incurred new debt in your efforts to recover from the storm, we can help you develop a plan to pay it off," Herman explains. "Our team will work with your creditors to reduce or eliminate interest charges that are currently being applied to your balances. This can provide relief by reducing your total payments by up to 30 to 50%."
All Texas residents can call 844-331-7534 for free guidance
On February 14, the Federal Emergency Management Agency (FEMA) announced that federal emergency aid has been made available to all 254 counties in Texas. There are two types of assistance available under this emergency declaration—Public Assistance and Individual Assistance.
Public Assistance is available in all 254 counties, which address repairs to the community. Individual Assistance (IA) provides help to individuals and households affected by a declared disaster. Currently, 126 Texas counties have been approved for Individual Assistance.
DisasterAssistance.gov is a helpful tool that Texans can use to see if their county has been declared for Individual Assistance. Simply search by your zip code or city to see if your area has been declared for IA. If so, you can Apply Online directly through that website.
"We've extended our disaster relief program to all residents in Texas, regardless of which county they reside in," Herman says. "We want to make sure that every resident of Texas has access to the help that they need."
Make sure you're prepared for the next storm
Major weather events can do significant damage to your finances. Don't wait for a storm to hit. This free guide can help you prepare for extreme weather, so you can avoid a financial disaster.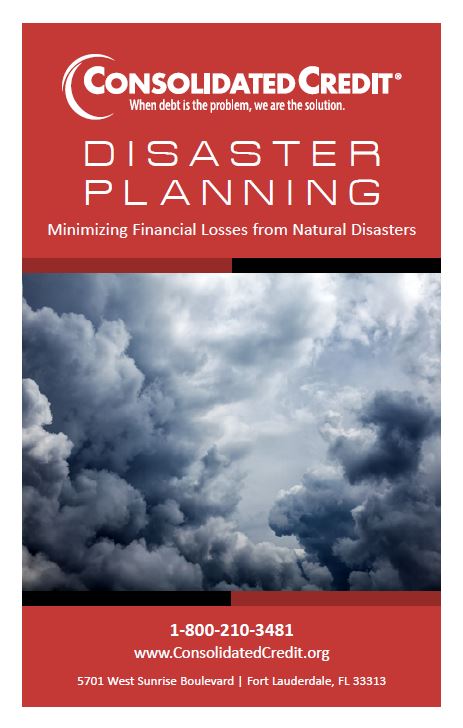 Booklet
Disaster Planning Guide
Financial Planning
Natural disasters can derail even the best laid financial plans. Whether you live in a hurricane, tornado or flood zone, or an area prone to wildfires or winter storms, it's crucial that you get prepared to keep yourself, your family, and your finances protected during the storm. This guide teaches you how to prepare, so you can minimize financial losses.
Open Booklet
Download Booklet