Celebrate a graduate without racking up credit card bills.
Graduation is such a huge accomplishment in a child's life, whether it's from high school or college. So, it's understandable that parents want to go big with graduation parties for their children. Throwing a graduation party on a budget can be a challenge, but with the right plan you can celebrate your grad without breaking the bank.
This infographic reveals some key statistics about high school and college graduation 2023 and average graduation party and gift costs. Below the infographic, you will find some tips that can help you plan a graduation party on a budget.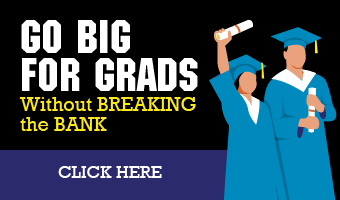 • Between 3.4 and 3.5 million students are expected to graduate high school in 2023 • College Enrollment: o 17.9 million students enrolled around the US o 15 million in an undergraduate program o 3.1 million students enrolled in a graduate program o 8.6 million pursuing bachelor's degree o Around 63% of students are full-time • Gifts for Grads: o 8,297 people surveyed by NRF, 1 in 3 plan on buying a gift for their grad o $114.89 average gift amount o $5.8 billion total spending  That's enough to buy • The third most valuable professional soccer team, Manchester United • Top Graduation Gifts o Cash – 52% o Card – 37% o Gift Card – 31% o Apparel – 16% o Electronics – 11% o Other – 4% • Party Planning o 32% plan to have a big party o 31% plan to have a small one o $1,128.51 average cost of graduation party for 60 people o $18.81 cost per attendee o What you get for that:  Food  Drinks  Decorations  Tables  Serving ware  Bluetooth speak for entertainment
Smart ways to save on a graduation party
A graduation is such a significant milestone it deserves to be celebrated! There's no reason to blow your budget to make a lasting impression. Try these original ideas instead to create a memorable party.
Set a realistic budget
Before you start planning anything, you need to know what budget you have to work with. So, it's time to check how much savings and cash flow you have to put into the party plan. Review your budget to see how much you can save up from each paycheck before the party will happen.
Your goal should be to set a budget that allows you to pay for everything upfront instead of relying on credit card debt. So, you need to know what you have available so you can plan accordingly.
If you're a co-parent, make sure to talk to your counterpart to get an idea of what they can contribute as well. Together, you can talk about your graduation party budget and the plan.
Co-host the event
If your graduate has a long-time friend graduating at the same time, consider co-hosting the graduation party with their family or with a group of families if there's a close friend circle. That way, everyone can split the cost and no one is overburdened.
Otherwise, if another member of the family is graduating simultaneously, consider overlapping the two events and blending the parties and budgets together for a grander event.
Choose a theme that gives you room to get creative
Picking out a theme that resonates with your graduate can make it easier to choose décor and food for the party. It may also give you room to get creative for decorating and celebrating on a budget. Think about your grad's interests and how you can turn those into a fun theme. If you're unsure, get in touch with their friends and see if they have any insight.
Limit your guest list to close family and friends
One easy way to limit your graduation party budget is to limit the guest list. That average graduation party price tag of $1,128.15 in the infographic above if for a party for 60 people. That comes out to $18.81 per person.
If you cut the guest list in half, you cut the budget in half too. A party for 30 people would be just $564.30.
So, consider keeping things intimate with close friends and family. Just make sure to double-check with your guest-of-honor and make sure they are happy with the guest list.
Choose a low-cost venue like someone's home or backyard
If your graduate wants to have a casual backyard party or wants to enjoy festivities in the comfort of a home, then consider those options. The advantage of this is not having to spend big. The downside is needing help cleaning up. However, a little labor beats forking over a large wad of cash for a one-time event.
Send e-vites instead of paper invitations
Gone are the days of personalized, hand-written invitations. So, head over to a website like Canva.com that offers a wide range of free editing options and create personalized electronic invites.
Keep decorations to a minimum
Decorations can end up costing a pretty penny. So, make use of any older decorations and repurpose them. Now is the time to get crafty! Otherwise, consider shopping at a dollar store to get the essential decorations for a much cheaper price.
Skip the caterer and make it a potluck or put your cooking skills to the test
A caterer makes things easier because they prep everything and clean up after themselves. But if you're trying to keep spending at a minimum, consider hosting a potluck. All the family and friends of your grad can bring a dish that's memorable or special to the guest of honor.
If you would rather avoid burdening people with a potluck, you can always serve your own food. Find some themed recipes that you know your graduate would appreciate or you surprise them with their favorite dishes.
Make your cake and eat it too
Instead of having a bakery make the graduation party cake, put your own baking skills to the test. If you don't trust your own skills, reach out to someone in the family or a friend who has a natural talent and ask them for help or guidance. You can also consider doing smaller desserts like cupcakes instead of an extravagant and more expensive cake.
Create a unique hashtag
Skip the photographer and the hassle of disposable cameras or photobooths. Create a unique hashtag instead for your event. Then ask guests to snap photos and use the hashtag when posting to social media so everyone can get in on sharing photos. This will also help you keep track of all the memories of that night without having to fork over any money to develop the pictures.
If you want a photo area, make one yourself. Head to the dollar store or discount party store to get decorations for the background and fun accessories for guests to put in photos.
Price everything out and stick to your plan
Now that you have your party plan devised, write down everything you want to buy to make it happen. Make a graduation party spending plan that details all the decorations, food, drinks, and any extras you need to buy. Then head online and check some prices to price everything out.
Once you check that against your available budget and get it so you're spending within the limit you set, you're ready to start shopping.
Keep yourself from overspending by sticking to a plan. Stick to your budget and do not spend a dime more!
Balance your graduation party with graduation gifting
If you're going big on the graduation party, then it might make sense to find ways to scale back on the gift. A big party and a big gift could be a big problem for your budget.
To ease the burden of gift-giving, ask if close friends and family members want to pool money together for one grand gift. You can also ask everyone to bring cash gifts to the party instead. Then you can let your graduate decide how to celebrate their big achievement.
Having trouble balancing your budget and saving for big events? We can help. Get a free budget evaluation today.
Sources
[1] FinanceBuzz – Here's What It Costs To Throw a Graduation Party in Every State
[2] Census.gov – Census Bureau Releases New Educational Attainment Data