Texas Disaster Relief
Extreme winter storms led to power outages, rolling blackouts, and burst pipes in Texas. To help Texans recover, Consolidated Credit has put together this infographic that explains steps residents need to take. You can also find helpful information on where to find disaster relief resources.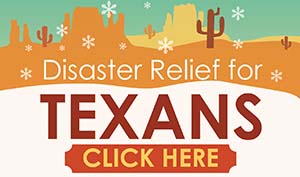 Disaster Relief for Texans How to handle your finances in the aftermath of the winter storm What You Need to Know about Electric Bills The Public Utility Commission of Texas (PUCT) instructed private utility companies: 1. Not to send bills to customers 2. Stop water/electric shutoffs due to nonpayment 3. Offer deferred payment plans when requested NOTE: Does not apply to municipally-owned companies or electric cooperatives. Is More Electric Relief Coming? Governor Abbott and the Texas State Legislature are currently meeting to discuss more relief for residents facing energy bill spikes. Dealing with Property Damage 1. Take photos of all property damage in good lighting 2. Report it as soon as possible to your insurance company 3. Keep all receipts for repairs and replacements 4. Don't throw out damaged goods until the adjuster visits Applying for FEMA Assistance If you have sustained damage: 1. Go to DisasterAssistance.gov 2. Search for your zip code to see if you live in an area that qualifies 3. Click "Apply Online" to get started NOTE: If you have insurance, contact your insurance company to file a claim first. You will need claim info to determine if you are eligible for federal assistance. Controlling Your Other Bills 1. Make a list of creditors and phone numbers 2. Call them to let them know you've been affected by the disaster 3. Ask about temporary hardship and deferment options 4. Write down details with dates, times, names and callback numbers Call 844-331-7534 for Free Financial Counseling and Help with Credit Card Debt
If you live in Texas and need relief from post-storm credit card debt, call 844-331-7534.
Use this infographic
<a href="https://www.consolidatedcredit.org/infographics/texas-disaster-relief/" target="_blank"><img src="https://www.consolidatedcredit.org/wp-content/uploads/2021/03/TX-Disaster-Relief_web.jpg" alt="Consolidated Credit's Texas Disaster Relief Infographic" class="img-fluid" /></a>