Smarter Ways to Pay Off Your Student Loans
According to the latest report from the Federal Reserve, student loan debt reached $1.58 trillion in the first months of 2021. While federal student loans may still be under automatic forbearance until September 30 of this year, it's important to develop a smart plan to pay off your student loans as quickly as possible. That way, you can be prepared when payments start again.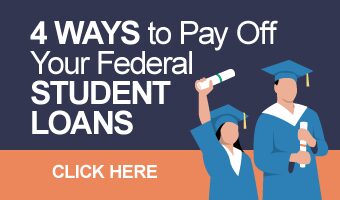 4 Ways to Pay Off Your Federal Student LoansSee which plan is the best fit for you. The U.S. owes $1.4 trillion in student loans 40 million Americans have student loan debt The federal government knows this is a crisis. Here are the programs they offer to help. Income-based repayment (IBR) This is for those with financial hardship. Your monthly payment ranges from 10 to 15 percent, depending on your income. Income-contingent repayment (ICR)You don't need financial hardship to qualify. You'll pay 20 percent of your income, but it can increase if your income does. Pay As You Earn (PAYE) You need partial financial hardship to qualify. This is best for married borrowers who both have income. Revised Pay As You Earn (REPAYE) Anyone can qualify. This is best for single borrowers who don't qualify for PAYE.
Use this infographic
<a href="https://www.consolidatedcredit.org/infographics/ways-pay-off-student-loans/" target="_blank"><img src="https://www.consolidatedcredit.org/wp-content/uploads/2021/06/StudentLoanDebt2021Infog-IB-1.png" alt="Consolidated Credit's student loan infographic explains four smart ways to pay off student loans" class="img-fluid" /></a>