Storm season is almost upon us. It's time to get prepped to avoid a financial disaster.
After a record-breaking storm season last year, this year is shaping up to be highly active as well. The Weather Channel predicts there will be 18 total named tropical storms in the Atlantic this year; at least three will be Category 3 or higher storms. The National Interagency Fire Center also predicts an above-average wildland fire potential outlook in 2021.
Whether you deal with hurricanes, wildfires, tornadoes or floods, storm seasons will start soon throughout the U.S. Are you prepared for a natural disaster? Consolidated Credit is here to help with a free webinar: The Weather and Your Wallet. It will teach you everything you need to know to make sure your finances are prepared to weather this year's storms.
Featured Video
Prepare Your Finances for Natural Disasters
From wildfires to hurricanes, weather experts are predicting higher than average storms this season in 2021. This video offers a quick preview of what you'll learn in our free webinar—The Weather and Your Wallet—which will help you prepare your finances for natural disasters.
Watch the preview to see what you'll learn then sign up for the free webinar on Wednesday, May 12, 2021, at 1:00 p.m. (EST).
Storm seasons are starting across the country, which means it's time to prep against having a financial disaster.
This free Consolidated Credit webinar will teach you how to prepare for natural disasters without breaking the bank
The proper disaster plan can help you minimize financial losses and recover faster after a big storm hits.
Sign up for free today then join us Wednesday, May 12th
3 steps for weathering any storm
In this free webinar, our financial coaches will teach you the three key steps to ensure your wallet is ready for a natural disaster—documentation, organization, evacuation. This infographic offers a quick preview of what you'll learn.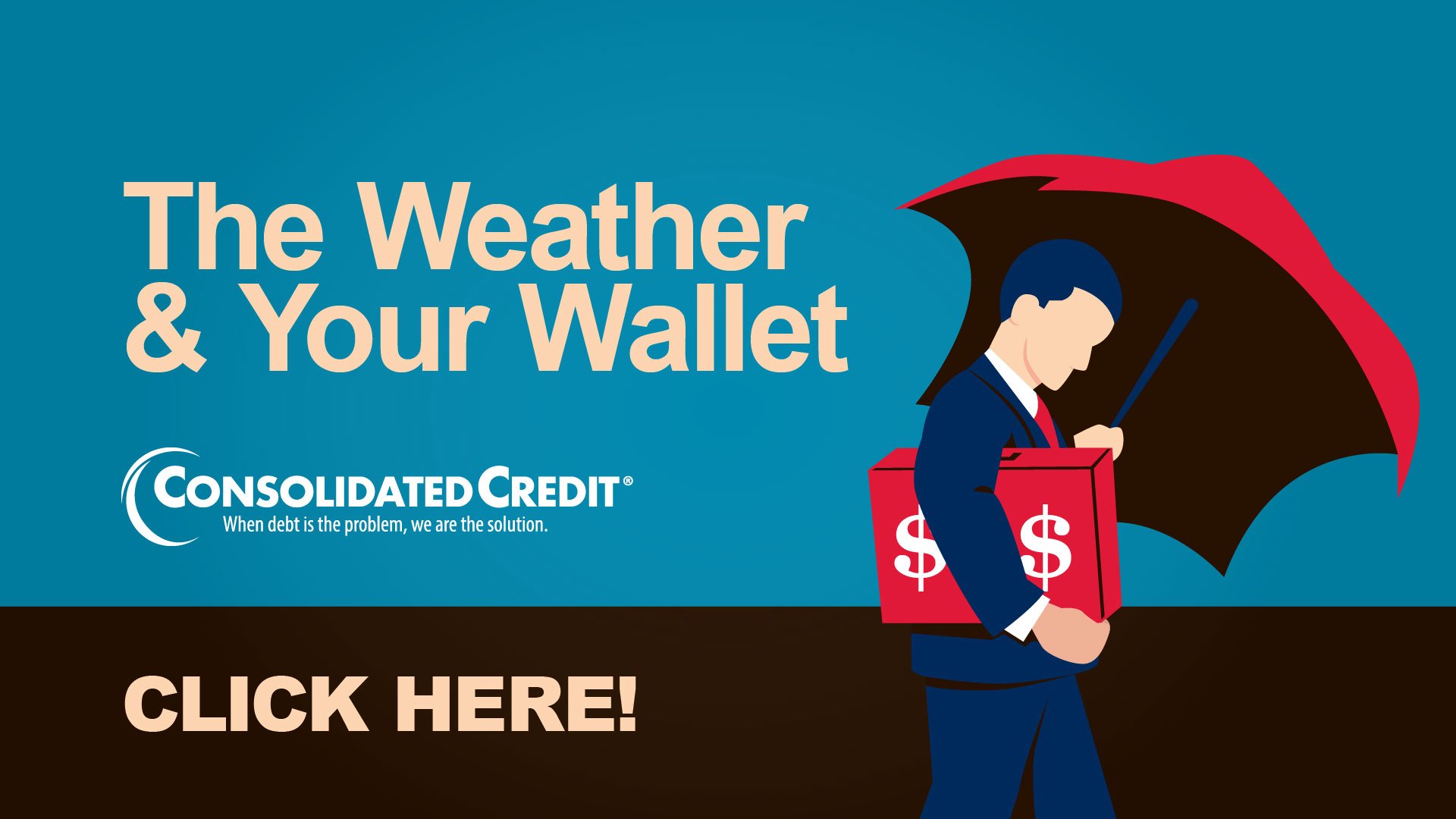 Webinar On Demand
Natural disasters can have a catastrophic impact on your finances. This free webinar will teach you how to prepare to minimize financial losses and how to deal effectively during the aftermath of a storm.
Runtime: 25:56
See Details