Hurricane Michael devastated the Florida panhandle and parts of Georgia, leaving 1.3 million people and business without power. Many families that were in the direct path of the storm lost their homes or faced overwhelming property damage. After such a catastrophic event, people struggle to pick up the pieces, and often they're forced to take on significant credit card debt just to rebuild.
It's with that in mind that Consolidated Credit has set up a specialized toll-free hotline for people affected by Hurricane Michael. Certified credit counselors and HUD-certified housing counselors are on standby now. They can answer your questions and help you find the best way to recover without facing a fresh disaster with debt. The line will remain open through the end of 2018, since the financial effects of Michael will continue to impact families in the panhandle over the months to come.
Infographic
Surviving a disaster can be overwhelming, especially if you don't know what to do after the storm. We offer tips on how to find help after a hurricane….
Read more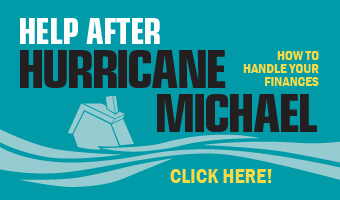 In addition, households living in the affected area can take advantage of discounted rates on Consolidated Credit's Debt Management Program. This can be critical, whether you need relief from existing debt that's currently stressing your budget, or you incur credit card debt in your efforts to recover from the storm. For those who qualify, the program can help reduce your total monthly payments by up to 30-50%. This can be crucial for families trying to make ends meet despite financial challenges you may face as you rebuild.
Preparing for the next storm
Consolidated Credit also reminds anyone living on the East and Gulf Coasts that storm season is not over yet. Although no major storms are currently forecast, hurricane season won't officially end until November 30, 2018. If you live near a coast, it's crucial that you take steps to prepare before a hurricane.
This booklet can help you take the right steps to ensure that your finances can weather any natural disaster: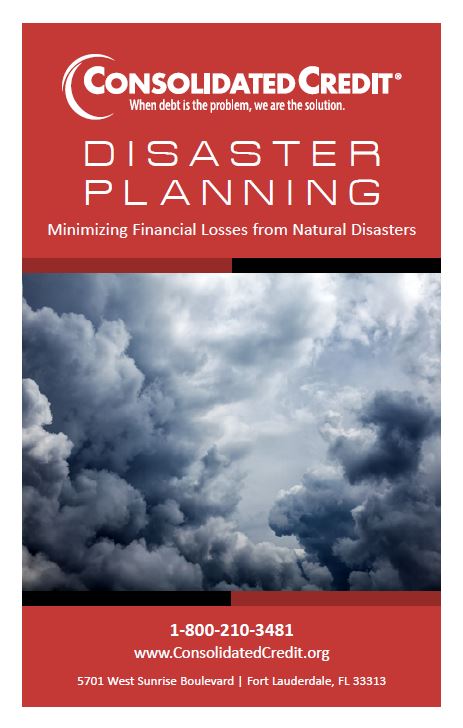 Booklet
Disaster Planning Guide
Financial Planning
Natural disasters can derail even the best laid financial plans. Whether you live in a hurricane, tornado or flood zone, or an area prone to wildfires or winter storms, it's crucial that you get prepared to keep yourself, your family, and your finances protected during the storm. This guide teaches you how to prepare, so you can minimize financial losses.
Open Booklet
Download Booklet