Back to School & Tax-Free Holidays
How to save money during the year's second most expensive shopping season.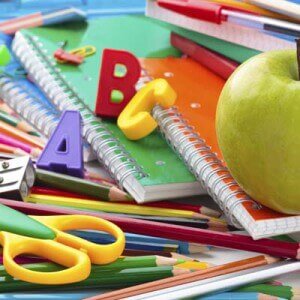 In case you've missed the flood of commercials and advertising, the back-to-school shopping season is in full swing now as parents and students prepare for the fall semester. Unfortunately for parents and their budgets, costs continue to increase even if you're not caving to requests for new smart phones and other electronics.
Luckily, with the right strategy you can find ways to cut costs as you shop to avoid going over budget and causing problems with credit card debt. Consolidated Credit recently released an infographic that details costs depending on a child's grade level, along with 10 tips for how to cut those kinds of costs. First, you start by building a strategic shopping budget for everything your children will need. Then you plan your shopping days to be fast, efficient and cost-effective.
Know your tax-free holidays
One of the biggest advantages you can get for saving money during the back-to-school shopping season is to use the tax-free holidays in your state if they're available. A tax-free holiday or tax-free weekend is where all sales tax is eliminated on a certain day if you're purchasing certain items.
Many states – particularly in the southern United States – offer tax-free holidays sometime in August on everything from back-to-school supplies and backpacks to clothing and shoes. This gives savvy parents the edge when it comes to reducing the burden of back-to-school costs.
This interactive map shows which states offer tax-free holidays in August and when. You can click on your state to get information on what's exempted from sales tax and any spending limits your state may have implemented.
Hover over a state to see dates; click to see a summary of qualifying items/price limits and a link to the fine print.  Source: State revenue departments
What to do if going back to school leads to debt
Even with the right planning, back-to-school shopping can still present a unique challenge to parents on a tight budget. If your back-to-school expenses end up becoming credit card debt or it starts to cause problems for your budget, we're here to help. Call Consolidated Credit today at 1-888-294-3130 or complete an online application to request a free, confidential debt and budget evaluation from a certified credit counselor.