Consolidated Credit Announces Annual Story Contest
Clients and alumni could win up to $500 for sharing their debt-free story.
Getting out of debt is a rewarding experience, but now it can be even more rewarding! You can win up to $500 for sharing your story of how Consolidated Credit helped you become debt-free. To enter our annual story contest, simply write in 400-1,000 words how Consolidated Credit helped you improve your financial life. Then submit your entry to [email protected]. All entries must be received by January 15, 2021.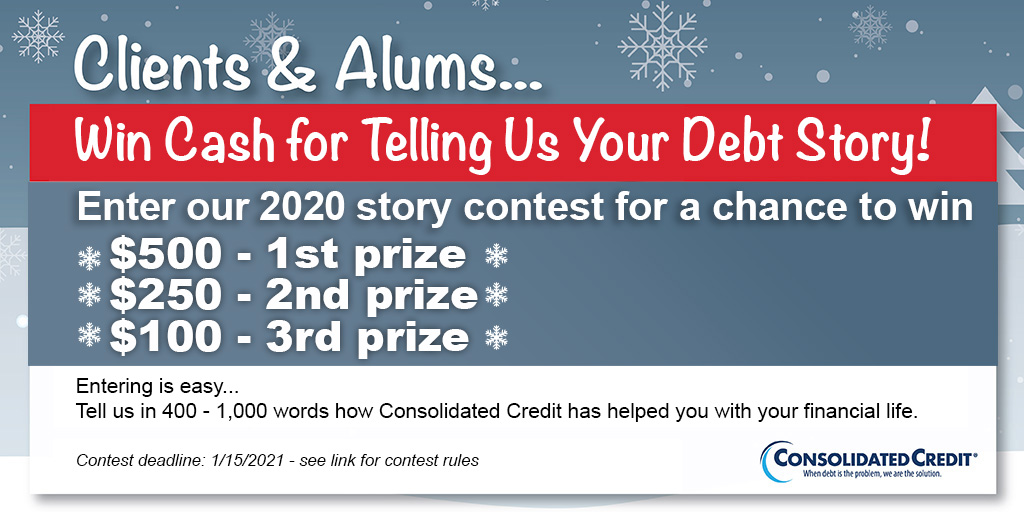 Enter our 2020 story contest for a chance to win: $500 – 1st prize, $250 – 2nd prize, $$100 – 3rd prize Entering is easy. Tell us in 400-1,000 words how Consolidated Credit has helped you with your financial life. Contest deadline 1/15/2021 – see link for contest rules
"Our mission is to help clients improve their financial lives," explains April Lewis-Parks, Consolidated Credit's Education Director. "The stories that our clients and alumni share are so inspiring to other people who are facing challenges with debt. We encourage you to share your story to give hope to people in similar situations that it is possible to become debt-free."
What makes a good story contest entry?
"What we're looking for in story contest entries is the personal and emotional side of your journey to become debt-free," Lewis-Parks says.
Explain:
how you got into debt
what you were feeling when you decided to call Consolidated Credit
how you felt after you talked to your credit counselor
how your debt management plan made it easier to pay off your debt
the feeling of seeing your balances go down
what you learned along the way
Here is a small sampling of the stories that we received from last year's winners:
3rd place winner – Michael
"A few years back, I had to declare bankruptcy. My life was in ruins and my credit was almost nonexistent. I was over $18,000 in debt and I felt lost and confused, wondering how I could ever dig myself out of the hole I was in. Then I heard about Consolidated Credit and gave them a call.
"The plan was affordable and now I wasn't getting threatening calls demanding payments I could not afford. That was a load off my mind and this was the start of me getting back on my feet."
2nd place winner – Dawn
"Consolidated Credit has been an absolute lifesaver for my family. I felt lost and overwhelmed by the large amount of debt I had accrued over years of irresponsible spending. But even though I had become more responsible, I was still being held back by high interest debt.
"Once I signed up and saw how easy it was to get a handle on my financial situation my anxiety disappeared. Though it has taken some time to eliminate my debt, I feel confident that I can maintain my limits going forward. Life has enough stress in it. If there is a way to eliminate financial stress, it can make all the difference in the world."
1st place winner – Robert
"I almost let my fear, guilt, and ego get in the way of making one of the best decisions I made in 2019. I thought to myself 'I'm educated; a professional. How could I let this happen to me?'
"I was afraid of being judged for the lack of financial restraint that had led me to that call. I said to myself 'It's now or never.' So, I called. I was greeted in a friendly manner with no judgments and a simple (yet comforting) 'we are here to help you get in control again.'
"For the first time in months, if not years, I'm seeing the balances of my credit cards go down!"
Submit your story by January 15, 2021, for a chance to win!
Once you've drafted your story, please email it to [email protected]. All entries must be received by 1/15/2021. Winners will be announced on our social networks and emailed. Visit our contest page for a complete list of rules.