As stay-at-home orders continue, here's what you can do to keep your finances healthy.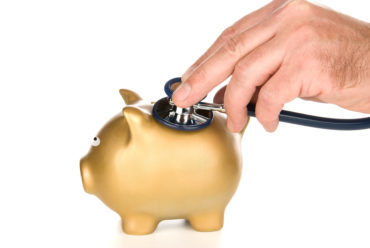 The coronavirus continues to have far-reaching effects on the global economy and our stock market. But even if you're not invested in domestic and foreign markets, there are financial concerns much closer to home that this global pandemic has caused. These tips can help you keep your finances in working order. We're also working to keep you updated on the latest relief programs that can help you get through the crisis, as well as how to avoid COVID-related financial scams.
Short-term financial tips
Banks, credit unions, and credit card companies are all sending out announcements about how their operating procedures may change. Your inbox is probably flooded with COVID and coronavirus subject lines, but you need to pay special attention to any that come from your financial providers.
They may include updates about when branches may open and close and what services will be offered. Most financial service providers are encouraging people to use online and mobile services. For example:
Instead of going to the bank to deposit any checks, use mobile deposit (when possible)
Sign up for autopay or direct debit from your accounts to pay bills
Many companies are encouraging you to use online chat to speak with representatives if you have questions or issues with your accounts
Most credit card companies and lenders are also encouraging customers to contact them if they'll have trouble making their payments. Many creditors, including Capital One, Discover Financial Services, and Synchrony Financial are allowing customers to defer their payments.[1]
This means you can miss payments without facing any penalties. However, deferrals are not automatic. You must contact your creditors and lenders to ask for it directly. They will let you know how long payments can be deferred and if you need to take any actions to continue the deferral. For example, you may need to call back each month to confirm you're still unable to make your payments.
Credit Karma has a helpful list of what banks and credit card companies are doing to help their customers.
If you are struggling to cover basic necessities such as food during this crisis, there are resources that can help. Feeding America has a tool that allows you to search for nearby food banks by entering your zip code. They have a network of 200 food banks and 60,000 food pantries and meal programs throughout the U.S. and Puerto Rico.
You can also check websites for your city and county to find other local food distribution programs, as well as Child Nutrition Programs for children who depended on school lunches for meals.
Depending on where you live, stores may be running out of everything from surgical masks and hand sanitizer to toilet paper and food. It's tempting to get swept up into thinking you need to buy up everything you can before it's gone. However, this is counterproductive for a few reasons:
Panic purchasing leads to shortages, which on items like surgical masks means that people who actually need them can't find them (making the spread of the virus worse)
You're also likely to rack up credit card debt buying a bunch of items that you may or may not even need.
Going back to your inbox, stores are also sending out notifications about their operating hours and what they're doing to ensure products stay stocked. If your stores plan on staying open, then there's no need to rush out and start overspending over concerns for closures that may never happen.
If you are shopping, make sure to be practical. Take proper measures to protect yourself while shopping, such as wearing gloves while you shop to avoid touching the cart or using hand sanitizer if it's provided at the front of the store.
If you're following the advice to stay at home as much as possible, then you're going to need things to do to keep yourself entertained. Take a break from streaming and watching COVID-19 headlines to improve your financial savvy!
April is National Financial Literacy Month, which means that many organizations are going to be offering free financial resources. Learn how to be smarter about budgeting, how to start investing and smarter strategies for managing debt.
If you aren't sure where to start, hit up Consolidated Credit's Financial Resource Center and start learning.
Long-term financial tips
The long-term economic effects of COVID-19 may be far-reaching. It is possible that it will trigger another global recession. With that in mind, it's important to shore up your finances against long-term economic instability.
Taking on credit card debt in an unstable economy is a risky proposition. The last thing you need is higher bills that will eat up more of your budget. You need to free up as much cash flow as possible to pad your savings.
You should review your budget carefully to find any expenses that you can afford to cut or cut back. This will help reduce the total expenses in your budget, leaving more income to save and pay off debt. It will also help you avoid the need to make new credit card charges.
An economic downturn could lead to higher unemployment, which means less job security for everyone. In this type of volatile economy, it's best to take steps to reduce as much debt as possible. This eliminates bills that you need to worry about and debt payments that are eating up income.
The best way to reduce existing credit card debt is by using an avalanche or snowball strategy for debt reduction. You prioritize credit card balances for repayment from either highest to lowest APR or lowest to highest balance.
If you owe more than $10,000, then you may need to consider a more aggressive strategy to get out of debt. Look into options for debt consolidation or contact a credit counselor to discuss your options with a certified professional.
During a normal economy, experts recommend that you should save 3-6 months of bills and other budgeted expenses. This allows you to weather a period of unemployment or cut hours at work without relying on credit cards.
During an economic downturn or more severe financial upset like this, you should expand your financial safety net even further. Ideally, you want to have 6-12 months of savings built up to cover you. This will help you cover any cut hours or loss of businesses that COVID-19 may end up causing.
Watch out for these coronavirus scams!
While most of us are coming together to support each other during this time, others are using this as an opportunity to scam people. Please watch out for these types of scams and report them if you encounter them.
The FTC warns that scammers are using stimulus payments to try and rip people off.[2]
If you receive text messages, robocalls, emails, or social media messages that ask you to reply regarding your stimulus check, it's a scam. Do not respond.
The FTC advises that you should only use the IRS website to submit payment information: https://www.irs.gov/coronavirus/economic-impact-payments
They also ask that you report any scam messages that you receive through their website: https://www.ftccomplaintassistant.gov/
Some scammers will try to impersonate your bank or credit union.[3] The messages say things like, "Operations have been suspended. Please provide your debit card number and PIN to ensure you can continue to use your account."
Note that your bank will never ask you to send them a full amount number. Neither will credit card companies. Never give out account numbers, PINs, or your Social Security number.
Coronavirus testing kit shortages are well-reported and people are understandably concerned. However, if you receive text messages, voicemail or emails regarding paid testing kits, it's a scam. Instead of getting a testing kit, you're simply giving them access to your accounts.
Note that if you receive text messages about this, delete them with no response. Do no even follow instructions to opt-out.
Another paid offer you may receive is for cleaning services, specifically HVAC and air duct cleaning. If you did not inquire with a cleaning company and you begin to receive unsolicited messages or emails, ignore them. Don't opt-out, don't respond with anything. Just hit delete.
If you're trying to help those less fortunate than you through this time, you also need to be cautious of charity scams. One easy way to tell the difference between a legitimate charity and a scam is how they ask for donations. Scammers rely on gift cards, cash, or wire transfers.
Research any charity that you don't recognize carefully online before you donate. And be cautious even if you recognize the name of the organization. Scammers are impersonating the World Health Organization now. Donating directly through secure websites for charities, such as the WHO's portal is the safest option right now.
Important government updates
Government agencies are working with the White House and Congress to ensure Americans can get financial relief during this time.
The federal government passed a landmark $2 trillion stimulus package on March 27, 2020. Part of the money is going directly to individuals and families who meet certain requirements. The amount you receive depends on your situation.
An individual who makes less than $75,000 annually will receive $1,200
If you're a single parent who claims Head of Household on your tax returns, you can make up to $112,500 annually and receive $1,200
A married couple who makes less than $150,000 annually will receive $2,400
Married couples and heads of household will receive an additional $500 per child under the age of 17 in the home
More than half of eligible Americans have already received their stimulus payment, formally known as an Economic Impact Payment.[4]
If you have not received your payment yet and you file annual tax returns, you can check on the status on your payment through the IRS website: https://www.irs.gov/coronavirus/get-my-payment
The IRS also has a tool for people to enter payment information if you don't file taxes. This will help you get your stimulus payment quickly: https://www.irs.gov/coronavirus/non-filers-enter-payment-info-here
The IRS has acknowledged that many people may not receive the full benefit that they are entitled to receive with their first payment. This is especially true for the $500 qualifying child dependent payments.
If you did not receive your full payment, you will be able to claim the additional amount when you file your 2020 tax return. Unfortunately, that means you will not receive the additional money until next year when you file your returns.
The IRS has extended both the tax filing and the payment deadline for 2019 income tax returns. You are not required to file your annual tax return until July 15, 2020.[5] If you owe money to the IRS, the payment needs to be made in full by July 15 before penalties and interest will start to apply.
Tip: If you won't owe money to the IRS and should receive a refund, don't procrastinate! You can file now and receive your refund via Direct Deposit within roughly 21 days. That money could help you get through quarantines and income reductions caused by COVID!
The Coronavirus Aid, Relief, and Economic Security (CARES) Act has also provided relief to people that hold federal student loans.
Most federal student loan payments have been placed on administrative forbearance, meaning you are not required to make any payments through September 30, 2020.
If you made payments or had payments deducted from your bank account since March 13th when the law took effect, you can apply for a refund.
If you choose to make payments between March 13th and September 30th, then 100% of the payments you make will go to paying off the principal balance. The interest rate on all qualifying loans is currently 0%.
For borrowers with loans in default, no collection actions will be taken by the Department of Education
It's important to note that not all federal student loans qualify for the benefits listed above. Old loans taken out through the Federal Family Education Loan (FFEL) Program and Perkins Loans taken out through a school don't qualify.
You can learn more on the FTC website: https://www.consumer.ftc.gov/blog/2020/05/coronavirus-and-your-student-loan-debt
Some states and counties are suspending shutoffs of utilities, such as power, gas, electricity, and water. State and municipal governments have stepped up and stepped in for many residents to prevent utility companies from shutting off services due to nonpayment.
It's important to note that this is not a federal order. You need to look for information on your state and county to see if shutoffs have been suspended. If so, your utilities will not be cut off simply because you can't pay your bill.
The federal government is also working to help small business owners impacted by the crisis. There are four programs[7] that Small Business Administration is offering that may help you:
The Paycheck Protection Program gives small businesses a loan to keep employees on their payroll for eight weeks. The loan may even be forgiven if you follow certain criteria
The Economic Injury Disaster Loan Advance offers up to $10,000 to businesses experiencing difficulties
SBA Express Bridge Loans can provide up to $25,000 in funding if a small business has an existing relationship with the SBA
SBA Debt Relief helps business owners with existing loans get some relief as well. The SBA will automatically pay the principal, interest, and fees on any current 7(a), 504 and microloans for six months. You can learn more about these programs and other solutions that can help you address budget and cash flow challenges for your small business in Consolidated Credit's
next webinar
Consolidated Credit's counseling team is here to help!
Due to public health safety concerns, we have canceled all upcoming financial education workshops until further notice. However, all our online events are still going to be held, so we encourage you to sign up and join us!
Our certified credit counseling team is also on call to help you address any challenges you're facing with your budget and credit card debt. We've established a toll-free hotline where you can speak one-on-one with a counselor to ask questions and get direction on resources and relief programs that can help you.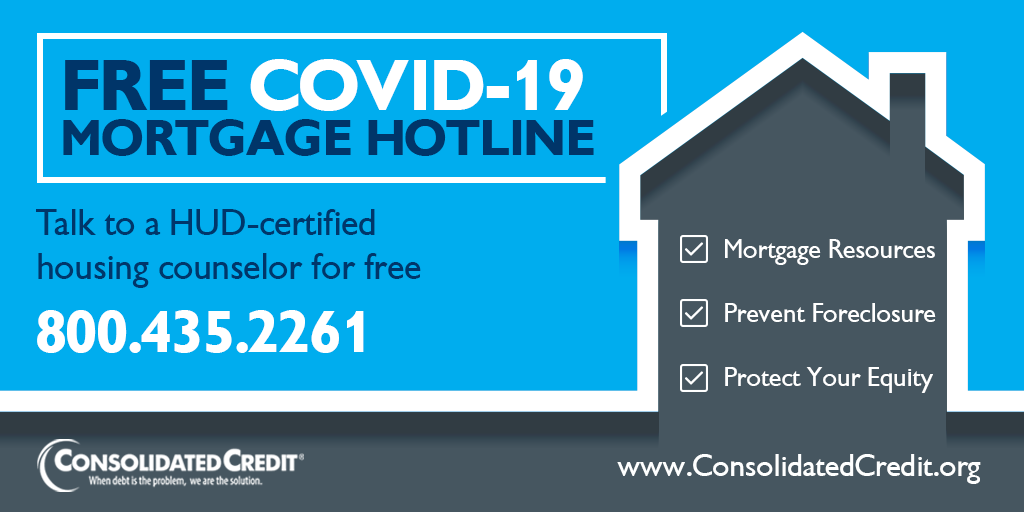 Additional resources to help you get through this crisis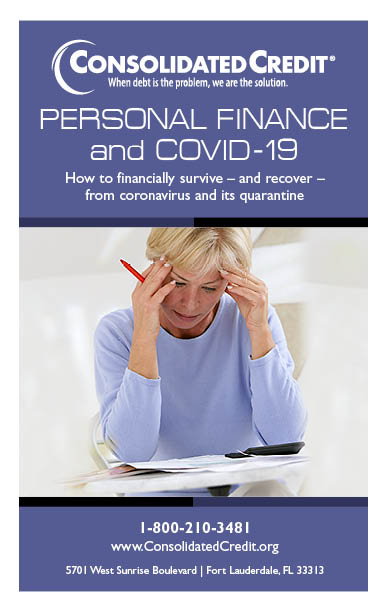 Booklet
Financial Guidance for Navigating COVID-19
Money Management
Navigating the financial fallout from this global pandemic isn't going to be easy. We've put together all the information we can to help you manage your money and financial stress during this time. Learn how to adjust for your finances around quarantines and reduced income, learn how to navigate a layoff, and get tips for coping with financial stress.
Open Booklet
Download Booklet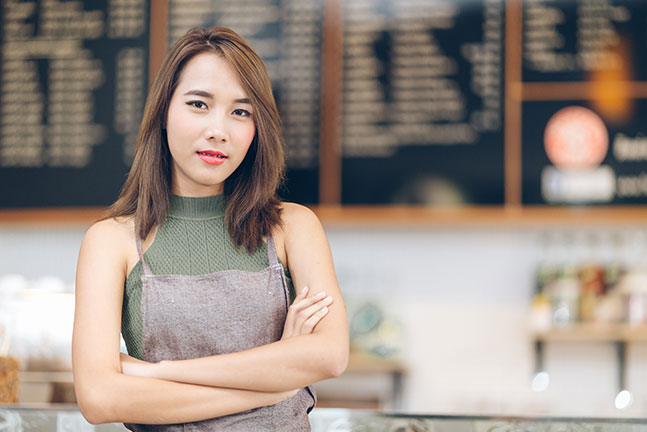 A free financial relief guide for restaurant workers, bartenders, and other service professionals facing unemployment or loss of income from COVID-19…Read full article »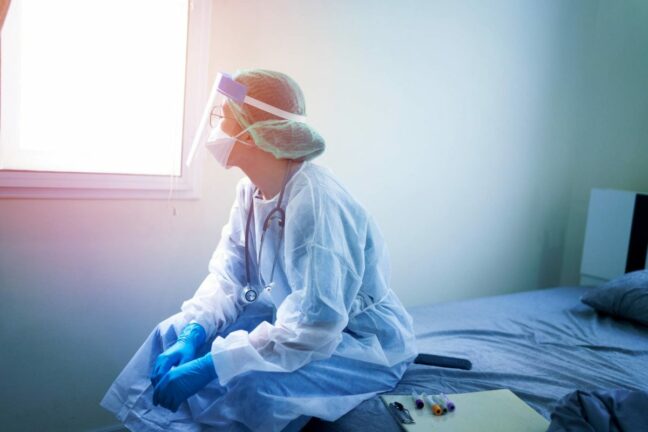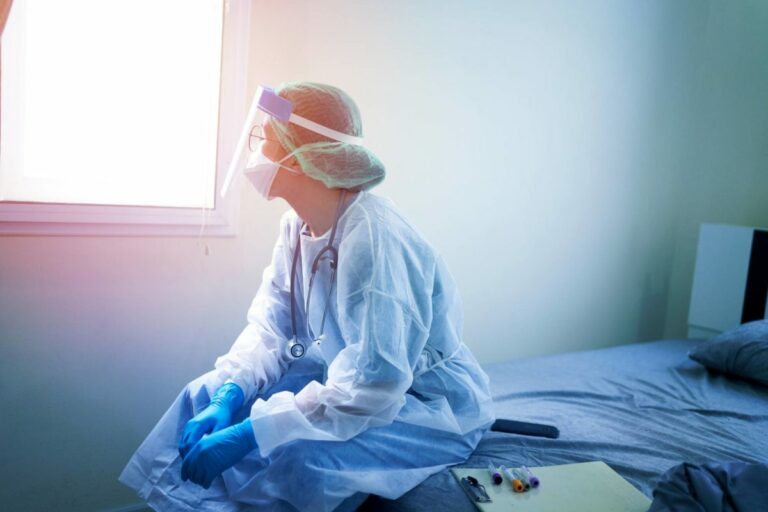 This free financial guide for healthcare workers explains what those working to protect our health can do to preserve their financial wellness…Read full article »