Protecting Your Finances During COVID-19
As stay-at-home orders continue, here's what you can do to keep your finances healthy.
The coronavirus continues to have far-reaching effects on the global economy and our stock market. But even if you're not invested in domestic and foreign markets, there are financial concerns much closer to home that this global pandemic has caused. These tips can help you keep your finances in working order. We're also working to keep you updated on the latest relief programs that can help you get through the crisis, as well as how to avoid COVID-related financial scams.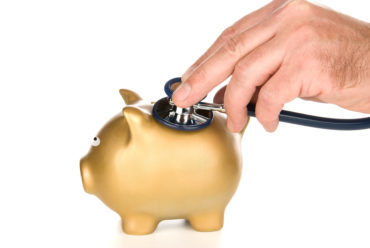 Short-term financial tips
Long-term financial tips
The long-term economic effects of COVID-19 may be far-reaching. It is possible that it will trigger another global recession. With that in mind, it's important to shore up your finances against long-term economic instability.
Taking on credit card debt in an unstable economy is a risky proposition. The last thing you need is higher bills that will eat up more of your budget. You need to free up as much cash flow as possible to pad your savings.
You should review your budget carefully to find any expenses that you can afford to cut or cut back. This will help reduce the total expenses in your budget, leaving more income to save and pay off debt. It will also help you avoid the need to make new credit card charges.
An economic downturn could lead to higher unemployment, which means less job security for everyone. In this type of volatile economy, it's best to take steps to reduce as much debt as possible. This eliminates bills that you need to worry about and debt payments that are eating up income.
The best way to reduce existing credit card debt is by using an avalanche or snowball strategy for debt reduction. You prioritize credit card balances for repayment from either highest to lowest APR or lowest to highest balance.
If you owe more than $10,000, then you may need to consider a more aggressive strategy to get out of debt. Look into options for debt consolidation or contact a credit counselor to discuss your options with a certified professional.
During a normal economy, experts recommend that you should save 3-6 months of bills and other budgeted expenses. This allows you to weather a period of unemployment or cut hours at work without relying on credit cards.
During an economic downturn or more severe financial upset like this, you should expand your financial safety net even further. Ideally, you want to have 6-12 months of savings built up to cover you. This will help you cover any cut hours or loss of businesses that COVID-19 may end up causing.
Watch out for these coronavirus scams!
While most of us are coming together to support each other during this time, others are using this as an opportunity to scam people. Please watch out for these types of scams and report them if you encounter them.
Important government updates
Government agencies are working with the White House and Congress to ensure Americans can get financial relief during this time.
Consolidated Credit's counseling team is here to help!
Due to public health safety concerns, we have canceled all upcoming financial education workshops until further notice. However, all our online events are still going to be held, so we encourage you to sign up and join us!
Our certified credit counseling team is also on call to help you address any challenges you're facing with your budget and credit card debt. We've established a toll-free hotline where you can speak one-on-one with a counselor to ask questions and get direction on resources and relief programs that can help you.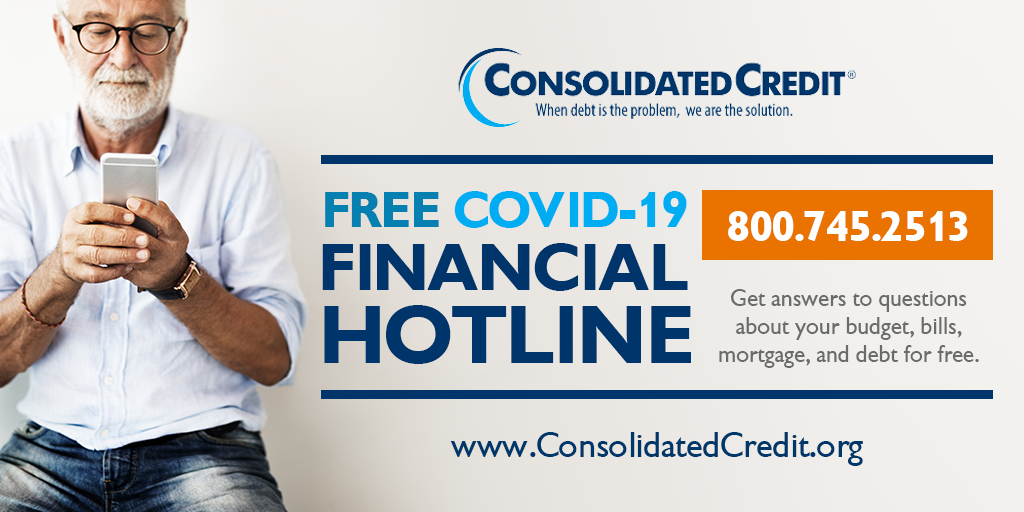 Additional resources to help you get through this crisis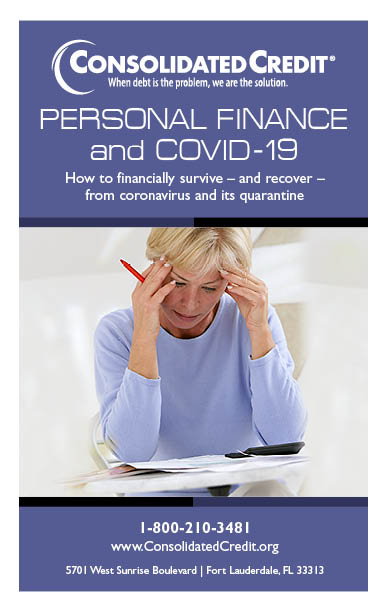 Navigating the financial fallout from this global pandemic isn't going to be easy. We've put together all the information we can to help you manage your money and financial stress during this time. Learn how to adjust for your finances around quarantines and reduced income, learn how to navigate a layoff, and get tips for coping with financial stress.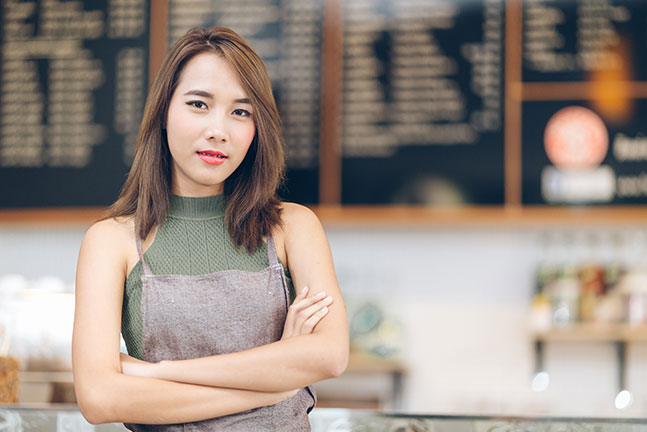 A free financial relief guide for restaurant workers, bartenders, and other service professionals facing unemployment or loss of income from COVID-19...
Read full article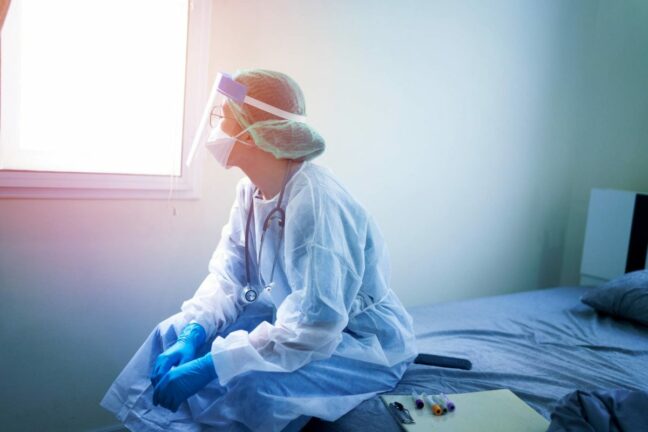 This free financial guide for healthcare workers explains what those working to protect our health can do to preserve their financial wellness...
Read full article