Consolidated Credit Brings Free Financial Literacy Publications to NSU
Thinking Money exhibit at the Alvin Sherman Library features a range of free financial literacy publications.
As we finish off National Financial Literacy Month 2018, Consolidated Credit debuted a new rack of financial literacy publications at the Alvin Sherman library. Consolidated Credit's Financial Education Director April Lewis-Parks and Director of Housing Counseling and Business Development Maria Gaitan went to the Alvin Sherman Library to help unveil the new addition to NSU's Thinking Money exhibit.
[On-screen text] NSU Nova Southeastern University: Thinking Money – A Financial Expedition
Open to the public, it educates on how to navigate the ever-changing world of personal finance.
Consolidated Credit is proud to donate their financial literacy publications to the Alvin Sherman Library.
Nora J. Quinlan, Director of Reference and Instructional Library Services: On behalf of Nova Southeastern University's Alvin Sherman Library, I want to thank Consolidated Credit for their generous donation of a rack that will hold pamphlets about consumer credit and financial literacy. This will be used by our students, as well as the public users of the Sherman Library.
April Lewis-Parks, Consolidated Credit Director of Education and Corporate Communications: We're so happy to be a partner with Nova Southeastern University and proud to be able to house our publications in the library, so the students have access, as well as the public and the faculty.
Maria Gaitan, Consolidated Credit Director of Housing Counseling and Business Development: We look forward to expanding the relationship to include seminars and webinars as we move forward with our partnership.
[On-screen text] Consolidated Credit: When debt is the problem, we are the solution
The community benefits of free financial literacy publications
"Consolidated Credit is proud to partner with organizations like Nova Southeastern University to bring free financial literacy publications to the public," explains April Lewis-Parks. "Displays like this one at the Alvin Sherman Library allow people to easily and discreetly get access to financial education that they need to be successful. They can learn at their own pace and come back for additional publications once they're ready for more."
Consolidated Credit's free financial literacy publications include a variety of topics that cover:
Budgeting and saving techniques
Building and maintaining good credit
Financial planning for major life events
Conversation starters for key money talks you need to have
These are some of Consolidated Credit's most popular guides that are specifically geared for college students:
Many college-bound teens receive credit card offers before they even set foot on campus. Once at school, they are enticed with offers for free T-shirts, concert tickets, or other freebies simply for completing an application. This publication teaches how to successfully manage money, use credit wisely, and avoid credit problems. This course provides students with money management techniques that puts them in control of their money and helps them to graduate with a plan for a successful financial future.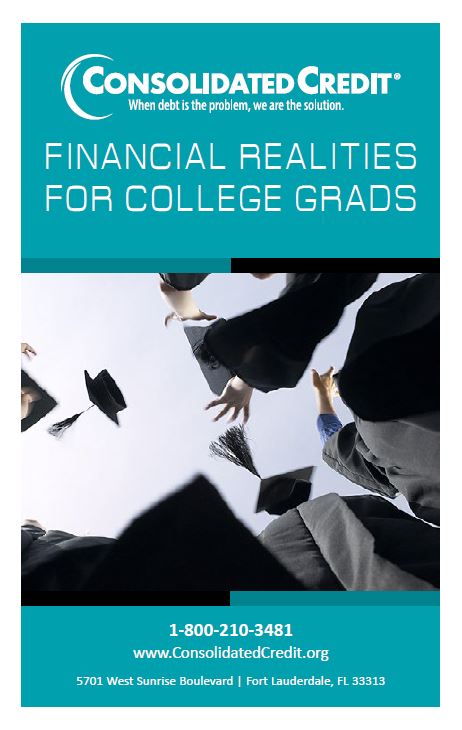 The joy of graduating from college can quickly disappear once the graduates understand that they are on their own and the bills are starting to pile up. Graduation usually marks the point at which grads find their first real jobs and take on the full responsibility for their financial future – and that can mean failure or success. This guide helps set grads up for success.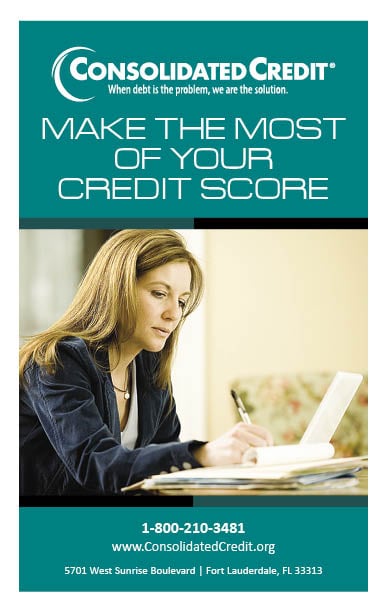 Having a good credit score is essential. It makes it easy to get approved for new credit and allows you to borrow money with the best rates and terms. This guide will teach you how credit scores are calculated, what counts as a good score, and what you can do to ensure you maintain the highest score possible.
"The publication rack is not limited, however, to publications just for college students," Lewis-Park continues. "There are publications that help users navigate all the major milestones in life, from getting married and having children, to planning effectively for retirement."