Craft the right plan to beat the crowds, score the best deals and skip the rest.
Traditionally, Black Friday is the biggest shopping day in America, although experts predict Cyber Monday may beat it this year. Still, for many hot items that you need to buy for the holidays, there's no better day. Here's what you need to know to streamline your Black Friday shopping strategy!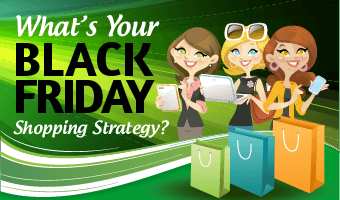 164.6 million consumers plan to shop over the Thanksgiving weekend 70% plan to shop on Black Friday 19% will shop Black Friday pre-sales on Thanksgiving Why do people fight the crowds? • 66% deals are too good to pass up • 26% because Black Friday is a tradition • 23% it's something to do over the weekend By Black Friday, 12% of shoppers are already halfway done with their list! The average in-store discount on Black Friday is 37% Based on discounts, Black Friday deals are best for:  TVs  Tablets  Appliances  Jewelry Sources: https://nrf.com/resources/consumer-research-and-data/holiday-spending/holiday-headquarters https://www.thebalance.com/what-is-black-friday-3305710
More tips for crafting a smart Black Friday shopping strategy
Tip No. 1: Don't buy everything on Black Friday
So, the four categories of items that we list in the infographic are usually must-buys for Black Friday. You'll get the best prices of the year on these items. However, that also means that retailers may offer better prices on other days for other items.
For instance:
Holiday décor hits the lowest pre-holiday prices on November 22
Toys are actually at their lowest prices the day before Thanksgiving
Clothing, shoes, videos games, sporting goods, and computers hit the sweet spot on Thanksgiving Day
So, don't kill yourself fighting crowds for items that aren't at their lowest prices.
Tip No. 2: Check that a deal is really a deal
Compare Black Friday sale prices to the regular price on the item and post-Black Friday prices. Retailers use tricks like pre-Black Friday markups to make markdowns look even bigger. In some cases, you actually pay more on Black Friday because of this tactic.
Tip No. 3: Make sure you need to fight the crowds to score a deal
Many Black Friday offers are now also available online or through the retailer's mobile app. In fact, of the $3.34 billion in sales on Black Friday in 2016, $1.2 million came through mobile devices. If you can check out on your phone, that's a lot easier than fighting to get to an in-store checkout.
Tip No. 4: Know store policies
You want to make sure that scoring the best deal doesn't end up costing you later. So, if you're ordering online, make sure there's free delivery; if not, see about free in-store pickup. Even if you're shopping in the store, check return policies and price matching. For instance, some stores suspend price matching policies on Black Friday. Other stores charge a restocking fee if you return a Black Friday sale item.
Tip No. 5: Don't shop simply to shop
It makes sense to go out on Black Friday to shop if you want to score the best deals. Saving money is always a good cause. What's not is shopping for the sake of shopping. If you go out on Black Friday solely because it's tradition or you don't have anything better to do this weekend, that can lead to impulse purchases. You're probably also shopping with friends, which also further increases the risk of impulse purchases.
So, if you're just going out to honor the Black Friday tradition, at least make sure to take your list. Stick to it strictly to help avoid overspending and holiday debt.
Spent a little too much on Black Friday and holiday shopping? If you have credit card balances that you need to eliminate, we can help!