Don't put your identity at risk if you're taking part in the year's biggest shopping day.
Cyber Monday is one of the biggest shopping days of the year in the U.S. This year, experts say it's set to surpass spending on Black Friday, putting it in the number one spending spot. With all the exclusive online deals, it's worth your time. Just shop safely so you don't risk identity theft! You can find more Cyber Monday shopping tips below the infographic.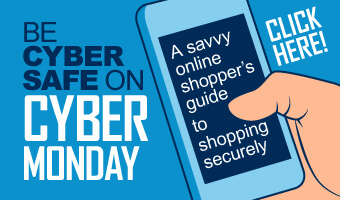 By Cyber Safe on Cyber Monday A savvy online shopper's guide to shopping securely $720 billion What holiday shoppers are expected to spend in this year 63% of holiday shoppers say they plan to utilize online wish lists Using wish lists or gift registries ensures you get the right gift 3/4 of shoppers read product reviews before purchasing Always look through reviews before you buy; make sure they're independent! Most major retailers start email promotions in October Sign up for emails from your favorite stores for exclusive offers 7 in 10 Millennials & Gen Xers admit to at least 1 impulse purchase Don't let exclusive offers tempt you into purchases – make and follow a list! 9 out of 10 shoppers say they've been influenced into a purchase 64% for free shipping 50% for a limited time offer 33% buy online with in-store pick up 25% free gift with purchase 24% because of helpful customer service Take advantage of special retail offers to get more for your money 58% of men and 51% of women follow retail recommendations Review recommendations before a purchase to ensure you make the best choice 76% of online shoppers say guaranteed shipping gave them peace of mind Plan online shopping carefully to use ground shipping as long as it offers guaranteed delivery Cyber Security Tips – How to Shop Securely 1. Don't shop online on public networks or hotspots 2. Never enter credit card info on a site you reach from an unsolicited email 3. Don't send any credit card account details via email 4. Don't enter credit card information on retail sites you don't recognize 5. Make sure all updates are installed and antivirus software is current before you shop 6. Only shop through secure websites a. Address bar should show a lock b. Web address must begin with HTTPS (look for the S) 7. Look for trust logos to confirm a website is legit: BBB Accredited Business, MCAfee Secure, VeriSign, TRUSTe 8. Consider using a service like PayPal or a prepaid credit card to limit fraud risk when shopping online Source: https://nrf.com/resources/consumer-research-and-data/holiday-spending/holiday-headquarters
More Cyber Monday Shopping Tips
Tip No. 1: Check your inbox
If you've signed up for email alerts from your favorite retailers, keep an eye on your inbox. Many retailers will offer exclusive deals to email customers on Cyber Monday. You might even find a few popup sales that aren't advertised anywhere else.
Tip No. 2: Get social
Another great place for exclusive offers and coupon codes is on your favorite social platforms. Retailers are sure to be posting on Cyber Monday and you might snag a few more coupon codes that you can use for even bigger discounts.
Tip No. 3: Always shop with your list
People think that impulse purchases and window shopping only happens in a store, but you face these things with online shopping, too. You have splash pages, pop up ads and banner ads. You have recommended items and "customers also purchased" lists that tempt with up-sell items as you go to checkout. All these things can drive you to make purchases you didn't put in your holiday budget. So, shop with your list and don't add items to your cart that you don't need.
Tip No. 4: Expect ads to stalk you
Online marketers have creative ways of stalking you online after you visit their website. They're called "retargeting campaigns" and what they do is follow you after you leave a website without taking any action. So, let's say you're looking at a blouse for your mom from your favorite retailer. If you leave the site without purchasing it, banner ads on other websites will advertise that site you left and even the specific blouse you were looking at to get you to come back to make the purchase.
Just be aware of this technique and don't get tempted into making a purchase you already decided not to make.
More holiday resources
Featured Video
Ask the Expert: Tips for Avoiding Identity Theft at the Holidays
Gary Herman offers his tips for identity protection to help you get through the holidays without the hassle of credit card fraud. Keep your identity safe as you shop for the holidays.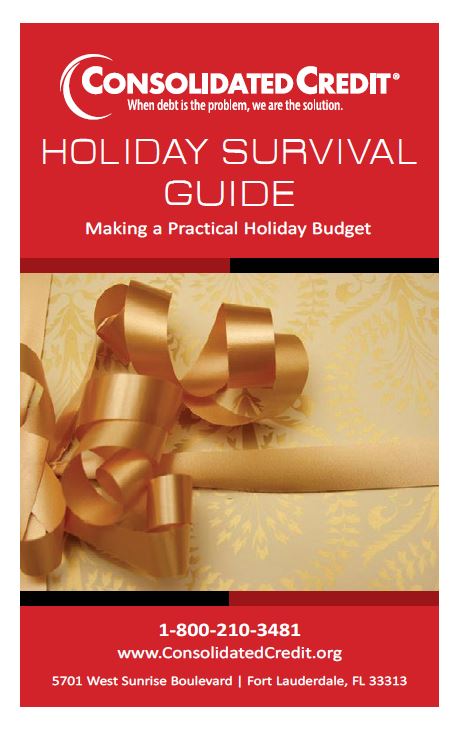 Booklet
Holiday Budgeting Guide
Financial Planning
No matter how much people love the holidays or how well they've planned, many people find themselves frazzled at some point. This publication helps you develop a practical spending plan to cover all your expenses, from gifts and decorations to travel and entertaining. Learn how to enjoy the holidays without taking on debt.
Open Booklet
Download Booklet