This year, it's the little things for everyone on your list that may add up to a big expense.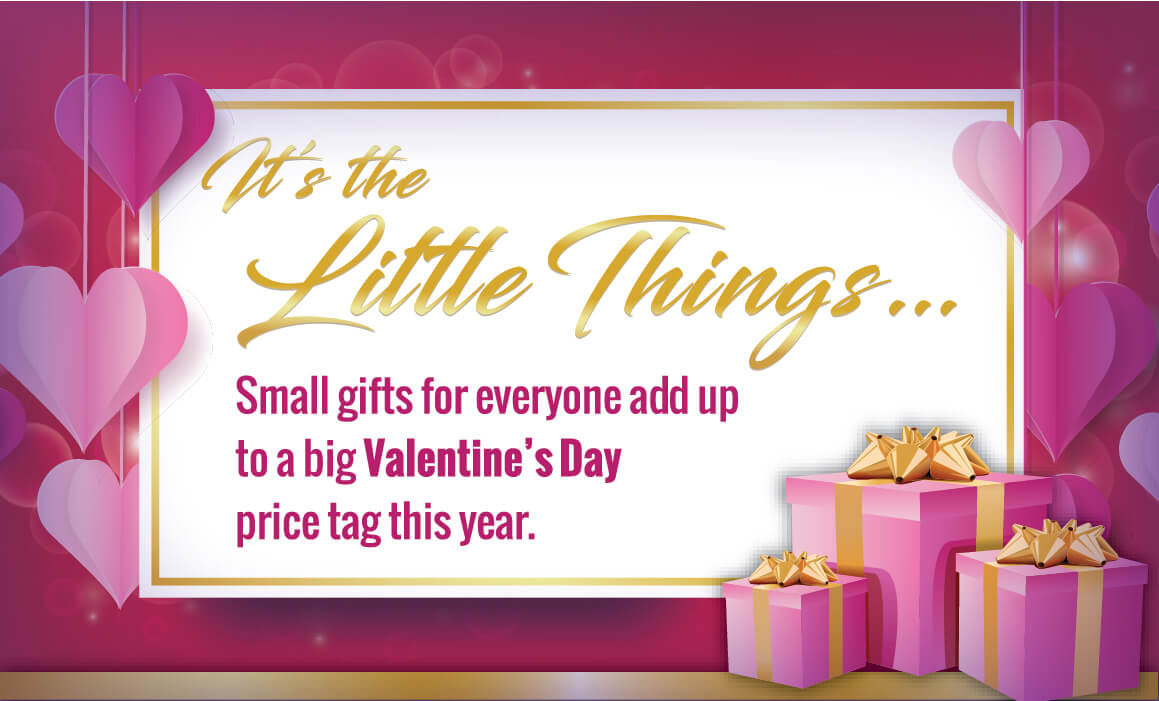 It's the Little Things… Small gifts for everyone add up to a big Valentine's Day price tag this year. 54.7% of Americans plan on celebrating Valentine's Day Total expected spending = $19.6 billion $1 billion MORE than last year The average person will spend $143.56 Why so much? Little gifts for everyone really add up… Average amount people plan to spend: • Spouse / significant other $88.98 o Total spending $12.1 billion • Family $25.29 o Total spending $3.5 billion • Children's classmates/teachers $7.26 o Total spending $991 million • Friends $7.19 o Total spending $982 million • Pets $5.50 o Total spending $751 million • Co-workers $4.79 o Total spending $654 million Where's it all going? • $4.7 billion jewelry • $3.7 billion dates • $2 billion flowers • $1.9 billion clothing • $1.8 billion candy • $1.5 billion gift cards & gift certificates • $894 million greeting cards Source: https://nrf.com/media/press-releases/nrf-says-consumers-will-spend-near-record-196-billion-valentines-day
It's the little things that can help you cut costs
Valentine's Day isn't supposed to be about a price tag. It's about celebrating love and showing your loved ones that you care. Contrary to what commercials tell you, you don't need diamonds to make someone feel special.
Tip No. 1: Focus on experiences
According to the same NRF survey, most people would be happier to receive an experience, rather than a physical gift. Six in ten survey respondents said they'd prefer a special outing over an expensive thing. That's actually nothing new. In fact, we did an infographic about that very topic last year…
Infographic
Roughly 40% of Americans prefer Valentines gifts of experience over material gifts that bust your budget. Are you giving the right gifts to your Valentine?…
Read more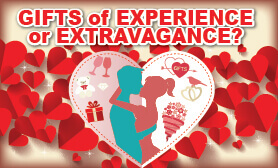 Now, that's not to say that experience can't be expensive, too. Front-row concert tickets for your significant other's favorite artist could run in the hundreds. But there are plenty of inexpensive (and in some cases, free) things you can do to show you care.
If you need ideas for an inexpensive outing, head to a deal site like Groupon or Living Social. You can find discounted reservations for cooking classes, hot air balloon or helicopter rides, and fun stuff so you can act like kids again, such as go-carting or mini-golf.
Tip No. 2: Make something by hand
Handmade gifts are often more meaningful and memorable. It can also help you cut costs. If you're a baker, then this is your chance to shine. You can make cupcakes, cookies, and even candy with your own personal touches. This is a great way to gift everyone you know without breaking the bank. Co-worker, teachers and classmates, friends and neighbors can all enjoy the spoils of what you make.
You can also do things like personalized picture frames, gift bags filled with items you buy in bulk or fresh flowers from your garden. Match your handmade gift ideas to your own talents. Just make sure to start now, so you have time to make mistakes without stressing.
Tip No. 3: Cheesy is good
Things like coupon books for future dates or gift certificates for back rubs or picking up a household chore may sound cheesy. But it's Valentine's Day, so cheesy is good. You can make a list of all the reasons you fell in love with your significant other for free. And the more time you put into gifts like this, the more special they turn out.
Don't assume because something didn't cost you a dime, that it isn't worth a dime either!
Tip No. 4: Don't go overboard on dinner
You don't need to get reservations at the most expensive restaurant in town. Again, use social deal apps to find coupons and discounts. Even better, make your sweetheart's favorite meal at home. If you're usually the one that cooks, this is your chance to show off. If you're not the one that cooks, then you at least give your partner a break.
Overspent on Valentine's Day? If gifting gets you into debt, we can help with the financial heartburn.