If you've procrastinated this year, use these tips to avoid holiday credit card debt as you shop in December.
Buying gifts and holiday decorations down to the last minute can really bust your budget. Most Americans still have at least some shopping to do in December. But as it gets down to the wire, it's easy to start racking up credit card debt to put the finishing touches on your holiday plans. This infographic offers five smart last-minute shopping tips to help you avoid debt.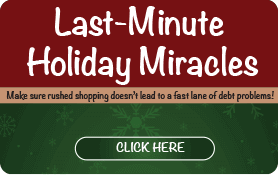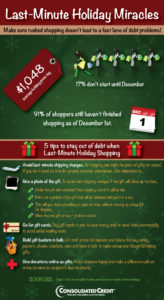 More tips for avoiding last-minute shopping debt
The holidays are hard enough on your budget, but last-minute shopping can easily lead to credit card debt. You're in a rush and trying to get everything done, so you pull out the plastic to cover whatever you need. But ignoring your balances and running up debt now can lead to a holiday debt hangover once the bills arrive in January.
Here are some additional tips to help you avoid debt this month:
Hit the dollar store for inexpensive wrapping
One expense that's often forgotten is wrapping paper and trimmings. Instead of hitting the grocery store or pharmacy, head to the nearest dollar store to find inexpensive wrapping papers, bows and tags. For just a few dollars, you can wrap all your gifts.
Wait for clearance sales on decorations
If you're still putting the finishing touches on your decorations, most stores will start discounting their remaining decorations the week before Christmas. If you can wait until the last weekend, or even Monday or Tuesday right before the holiday, you can score some good decorations at the best prices.
Give the gift of your time
Whether you make a book of coupons for dates or just plan a special outing for the New Year, give time with you to the ones you love. With just your printer and a little research to come up with the experiences you want to share, you can make your spouse, kids, parents and even friends feel special by giving them time with you.
Make sure you always have your holiday shopping list
It's easy to get pulled in by shiny holiday store displays and checkout line upsells. If you shop with your list and know exactly what you have left to buy, you are less likely to impulse shop. Keep a running list of the gifts, last-minute decorations, and trimmings that you need to buy and check items off as you purchase them.
If last-minute shopping leads to holiday debt for you, we can help. Talk to a certified credit counselor for a free debt and budget evaluation.