Be Thankful about Becoming Debt Free
Consolidated Credit's Thankful Photo Contest offers clients a chance to win $250.
The holidays are a joyous time of year, but it's also the most expensive shopping season for most consumers. Estimates show that the average household is set to spend $1,048 this year.[1] That's enough to set any budget back, but it can be especially hard for people working to get out of debt.
"It can be easy to give into the spirit of buy-buy-buy that retailers are promoting everywhere right now," says April Lewis-Parks, Education Director for Consolidated Credit. "But if you can't take on credit card debt this year, how do you get through the holidays? The answer lies in focusing on things that aren't material, like what you have to be thankful for."
With that in mind, Consolidated Credit started our Thankful Photo Contest. It encourages clients who are on a debt management to be thankful for beginning their journey to become debt-free.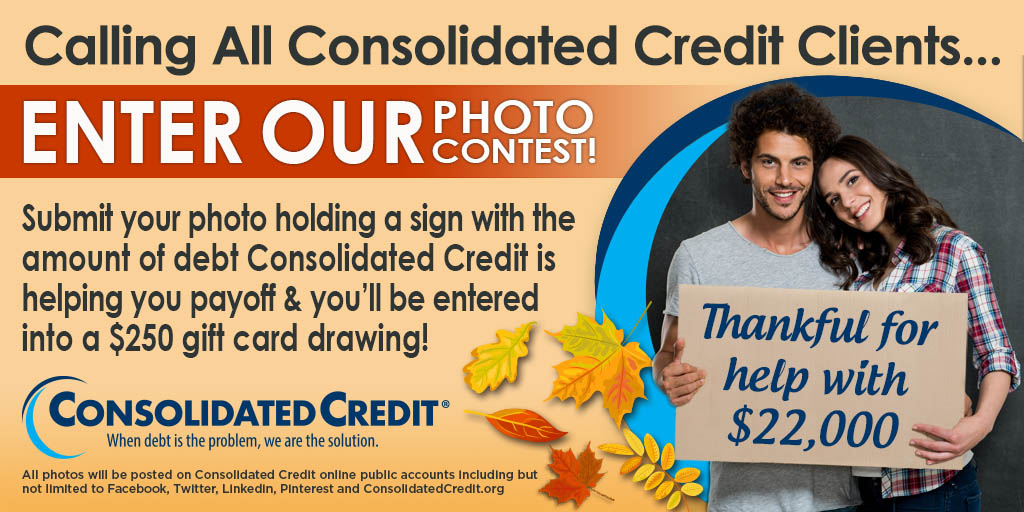 Calling all Consolidated Credit Clients… Enter Our Photo Contest. Submit your photo holding a sign with the amount of debt Consolidated Credit is helping you payoff & you'll be entered into a $250 gift card drawing
How the thankful photo contest works
Make a sign that shows the amount of debt Consolidated Credit is helping you pay off.
Take a photo of yourself or a member of your family holding the sign.
Submit the photo via email to

[email protected]

.
It's that easy! You'll automatically be entered to win a gift card for $250. Your photo can be as simple as a selfie with your sign or you can get creative and get the family involved to have fun with it. Keep in mind that we will post these photos to the gallery you see below, as well as on our social networks, which include Facebook, Instagram, and Twitter.
All entries must be received by 12:00 AM on 11/26/2019. The winner will be announced on our social networks on Black Friday (11/29). We'll also email you to get the address where we can send your gift card. For more general rules on Consolidated Credit's contest please visit our contest page.
"We hope that this will help people focus on the feeling of becoming debt-free," Parks explains. "It's a phenomenal weight that gets lifted off your shoulders when you don't have the constant stress of credit card debt. This contest helps clients focus on that. Plus, the $250 can be a nice boost to your holiday budget when you aren't using your credit cards for holiday shopping."
| | |
| --- | --- |
| Have questions about how to budget for the holidays? Ask our financial coaches to learn how to budget for a debt-free holiday season! | Ask a Question |