Join us January 12 to start the New Year on the right financial foot.
Since more Americans got into the holiday spirit this year, it's no surprise that average household racked up over $1,200 in holiday credit card debt. It is fairly common for consumers to overspend during the holidays, and many will struggle to pay off those bills by the time the next holidays roll around.
But this year, paying off that holiday debt may be even more challenging. Prices continue to be high on everyday items, squeezing people's budgets and making it harder to get ahead of debt. But even with limited resources, it's possible to pay off holiday debt and get on the right financial foot in the New Year. Consolidated Credit is here to help you do just that!
Featured Video
Paying Off Holiday Debt – Sneak Peak! Free Webinar for Getting Debt-Free in 2022
Americans spent nearly $1,400 during the 2021 holiday shopping season. So if you're reeling from a holiday debt hangover, you're not alone! 😵‍💫 Luckily Consolidated Credit is here with a hangover cure 💊 Get a sneak peek of our upcoming webinar on January 12 that will help you develop the best plan to pay off your debt so you can enjoy the New Year with No Debt!
If you're like one in four people you don't pay off their holiday bills before the next holiday season rolls around. The average person ran up $1,400 in credit card debt last year. So, if you don't make a plan to pay it off now you could be doomed to a lifetime of minimum payments. But Consolidated Credit is here to help with a free webinar to help you recover from that holiday debt hangover. You'll learn of cutting-edge ways to cut expenses, how to create an emergency budget, and a few methods to make paying off those post-holiday bills easier. So, sign up for free today, then join us January 12th.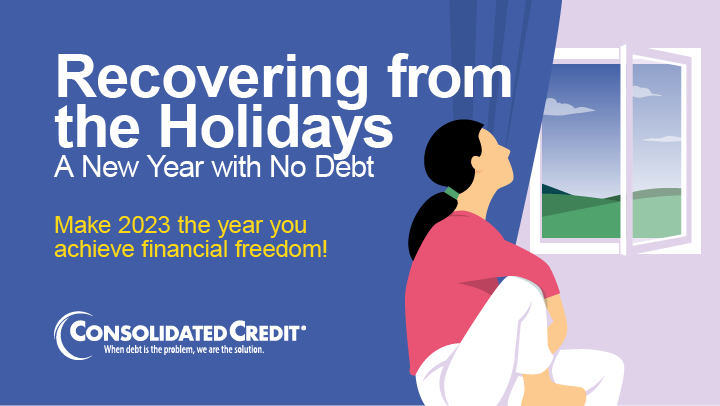 Webinar On Demand
Recovering from turbulent holiday spending can leave you with a pounding holiday hangover. Find out how you can achieve financial freedom post-holidays and begin your savings journey for the new year!
See Details
Even though the pandemic had lingering effects on people's spending habits, it didn't stop them from spending more during this past holiday season than ever before. So, regardless of what's going on in the world, the one constant is that we overspend on gifts, travel, food, and beverages.

So, let's start with a simple fact: Most Americans don't get into holiday debt because they're irresponsible or frivolous. In fact, it's because most of them get stuck a cycle of debt caused by high balances and high interest rates. However, the right plan can help you break the cycle and get ahead.
Budgeting
The first rule of personal finance is that you can't save money if you don't know how much you're spending. If you've survived this long without a monthly budget, it's not too late to start.
Write down the exact amount of money you receive from each of your paychecks. If you've got any side hustles or if you do any freelance work, write down approximately how much you make from those gigs every month. Make sure to be practical and list the income you actually receive and not what you expect to receive.
From there, you'll want to make a four-column chart that lists each of your debts: the total amount you owe, the interest rate, and the monthly payment. Add up all the monthly payments to see how much you are losing to debt every month.
And then you can start making the necessary cuts to luxury items like costly subscriptions or cable and satellite TV. Maybe you'll even consider cutting back to a cheaper phone plan or a slower internet connection.
Get a free debt and budget evaluation with a certified credit counselor
Start by figuring out how much you spend each month. Go through your credit card and bank statements from the previous month and check to see how much you spent. Did you splurge on food or stick to your grocery list? Did you buy a luxury item that you didn't really need?
What you'll want to do is cut back to your basic needs. Make sure you're covered with food, shelter, and water. Then you'll want to make sure you've got the mortgage or rent covered along with utilities. Your health should also be a priority, so make sure you add up your prescriptions or medical expenses. Finally, you'll want to have a little safety net in case you have a car breakdown or a leaky roof.
Get credit counseling to improve the new year
If you have steep and stubborn holiday bills, it may be time you consult the professionals. You'll first need to get a debt diagnosis. At nonprofit credit counseling agencies, a counselor will give you a free debt analysis. They'll give you a list of debt-busting options!
So, if you or someone you know is looking for a means of getting out of credit card debt as quickly as possible, call Consolidated Credit.
Get a free debt and budget evaluation to discuss options for relief.