Consolidated Credit Celebrates Veteran's Day – by Helping Veterans
The pandemic has hurt everyone's mental and financial health, but Veterans have been hit harder.
Since the pandemic started, more than half of all Veterans report their mental health has worsened, according to The Wounded Warrior Project. Military suicides have risen 20 percent in that same time, says the Associated Press.
Those shocking statistics hide an even grimmer reality: Veterans suffered serious mental health – and financial health – problems even before the pandemic.
"Veterans have to transition to this different life where everything's not done for you, like on a base," says Barry Rothman, a housing counseling manager at Consolidated Credit, one of the nation's oldest and largest nonprofit credit counseling agencies that was also recently named the best credit counseling agency for Veterans. "So having to navigate life is harder for them – so all of that cascades down into financial troubles."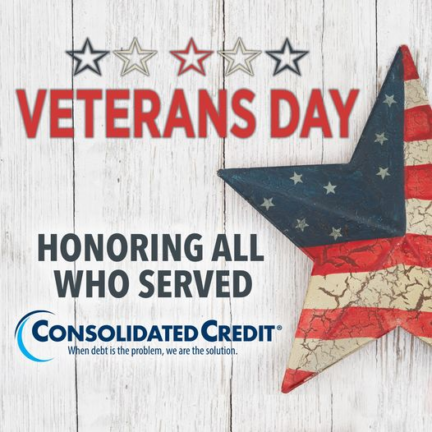 It's such a widespread and complex problem that Consolidated Credit joins forces with other organizations to support our Veterans. One of those is the United Way.
"We see situations where veterans that were doing pretty well for themselves and then all of a sudden, they get medical bills during times of COVID-19, or they might have lost their job," says MISSION UNITED'S director Sybil Allison, which is part of the United Way of Broward County. "So we basically help Veterans with their financial wellbeing – get them back on track or prevent further mess-ups in their credit or further downward spiral in their finances."
Ms. Allison will send some of those Veterans to Consolidated Credit for help with their credit and their housing. Meanwhile, Consolidated Credit also partners with the Employer Support of the Guard and Reserve. ESGR is a Department of Defense program that helps active duty service members find work.
"Military employees are excellent leaders and outstanding followers," says Peter Caspari, ESGR's employer outreach director for Florida. "They're loyal, dedicated and highly motivated. But some veterans have a difficult time translating their military skills to the civilian workforce."
ESGR was founded in 1972 to help both Veterans and reservists find and keep civilian work as they return from being deployed, and Caspari says it can be a tough job ensuring those military personnel land good jobs.
"Some employers are reluctant to hire Guardsmen and Reservists because of their military obligations," he says. "Some Veterans have a difficult time translating their military skills to the civilian workforce."
By working with groups like the United Way and ESGR, Consolidated Credit can spend time helping individual Veterans' triumph over their adversity, Rothman says.
"When we do a counseling session with a Veteran, we talk to them about their income situation, draw up a full budget. We use the skills we've gathered over the past three decades to uncover financial problems that are holding a Veteran back."
It's time-consuming but rewarding, Rothman says. While Rothman and all of Consolidated Credit will celebrate Veteran's Day, Rothman says in many ways, it's just another day. "On Veteran's Day, like any other workday, I'll be ready to help our military personnel conquer their financial problems," he says. "And whenever I can do that, it's a great day."