Veterans Day is a time for Americans to pay their respects to those who have served the country. We stand united in respect for you, our Veterans. We are here to celebrate and honor nearly 20 million American Veterans for their patriotism and willingness to serve and sacrifice for the common good.
This Veterans Day, Consolidated Credit wants to give back by highlighting some of the federal programs that provide financial help for Veterans. Whether you are looking to buy a home or looking for information on disability benefits, such as student loan forgiveness, Consolidated Credit is here to help!
Federal programs offer financial help for Veterans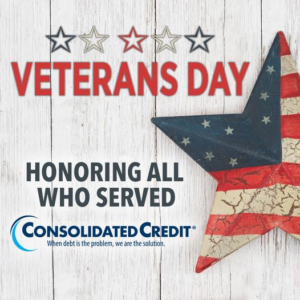 In 2011, the Department of Defense (DOD), the Department of Homeland Security (DHS), the Department of Veterans Affairs (VA), and many other federal agencies teamed up and implemented a redesigned Transition Assistance Program (TAP) for Veterans. After their service ends, many Veterans face transitional challenges as they move back to a civilian lifestyle.
The Transition Assistance Program (TAP) helps connect discharging Service Members to benefits and services that will assist them in overcoming most challenges or obstacles they may face. The Department of Veterans Affairs (VA) and other federal agencies offer support with challenges like unemployment, mental health issues, and disability-related issues.
VA home loans offer a path to homeownership
The path to homeownership can be challenging for military families. That's why the U.S. Department of Veterans Affairs (VA) has taken action to help make housing more affordable for Veterans. The VA administers the program; however, they work with many different lenders to guarantee VA home loans.
With this guarantee, lenders face fewer risks from borrowers defaulting on their homes. If a borrower were to stop repaying a loan, the VA would go ahead and reimburse the lender for a portion of the outstanding loan balance. As a result, Veterans can qualify for a home loan with little or no money down, and low or no credit score requirement.
Consolidated Credit offers Veterans a free consultation with a HUD-certified housing counselor. Call 1-800-435-2261.
The GI Bill helps Veterans advance their education
Since 1944, the GI Bill has helped qualifying Veterans and their family members get money to pay for some or all of their educational costs. The GI Bill offers benefits that help Veterans pay for college, graduate school, and even training programs.
The Post-9/11 GI Bill, which was implemented on August 1, 2009, has provided a better future for 773,00 Veterans and their family members. It has also provided financial support for education as well as housing to individuals with at least 90 days of service after September 10, 2001. Individuals discharged with a service-related disability after 30 days are also eligible.
Sybil Alison, Director of Mission United of Broward County, encourages Veterans to rely on the VA to learn about all benefits Veterans have available.
Benefits for disabled Veterans
Veterans with service-related disabilities or an "other than dishonorable" discharge may qualify for a monthly tax-free VA Disability Compensation benefit that ranges from $133 a month to over $3,400 every month. Over 4 million Veterans with disabilities received benefits in 2019.
Additionally, the Department of Education and the VA have taken steps to implement new rules that make it easier for Veterans to automatically qualify for student loan forgiveness as a result of a Total and Permanent Disability (TPD).
Consolidated Credit also offers financial help for Veterans
Consolidated Credit is a proud partner of Mission United of Broward County. Through this partnership, we've helped Veterans connect with crucial resources that help address financial challenges that can lead to poverty and homelessness. This year, as part of the advisory council, we've worked with the team to develop a robust advocacy program for Veterans in Broward County.
Consolidated Credit is also proud to support our nation's military by employing National Guard Members, Reservists, and Veterans in their civilian life. In 2020, Consolidated Credit was recognized by ESGR (Employer Support of the Guard and Reserve) for pledging to honor our military personnel in the spirit of the Uniformed Services Employment and Reemployment Rights Act.
Help for Veterans facing challenges with credit card debt
Consolidated Credit offers a lending hand to Veterans by waiving fees for debt management programs. So, if you or someone you know is looking for a means of getting out of credit card debt as quickly as possible, call Consolidated Credit.
Get a free debt and budget evaluation to discuss options for relief.
Financial resources for Veterans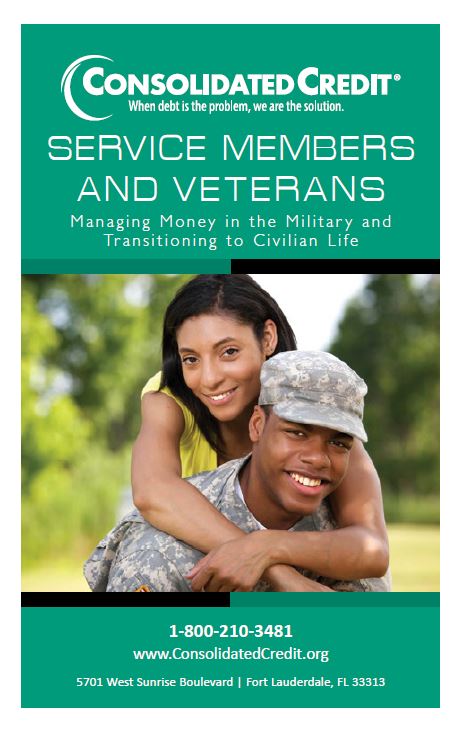 Booklet
Service Members Managing Money in the Military
Money Management
Military service comes with some unique financial challenges. This guide helps Service Members and their spouses effectively manage their family finances through deployment and Permanent Change of Station (PCS). It also helps Veterans successfully transition to a financially stable civilian life and explains what resources are available to help them.
Open Booklet
Download Booklet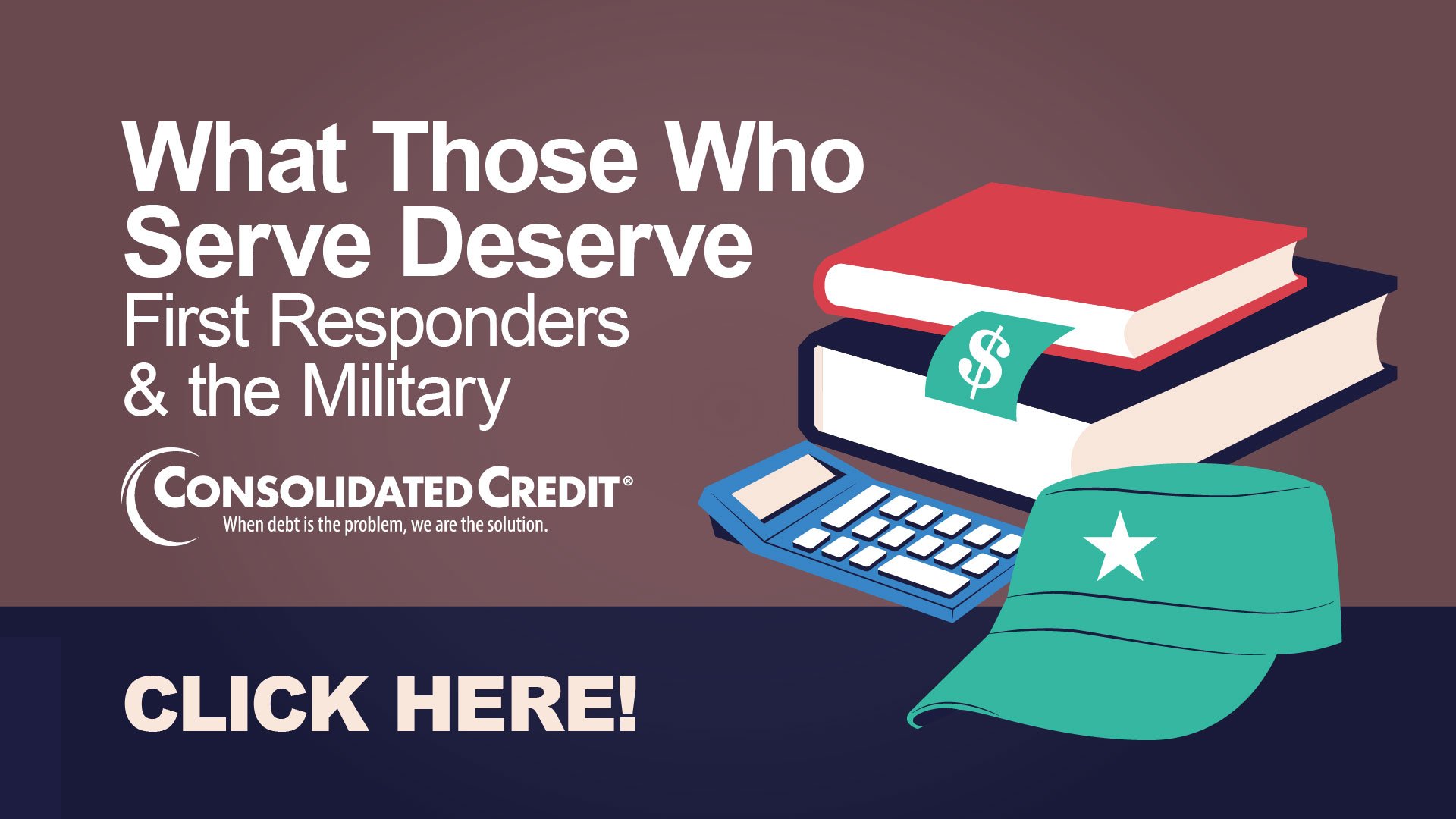 Webinar On Demand
First responders and military Service Members face unique financial challenges. This webinar offers tips on managing your money and how to find programs that can help you save.
Runtime: 21:03
See Details