Over one-third of Americans are shifting away from traditional, long-term employment. Instead, they're turning to side hustles as a way to earn extra cash, pay down debt, and get ahead financially. Some are able to make gig work their primary source of income and make just as much—if not more—than they would at a standard 9-5.

But while there are plenty of benefits to partaking in gig work (convenient, virtually limitless potential income, and an unrivaled level of flexibility) there are also pitfalls you'll want to avoid. Consolidated Credit has created a webinar to help guide you to finding the right gigs for your time and goals. Join us this month to learn about the Gig Economy, how to turn skills into money, and avoid scams designed to suck you in for "easy money."
Find a second stream of income—without cramping your lifestyle.
Consolidated Credit is hosting a free webinar specifically for current and prospective gig workers, freelancers, independent contractors, and other types of temporary workers. Led by one of our financial coaches, you'll learn:
The different types of side gigs and where to find them
Side gig traps and scams to avoid

How to create a financial plan for managing your side gig income
Join us Wednesday, September 14, 2022, at 1:00 PM EST, and register for the webinar here.
Featured Video
Making the Most of a Gig Economy – Sneak Peak! Free Webinar for Gig Workers
Consolidated Credit is hosting a free webinar helps gig workers make the most of the gig economy. This video offers a sneak peek at what our certified financial coachwill cover. Check it out, then sign up to join us!
Thinking about getting a side gig to earn extra income or transition away full-time work? Consolidated Credit is here to help with a free webinar "Making the Most of the Gig Economy."
Learn how to find the best side hustle for you, how to avoid side gig traps and scams, and how to set the right financial plan for your side gig income. Sign up for free today!
What is gig work?
Gig work is a broad category that refers to any source of income outside of the traditional employer relationship (think long-term and with steady paychecks). The term originally was used in reference to musicians with "gigs" being a performance or other sort of booking. This slang came to refer to any job that only lasted a specific period. Now it's come to include:
Freelancers who get paid per project or another type of output (words written, photos edited, items made)
Independent contractors
Temporary or seasonal hires
Part-time workers (anyone working less than 35 hours a week)
Unlike standard employment, where the expectation is that you'll work there for the foreseeable future, gig work is entered knowing that there is a definite end date or time. As such gig work can be something that lasts a few minutes or a few months. Specific examples of different types of gig workers are:
Mortgage representatives
Trade workers (i.e. carpenters, electricians)
Airbnb hosts
Virtual assistants
Substitute teachers
Photographers and models
Hair stylists
Use a side gig to get ahead of your debt
Whether you're using a side gig to earn extra income or looking for an alternative to full-time work, setting up a good side gig can be hugely beneficial—especially if you're working to pay off credit card debt. Here's an overview of the rapidly growing gig economy and how other gig workers like you, are utilizing it.
Need help setting up a budget as a gig worker? Talk to a certified credit counselor for a free evaluation.
The growth of the gig economy
It's estimated that between 25% and 35% of American workers participated in some type of this temporary or project-based employment in the past month—a number that's only expected to grow. In 2018, the value of the gig economy was approximately $204 billion. In 2022, that number has nearly doubled to $401 billion!
However, side hustles and freelance work aren't new concepts (the earliest record of the term freelance came from the 1800s in which Sir Walter Scott's Ivanhoe referred to for-hire nights to add to his army as "free lances"). It's just that it's easier for interested people to be connected to earning opportunities. Mobile-based online marketplaces like Uber, Doordash, and TaskRabbit have made it easier than ever for workers of all skill levels to dip their toes in the gig economy and pick up an "odd job". The increasing shift to digital has also made gig work more accessible, with sites like Upwork that connect people to jobs all over the world.
Why are people seeking side hustles?
These workers are doing so for all sorts of reasons, not just to make ends meet. Many seek gig-based because of the flexible scheduling as a convenient way to supplement their income around their schedules. Others use gig work as an opportunity to monetize hobbies and skills or because they feel that they wouldn't be able to work a traditional job due to personal circumstances. The COVID-19 pandemic also played a role in the explosive growth of gig work as shutdowns saw the proliferation of remote work and telecommuting.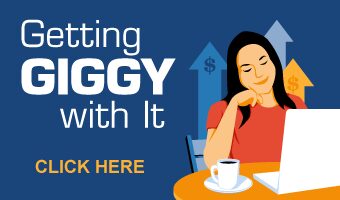 U.S. Gig Economy 2023 Infographic
Ready to start your own side hustle?
Managing irregular income streams or the lack of employee-sponsored benefits like healthcare or retirement savings can be an obstacle that makes it challenging to meet your financial goals through side hustles. But gig work isn't going anywhere anytime soon. In fact, it's estimated that at least half of all Americans will have participated in a side hustle at least once by 2027. Plus, the overwhelming majority of Americans agree it's a great way to pad your savings and help make ends meet.
Whether you're interested in transitioning away from traditional full-time work or are just looking to add another stream of income, learn how to do so wisely with Consolidated Credit and register today.
The gig economy has pros and cons that can benefit you if you are living of it or simply need a few extra bucks to pay your debt or boost your savings.
Runtime: 21:16
Date & Time
Wed , Sep 14 | 01:00 pm – 02:00 pm
Online Service
GoToWebinar
See Details
Sources