How to set up a second income stream without cramping your lifestyle.
There are two easy ways to support a debt-free and stress-free life. You can spend less, or you can earn more—or you can do both! When you want to bring in a little extra income, you end up dipping your toes into the Gig Economy. But finding the right side gig can be stressful. That's why we're here to help with a special webinar designed for gig workers.
Consolidated Credit will host a free webinar "Making the Most of the Gig Economy" to help you hustle better. Join us Wednesday, December 08, 2021 at 1:00 p.m. (EST)
Featured Video
Making the Most of a Gig Economy – Sneak Peak! Free Webinar for Gig Workers
Consolidated Credit is hosting a free webinar in December that helps gig workers make the most of the gig economy. This video offers a sneak peek at what our certified financial coach Doris Baker will cover. Check it out, then sign up to join us on 12/8/21 at 1:00 p.m. (EST)
Thinking about getting a side gig to earn extra income or transition away full-time work?

Consolidated Credit is here to help with a free webinar "Making the Most of the Gig Economy."
Learn how to find the best side hustle for you, how to avoid side gig traps and scams, and how to set the right financial plan for your side gig income.

Sign up for free today, then join us on Wednesday December 8th, 2021.
Using a side gig to get ahead of your debt
Whether you're using a side gig to earn extra income or looking for an alternative to full-time work, setting up a good side gig can be hugely beneficial—especially if you're working to pay off credit card debt. But you need to pick the right side gig for you and set the right plan for the money you earn.

Gig workers can sign up for this free webinar
Consolidated Credit has created a webinar to help guide you to finding the right gigs for your time and goals. Join us this month to learn about the Gig Economy, how to turn skills into money, and avoid scams designed to suck you in for "easy money."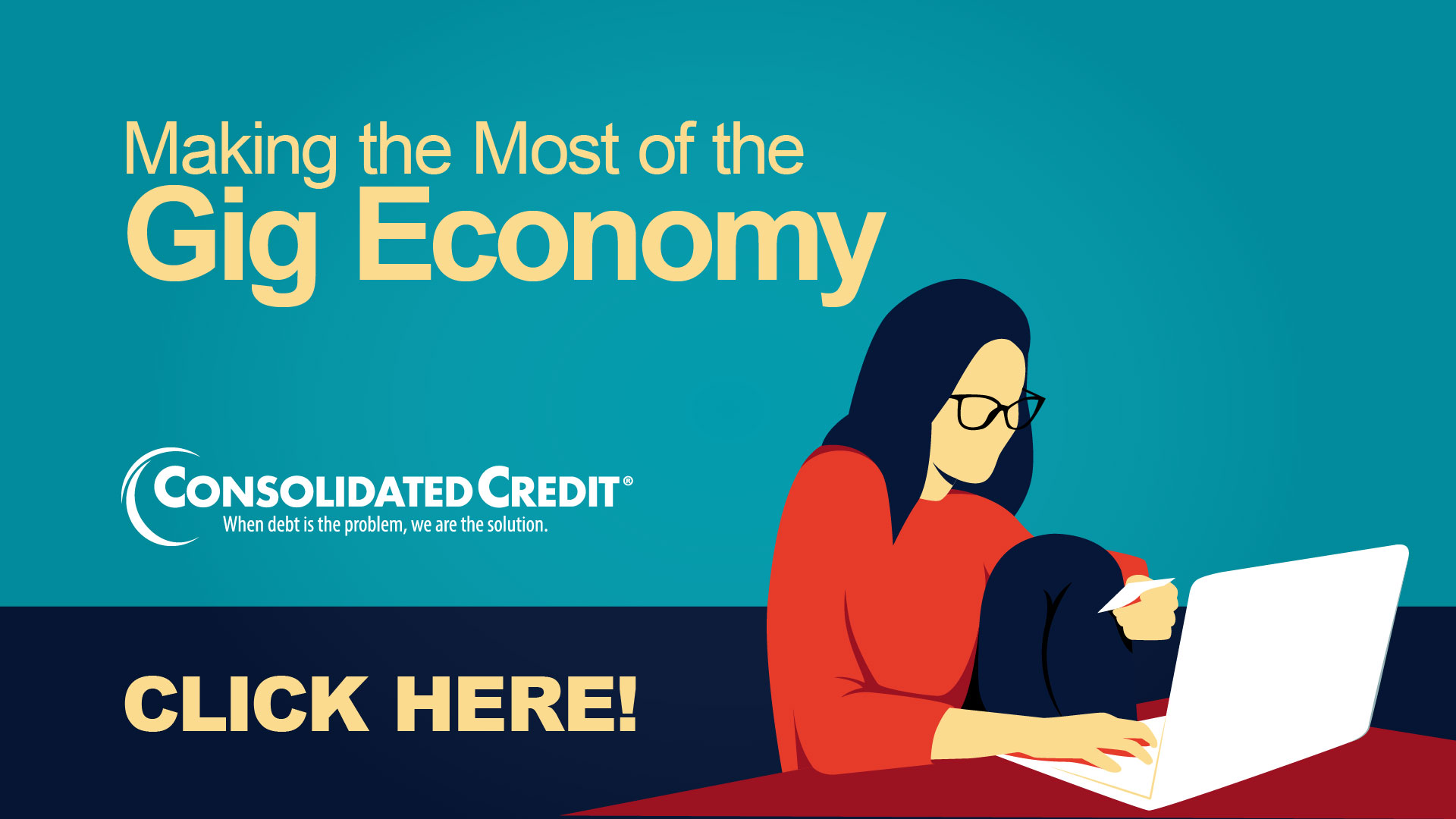 If you're looking for extra income, the gig economy gives you plenty of opportunities to boost your income. This free webinar will help you develop an effective side hustle without getting scammed.
Date & Time
Wed , Dec 08 | 01:00 pm – 02:00 pm
Online Service
GoToWebinar
See Details
Need help setting up a budget as a gig worker? Talk to a certified credit counselor for a free evaluation.