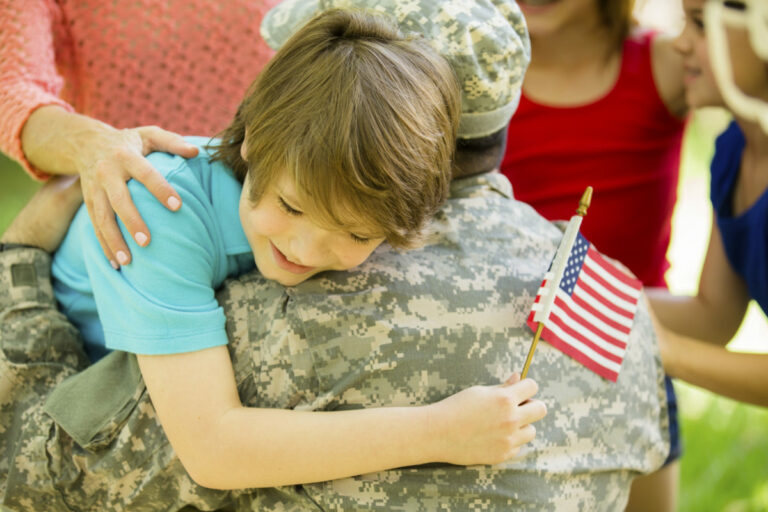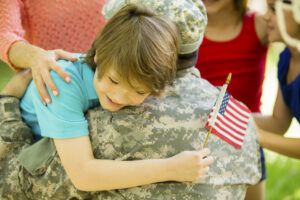 This Memorial Day, Consolidated Credit wants to take some time to address a pressing issue our Service Members face: identity theft.
Although everyone – even children – is at risk for ID theft, Service Members are even more susceptible.
A recent study by the Federal Trade Commission (FTC) revealed that, compared to other adults, active-duty Service Members are 76 percent more likely to report identity theft due to fraudulent use of their personal accounts.
It gets worse. Reports from active-duty Service Members show that twenty percent experienced two or more variations of identity theft.
So, how are those who protect us supposed to protect their identities? Here are some tips the FTC recommends.
How Service Members can defend against identity theft
Check in on accounts
Because they are away from home while defending the United States, members of our military may miss important bills and bank notifications. This can make it difficult to keep up with accounts.
To remedy this, Service Members should use online banking to frequently review transactions. If a suspicious transaction occurs, they can know right away.
Guard personal information
Passwords, PIN numbers, Social Security numbers, and other identifying information should never be shared online. If a Service Member receives a call, text, or email requesting personal information, they should ignore it. It's likely a scam.
Freeze accounts
Using online banking apps, Service Members can freeze debit and credit card accounts when they aren't in use. This way, no one else has the chance to use the account.
Monitor credit
Service Members are eligible for free credit monitoring. This lets consumers know when there are changes on their credit reports.
The three major credit bureaus – Equifax, Experian, and TransUnion – started providing free credit monitoring to active-duty Service Members and members of the National Guard in 2019.
Put an active-duty alert on credit reports
Deployed Service Members can place an alert on their three credit reports showing that they are currently on active duty. These alerts mean creditors have to be extra thorough when verifying someone's identity before extending a line of credit.
Know the Servicemembers Civil Relief Act
Military personnel on active duty have special rights as outlined by the Servicemembers Civil Relief Act (SCRA). Service Members should review these rights, which include lowered credit card interest rates, before deployment.
Be extra cautious
Because of their heightened susceptibility to identity theft, it can benefit Service Members to use extra caution concerning their credit.
Whether deployed or not, they should report identity theft if there's suspicious activity on an account. They can also consider freezing their credit completely.
How Consolidated Credit can help
Consolidated Credit understands the importance of financial education for Service Members. "We partner closely with U.S. Southern Command and other organizations to provide valuable financial resources to military personnel and Veterans," says Maria Gaitan, Director of Housing Counseling and Community Development. "It's the least we can do to support the men and women serving our country."
Below are some of the resources we offer.
Money management for members of the military
Service Members have unique money challenges. One of these challenges may be debt. Our tips for military debt consolidation explain how Service Members can better pay down their debts.
Consolidated Credit also offers free personal finance eBooks covering money management for Service Members and identity theft: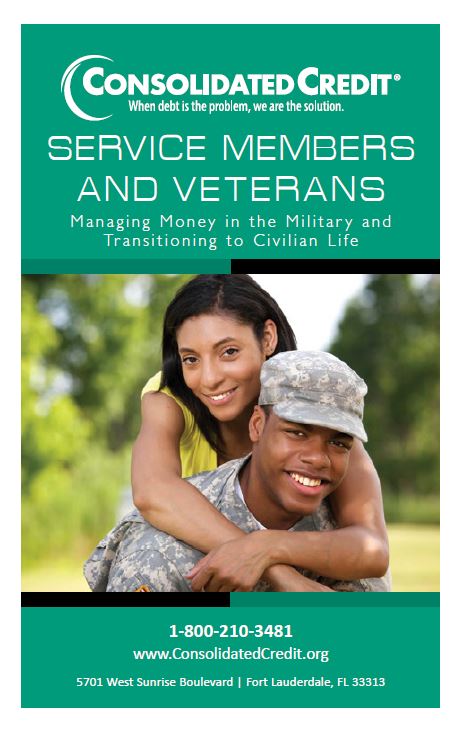 Booklet
Service Members Managing Money in the Military
Money Management
Military service comes with some unique financial challenges. This guide helps Service Members and their spouses effectively manage their family finances through deployment and Permanent Change of Station (PCS). It also helps Veterans successfully transition to a financially stable civilian life and explains what resources are available to help them.
Open Booklet
Download Booklet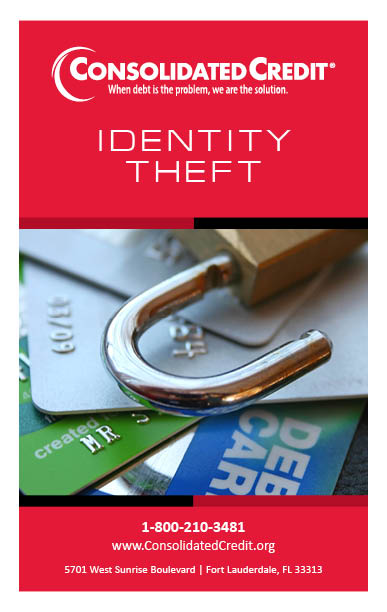 Booklet
Identity Theft
Credit
Identity theft can ruin your credit and cost you serious time and money. It's essential that you take steps to protect your identity and learn how to prevent ID theft. This guide will teach you how, as well as providing guidance on what you should do if you've been a victim.
Open Booklet
Download Booklet
Financial guidance for Veterans
Consolidated Credit compiled financial tips specifically for Veterans. The page guides Veterans through benefits, taxes, college options, and more.
Debt management program (DMP) perks
Initial debt management plan fees for active duty Service Members are always waived by Consolidated Credit. Service Members who are already enrolled in a DMP can have their interest rates reduced even further when deployed on active duty.  For Veterans facing hardship, lowered or waived fees may also be available.
If you're facing debt or credit challenges while you serve or as you transition back to civilian life, we can help. Talk to a certified credit counselor for a free evaluation.