Consolidated Credit Announces the Rebounding from COVID-19 Webinar Series
Sign up for these six webinars to kickstart your recovery plan.
While there's still much uncertainty about when the country will be able to fully reopen, Americans are working hard to recover from the economic upset caused by COVID-19 and the ensuing financial crisis. There are encouraging signs, such as the report that we gained 4.8 million jobs in June, dropping the unemployment rate to 11 percent.[1]
To help people learn how to recover as quickly as possible, Consolidated Credit has announced a 6-part webinar series: Rebounding from COVID-19.
"Getting back to work is only one step in financial recovery," says Maria Gaitan, Consolidated Credit's Director of Housing Counseling and Community Outreach. "People need a plan to eliminate debt that they've been forced to take on during the crisis. They need advice on how to reestablish good credit quickly. And that's what we're able to provide through this webinar series."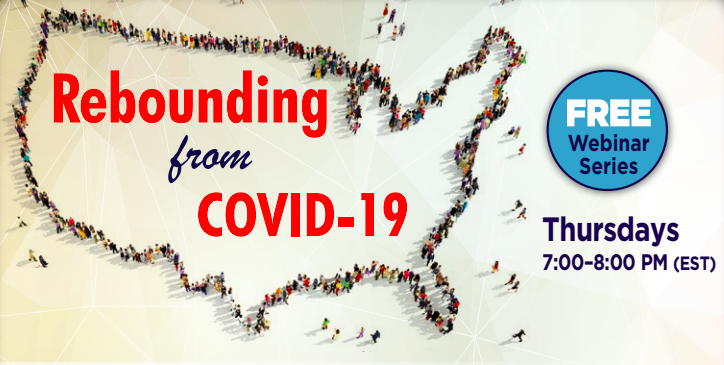 Learn what you need to know to rebound
The series will begin on Thursday, July 23rd at 7:00 p.m. (EST) and continue every Thursday evening through August. Each session is individual, so you can sign up for any sessions that are relevant to you.
"The six-part series includes specialized sessions that address specific financial challenges some consumers are facing," Gaitan explains. "We have a session for small business owners, one for student loan borrowers, and another for families who need to prepare for natural disasters during this pandemic.
"Then we're finishing the series off with a webinar for anyone looking to take advantage of historically low interest rates to buy a home," Gaitan continues. "It's a great time to buy, but there are some unique challenges that you may need help to overcome."
Each session is one hour and taught by a certified financial coach. Attendees will be able to ask questions and will receive a whitepaper after the webinar that they can refer back to.
Registration for the six courses is open now.
Free counseling is also available
Consolidated Credit also has hotlines that people can use to speak one-on-one with a certified counselor.
Call 800-210-3481 for questions about your debt, credit, budget, and bills
Call 800-435-2261 for questions about your mortgage, equity, preventing foreclosure, or buying a home
You do not need to participate in the webinars to take advantage of these hotlines. They are open to everyone.
"Our goal is to help people get back on their feet," says Gary Herman, President of Consolidated Credit. "The financial challenges that people are facing can seem overwhelming, but with the right advice people can create a plan that helps them take the right steps to recover."