Record number of trade-ins "upside down" as buyers seek new wheels.
Each week, Consolidated Credit searches for financial research that can help you deal with your debt and budget. This week…
The interesting study
A new report in USA Today reveals a pronounced financing gap in the auto industry. According to Edmunds.com, a record number of car buyers are coming in with trade-ins that are upside down. In other words, their old car isn't even worth enough to cover the remaining balance on their previous auto loan.
The big result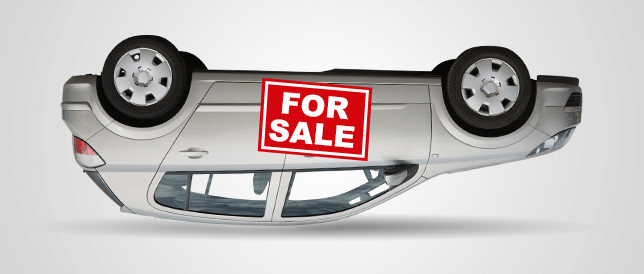 Nearly one-third (32%) of all vehicles are brought onto dealership lots as trade-ins are upside down. This means instead of getting money off on a new vehicle purchase, these car buyers actually OWE money. The difference between the balance remaining on the loan and the car's value must be added to the purchase price.
The fascinating details
It's not unheard of for car buyers to come in upside down. The previous high was set in 2006 when 29.2% of buyers were upside at the time of a new vehicle purchase. Interestingly enough, the lowest percentage was hit in 2009 during the Great Recession; only 13.9% of car buyers were upside down.
Edmunds.com also provided some additional statistics on the state of consumer car buying:
The average term on a new car loan is 68 months.

For subprime buyers with credit scores in the low 600s, the average term goes up to 72 months.

The average selling price of a new vehicle is at a record-high $34,000.
A record number of vehicles are being leased. Leases now account for 30% of all vehicle sales.
The 60-day delinquency rate on subprime loans hit 5.05% in September.

Delinquency rates hit 5.04% in 2009 when unemployment was around 10%.
Prime borrowers only have a delinquency rate of 0.44%

Dealers are also offering record-high purchase incentives. Incentive spending hit $3,886 in November – second only to the $3,939 incentives seen in September of this year.
What you can do
The trouble that experts see is a combination of several factors listed above. Sale prices are rising; as a result, many buyers have to finance larger amounts to get today's top vehicles. So consumers are taking out larger auto loans.
At the same time, buyers with subprime credit scores are getting longer and longer terms. While extending the term on a loan lowers the monthly payments, it also means the principal owed on the car is reduced slowly. In many cases, the car depreciates in value faster than the principal on the loan is paid down. This is how buyers end up upside-down auto trade-in.
"Too often, buyers focus solely on achieving the lowest monthly payments on the car they want," says Gary Herman, President of Consolidated Credit. "They don't consider the long-term effects of borrowing more by extending the term on an auto loan to up to 6 years."
Herman says car buyers need to pay more attention to the total cost, instead of focusing wholly on the monthly payment. This applies to both car buyers and people who prefer to lease.
"Just because you can walk into a dealership with $0 down and qualify for a 72-month loan on a $34,000 car, it doesn't mean you should," Herman explains. "Car buyers need to take extra steps to calculate the total cost and compare loan payoff to depreciation."
For more information on how to effectively manage auto loans, visit Consolidated Credit's free Guide to Managing Auto Loan Debt.