Consolidated Credit helps you avoid debt for the winter holidays.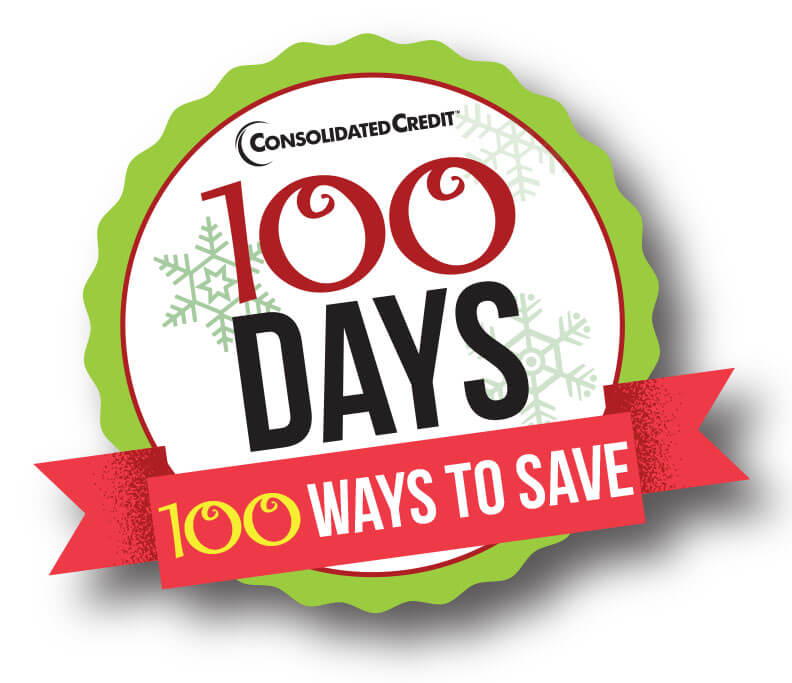 If you're like most people, you're probably not thinking about the winter holidays yet – after all, we're not even to Halloween yet! However, there are exactly 100 days left before Christmas Eve. That means you have 100 days to plan and execute a holiday budget so you don't wind up with a holiday debt hangover after the festivities are done.
Luckily, avoiding holiday credit card debt is easier than you think if you make the right plan, and Consolidated Credit is here to help. From now until Christmas, Consolidated Credit is launching a social media campaign called 100 Days, 100 Ways to Save.
Each day we'll put out a new daily for something you can do that day to help you avoid holiday credit card debt. All you need to do is join is follow us on Twitter or join us on Facebook, then stop by each day for your tip. Follow the advice and take the action you need to save money so you can avoid overspending that usually leads to added debt around the holidays. You can find daily tips easily by using the hashtag #100Days100Ways.
Retweet to win
In addition to helping you save, we're also giving you a chance to win big! Throughout the #100Days100Ways campaign, Consolidated Credit is inviting you to retweet all of the daily tips that we offer. Each retweet earns you one entry into a raffle for a $100 gift card. One winner will be chosen on Black Friday (November 27) to give their holiday budget a last-minute boost and another winner will be chosen on December 30 – just in time for the New Year!
Click here to find details and rules for the contest!
Need more holiday saving tips?
Just visit Consolidated Credit's Holiday Survival Guide for more tips and tricks on sticking to a debt-free spending plan during the year's most expensive shopping season. And remember, if you get into trouble with high credit card balances because of holiday spending, we're here to help. Call Consolidated Credit at or complete an online application to request a confidential debt and budget evaluation from a certified credit counselor at no charge.