100 Days, 100 Ways to Save Money
With 100 days before Christmas, it's time to start planning!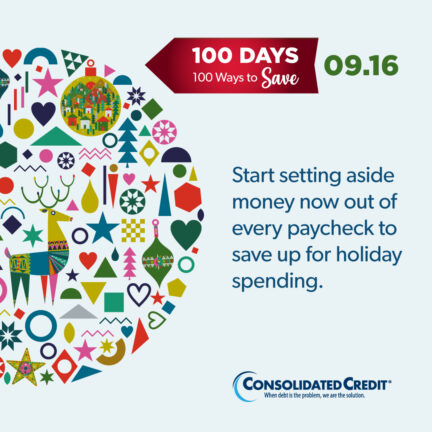 September 16th marks the official start of the winter holiday shopping season. It may seem too early to start thinking about gift lists and holiday plans, but starting a holiday spending plan this early is the best way to avoid a holiday debt hangover in the New Year. And with prices on everything from food to gas to everyday items rising in 2021, that's more important than ever.
"The winter holidays are the most expensive time of year for most families," explains April Lewis-Parks, Education Director for Consolidated Credit. "So in a year where prices are rising, it's essential that people set a budget early and spend carefully throughout the holiday season to avoid serious challenges with credit card debt."
Finding a new way to save each day
For the next 100 days, Consolidated Credit will feature a new money-saving tip on our favorite social networks:
"The 100 days, 100 ways tips are designed to help people learn practical ways to keep holiday costs low," Lewis-Parks says. "There are things you can be doing in September, October, November—all the way to the winter holidays—that will help you stay on budget, so you can avoid debt."
Tips don't just focus on gift-giving. There are ways to save on holiday travel, meal planning, decorating, and even shipping on holiday cards. Our team updates the tips every year. For 2021, we're focusing on how you can use technology and the latest tools to find easy ways to save. You'll still find old-school, tried and true tips for ways to save that don't require your smartphone. But not you'll learn all the latest ways to use technology to your advantage.
How to win $100 while finding 100 ways to save
In an effort to encourage people to follow these tips, Consolidated Credit is giving you three chances to win a $100 gift card. To enter, simply follow Consolidated Credit on your favorite social platform. Then retweet, like, share, pin, and repost each daily tip. For each action you take each day, you'll get one entry into the contest. There's no limit to how many entries you can earn!
Then there will be three drawings between now and December. Each round, Consolidated Credit will tally up the entries and draw one winner. That individual will receive a $100 gift card that we'll email to you following the winning announcement on our social networks.
1st drawing: Friday, October 15, 2021, at 12:00 PM (EST)
2nd drawing: Friday, November 19, 2021, at 12:00 PM (EST)
3rd drawing: Tuesday, December 28, 2021, at 12:00 PM (EST)
For detailed contest rules, please visit our Contest page.
How the 2021 holiday shopping season is shaping up
As the country has reopened in 2021 from 2020 shutdowns, it's led to a rapid rise in inflation that no one predicted. Prices on many items that go into holiday spending have increased—food, gas prices, travel prices, and shipping prices have all risen dramatically. If you're traveling this year by plane, you can expect higher ticket prices on airfare, higher hotel prices, and higher prices on rental cars.
That means that even if you don't change your holiday spending plan from last year, your total cost this year will be higher. This makes it critical to plan carefully and figure out what you can cut back on while still spreading the holiday cheer.
Another major change is the increase in online shopping. The increase started as a result of the pandemic, but consumers have indicated that plan to stick with online and smartphone app shopping. But a recent LendingTree survey found that 29% of Americans admit that on-demand delivery like retail delivery has led them to overspend.
"Online and app shopping can be immensely convenient, but it can also be counterproductive to sticking to a budget," Lewis-Parks continues. "Making a budget and having it by your side while you shop online is just as crucial as shopping with a list when you're in a store. You also want to buy early, to use as me free shipping options as possible."
Use Consolidated Credit's holiday spending planner to start saving!
"Early planning is the key to avoiding a holiday debt hangover," Lewis-Parks continues. "We created an interactive holiday spending planner that makes it easy to set a holiday budget. We encourage people to use this free tool now, then follow the tips in 100 Days, 100 Ways to Save to help avoid overspending."
This free tool walks you step by step through how to create a holiday budget, based on how much income you have. It will help you set spending targets for gifts, decorations, travel, and meals. Then you can print it out and keep it with you as you shop to stay on budget.
| | |
| --- | --- |
| Need to pay off credit card debt ahead of the holiday shopping season?  Talk to a certified credit counselor for a free debt and budget evaluation. | Pay Off Debt |