100 Days, 100 Ways to Save Money
It may seem like forever, but you actually only have 100 days left to shop for the winter holidays. We're here to help you save…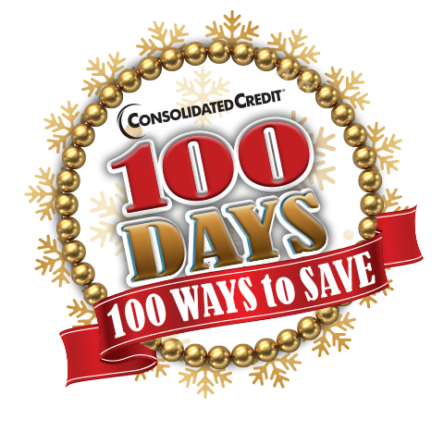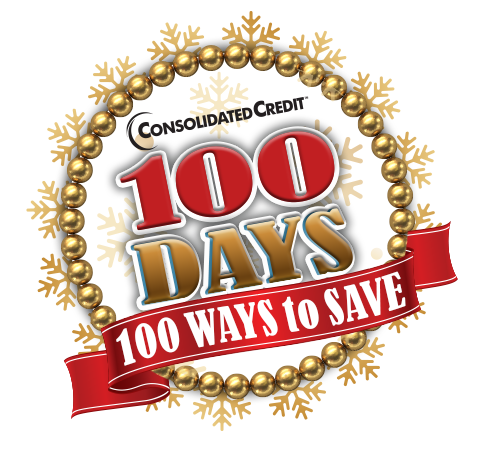 If you're like most people, you're probably not thinking about the winter holidays yet. In fact, you might already be annoyed seeing Halloween decorations and merchandise lining your favorite stores. Still, the reality is that as of September 16, there are officially 100 days left to shop for the winter holidays. If you're living on a tight budget or trying to avoid debt, now is the time to start budgeting, planning, and find smart ways to save money. With that in mind, Consolidated Credit announces the launch of our 100 Days, 100 Ways to Save campaign.
"The winter holidays are the most expensive time of year for most families," explains April Lewis-Parks, Education Director for Consolidated Credit. "Along with all the joy and good cheer, the holidays also bring a higher risk for taking on credit card debt. It's crucial to budget and plan, if you don't want to start 2020 with a mountain of new debt to pay off. And we're here to help you find smart ways to reduce costs and save. Even better, we're giving three people a chance to win $100 to give a much-needed cash boost to their holiday budget."
Finding a new way to save each day
For the next 100 days, Consolidated Credit will feature a new money-saving tip on our favorite social networks:
"The 100 days, 100 ways tips are designed to help people learn practical ways to keep holiday costs low," Lewis-Parks says. "There are things you can be doing in September, October, November – all the way to the winter holidays – that will help you stay on budget, so you can avoid debt."
Tips don't just focus on gift-giving. There are ways to save on holiday travel, meal planning, decorating and even shipping on holiday cards. We've also asked personal finance bloggers and finance experts to offer their personal tips, to help give people all the money-saving ideas they need to avoid debt this year. Following all 100 tips will teach you how to set a reasonable budget for holiday spending and stick to it.
How to win $100 while finding 100 ways to save
In an effort to encourage people to follow these tips, Consolidated Credit is giving people three chances to win a $100 gift card. To enter, simply follow Consolidated Credit on your favorite social platform. Then retweet, like, share, pin and repost each daily tip. For each action you take each day, you'll get one entry into the contest. There's no limit to how many entries you can earn!
Then there will be three drawings between now and December. Each round, Consolidated Credit will tally up the entries and draw one winner. That individual will receive a $100 gift card that we'll mail to you following the winning announcement on our social networks.
1st drawing: Wednesday, October 16, 2019 at 12:00 PM (EST)
2nd drawing: Monday, November 18, 2019 at 12:00 PM (EST)
3rd drawing: Thursday, December 26, 2019 at 12:00 PM (EST)
Use Consolidated Credit's holiday spending planner to start saving!
"Early planning is the key to avoiding a holiday debt hangover," Lewis-Parks continues. "We created an interactive holiday spending planner that makes it easy to set a holiday budget. We encourage people to use this free tool now, then follow the tips in 100 Days, 100 Ways to Save to help avoid overspending."
This free tool walks you step by step through how to create a holiday budget, based on how much income you have. It will help you set spending targets for gifts, decorations, travel, and meals. Then you can print it out and keep it with you as you shop to stay on budget.
| | |
| --- | --- |
| Need to pay off credit card debt ahead of the holiday shopping season?  Talk to a certified credit counselor for a free debt and budget evaluation. | Pay Off Debt |