The year is half over, it's time to start budgeting for the holidays now!
These days, with Amazon Prime Day and Black Friday in July sales, there's no end to companies trying to convince you to spend money this time of year. Here at Consolidated Credit, we have a different take on why you should be thinking about Christmas in July. It marks the start of the second half of the year and a great time to get a jump on budgeting and thinking about winter holiday expenses.
Isn't it too early to start thinking about holiday shopping?
"The winter holidays may seem far off, but depending on when you get paid, there are really only ten to twelve paychecks left before these holidays," says April Lewis-Parks, Education Director for Consolidated Credit.
"We're totally aware of the burnout people get from holiday shopping seasons getting pushed earlier and earlier every year, but the winter holidays are the most expensive shopping season. Families spent over $1,000 on average last year[1] and much of that expense ends up on high-interest-rate credit cards" Lewis-Parks continues. "The best way to avoid holiday debt is to start planning your holiday budget now. Then you can know exactly how much money you need to save out of each paycheck."
Consolidated Credit has created an interactive holiday spending planner that will walk you step by step through creating a holiday budget:
How to use July "shopping holidays" to your advantage
In order to compete with Amazon's Prime Day, many stores are offering their own deals for Black Friday in July. Walmart, Target, eBay, Best Buy, and Macy's are just a few stores that will have special deals this month. The advantage of these 'Black Friday in July' sales over Prime Day is that there's no pricey membership fee needed to gain access.
"If you're on a limited budget or facing challenges with credit card debt, then an Amazon Prime Membership is probably not an expense that you should be paying for," Lewis-Parks says. "It's one of those discretionary expenses that's nice to have but needs to be cut from your budget until you get back to a stable financial outlook. However, if you already have a Prime Membership now, it might be worth it to check out the deals to see if you can knock out part of your holiday shopping now with the low prices that they're offering."
"If you start planning for gifts and decorations now, then you can use these sales to score good deals in July instead of waiting for the traditional Black Friday shopping weekend after Thanksgiving," Lewis-Parks advises. "This will help reduce the amount of money you need to spend in November and December, which can help you avoid credit card debt."
Infographic
This infographic explores the high cost of winter holiday shopping and helps you save with a comparison of holiday smart spenders vs over spenders….
Read more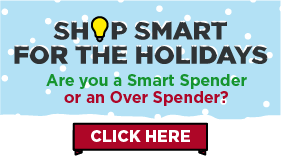 What if you use credit cards for rewards?
Whether it's for Black Friday in July or Black Friday in November, many retailers and credit card companies offer special reward programs for holiday shopping. Using reward credit cards can be useful, however, those reward credit cards are only really rewarding if they're not offset by interest charges.
"It only takes two to three billing cycles of accrued monthly interest charges to offset most cash-back or point rewards that you earn," Lewis-Parks explains. "If you're only making minimum payments on your balances, then you aren't really getting anything. You're just spending more."
If you plan to use credit cards to earn rewards for holiday purchases, then you need to use the right payment strategy. If you start and end a billing cycle with a zero balance on your credit card, then no interest charges apply. This means that to maximize the rewards you earn, you need to pay off the rewards credit card balance in full every month.
If you don't, accrued monthly interest charges stack up quickly. Keep in mind that rewards credit cards tend to have higher interest rates. The average rate for rewards and cashback credit cards is almost 18%.
To see how much those interest charges really cost you, use our free credit card payoff calculator to see how much you paid on last year's holiday shopping:
Estimate your total holiday spending on credit cards from last year on the calculator below.
If you don't know your APR, set it at an average of 18%.
If you don't know how your minimum payment is calculated, 3% is standard.


For the average holiday spending amount of $1,007 for 2018, you'd paid $504.19 in interest charges if you only made minimum payments. This significantly increases the cost of your holiday debt.
Plan to have debt-free holiday this year!
"Planning ahead is often the key to avoiding credit card debt when you're facing challenges with limited income," Lewis-Parks encourages. "So, while it may seem too early, start budgeting for the winter holidays now, so you can focus on enjoying time with your family and friends during the holidays, instead of worrying about how much you're spending."
Still paying off last year's holiday debt? We can help.