What Parents Need to Know about the Advance Child Tax Credit [Updated July 2021]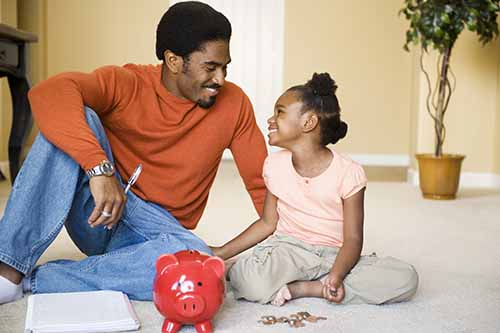 Advance payments for the expanded Child Tax Credit started on July 15. Millions of eligible parents have already started to receive these advances, providing funds that can be used to cover everything from new childcare costs as parents return to work to electronic purchases if your children are still learning remotely.
This guide covers everything that parents need to know about the expanded Child Tax Credit and the advance payments that parents can receive. We've included links to three key portals that the IRS has that can help parents see if they qualify and update their information. If you have any questions, ask us in the comments and we'll be happy to get you the information you need!
Advance Child Tax Credit FAQ
Using Advance Child Tax Credit payments wisely
"There are some important things to consider as parents decide how to use these advance payments," says Gary Herman, president of Consolidated Credit. "First and foremost, childcare may be an issue as things start to get back to normal. If your children are still learning remotely but you get called back to work in person, you may be faced with higher childcare costs. Other parents may be getting back to paying for daycare or after-school care."
Herman encourages parents to evaluate their budgets carefully and to look at upcoming costs that may need to be factored in.
"If your children are going back to learning in a classroom, then you'll have back to school costs that you may not have needed to cover for the past few semesters," Herman continues. "School supplies and clothing may be bigger expenses this year if your children have been learning remotely at home over the past year."
Advance payments may be vital as other relief programs end
Another major consideration needs to be on covering necessary expenses and bills, such as housing and food.
"So far, there has been no talk of a fourth round of stimulus payments," Herman explains. "Moratoriums on evictions and foreclosures are set to end June 30. And many communities are stopping food programs, where families have been able to drive up and get groceries if they are in need. Covering the costs of basic needs for your family such as housing and food is imperative."
Be aware of the potential for garnishment
Another key concern for parents is that the advance payments could be subject to garnishment by private debt collectors.
The IRS has confirmed that payments will not be garnished for any federal debts, such as back taxes, federal student loan collections, or back child support. However, the payments are not protected from garnishment by private debt collectors.
"If a debt collector has received a civil court judgment against you that allows them to garnish your wages, then you need to be aware they can garnish these advances, too."
Understand the impact on next year's tax return and refund
The advances that a parent receives will not be counted as taxable income, given that they are an advance on the Child Tax Credit for your income taxes. However, they may still affect your tax returns next year.
"Receiving advances now may reduce the size of the refund you will receive next year," Herman says. "Given that the tax credit has been expanded this year, that will hopefully offset most of the impact from the advances, but it's still an important point for parents to consider. If you have your withholding set so you don't receive a refund or receive as little as possible, then you may want to consult with a tax professional so you understand how the advances will affect your tax liability next year when you file."
Talk to your co-parent
It's important to bear in mind that only the parent that claims the child as a dependent on their income taxes will receive these advances. It's recommended that co-parents discuss the advances and how the money will be used, so everyone is on the same page.
| | |
| --- | --- |
| Need help finding the best way to use these advance payments? Talk to a certified credit counselor for a free budget analysis. | Free Evaluation |