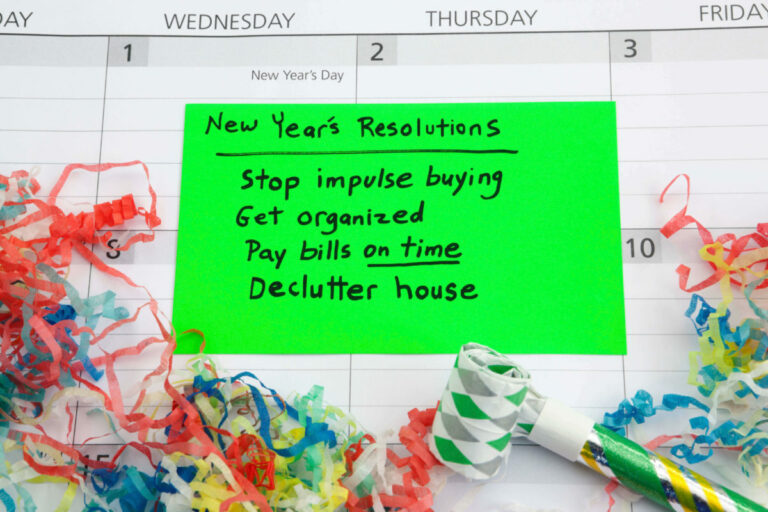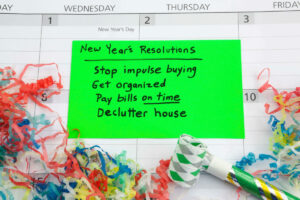 If you're like most people, this time of year probably has you considering your New Year's resolutions for 2023. One of the most popular is losing weight and getting healthy, but why stop there? Use the new year as a chance to get your finances in shape too! This guide will help you get a headstart on five money resolutions you should make for 2023.
Start 2023 strong with these 5 financial New Year's resolutions
It's estimated that 91% of people will give up on their resolutions before February. That's why having a specific strategy is key to beating the odds and being the rare few who will follow through on their 2023 money resolutions. With that in mind, we offer three steps that can give you a head start on the top five money resolutions that people make.
Resolution #1: Pay off debt
Let's start with the most obvious obstacle to healthy finances: debt. Debt can have a direct negative impact on your quality of life and also hurt your mental health. If you have outstanding debt in any form hanging over your head, your primary goal should be to get rid of it.
The most common form of debt for Americans is credit card debt, which carries high-interest rates and can cause small balances to quickly spiral out of control. Medical debt is the leading cause of bankruptcy, and student loan debt is known to significantly impact major life milestones like getting married, having children, and buying a home.
If you're a Consolidated Credit client, you have a jump on this goal because you already have a plan in place to pay down credit card debt and can skip ahead to Step 2. For everyone else, these three steps will help you get started on paying down debt in 2023.
Credit card debt is often the biggest source of financial stress and budget challenges for most Americans so it's important to get a clear understanding of how much of this high-interest rate debt that you have.
Consolidated Credit has a handy credit card debt worksheet that can help. Use this to list the balance, monthly payment, APR and account status for each credit card balance you have. This will help you prioritize your accounts for a debt reduction plan.
In most cases, a good debt reduction strategy will focus on credit card debt first. However, you also want to know how much installment debt you have and what interest rates each loan carries.
You can use Consolidated Credit's free borrowing worksheet to get any easy summary of your loans. You will list the current balance, APR, monthly payments, and the number of payments left. This will help you assess which loans could potentially be paid off this year. If you have student loans, these are usually the debts you want to focus on once you have your credit card debt under control.
You should also explore solutions that can help you pay off debt faster than traditional monthly payments can. For example, if you don't have a plan for you credit card debt, call (844) 276-1544 to get free credit counseling. If you have student loans, explore options for debt consolidation.
Talk to a certified credit counselor to customize a strategy to pay off your debt.
Resolution #2: Save money
Getting rid of debt is an important goal, but to truly achieve financial stability you'll need to build up your savings. It's highly practical and can significantly protect you from falling back into debt in the future.
However, increasing savings isn't always easy, especially if you're in the process of paying off outstanding balances. You can't just hope you have money left over at the end of the month. Instead, you need to make savings SMART and have a detailed strategy to build a nest egg.
Setting a realistic amount you want to save within a set time limit gives you a specific goal. Then you can start mapping out how to achieve that goal by dividing the amount you want to have saved by the number of months you set to get there.
Finding ways to reduce costs in your budget will increase your cash flow, giving you more money to save. Once you've evaluated your budget, make savings a line item in your budget. Savings should be like a bill you pay yourself. It's a necessity!
Making savings automatic ensures that you can save money quickly.
Set up a recurring monthly transfer from your checking account to savings.
You can also ask your HR department to split your direct deposit to send some of your paycheck directly to savings.
Also, check the APY (annual percentage yield), which is the interest rate on your savings account, if it is less than 1%, it's time look for a better savings account.
Resolution #3: Improve your credit score
A better credit score can increase your purchasing power and help you enjoy interest rates and better terms on credit. Don't pay for expensive paid credit monitoring or credit repair services! You can fix your credit yourself for free.
You have three reports (one from each credit bureau). You can download all these reports for free through annualcreditreport.com. If you haven't reviewed your reports recently, get all three and review them carefully.
You want to look for errors, such as duplicate accounts, collections that aren't yours, outdated account statuses, and missed payments that you made on time.
Correcting reporting errors will clean up your credit profile, and it's a consumer right protected by federal law. You can dispute mistakes directly with a creditor or with the credit bureau that issued the report. Use our free guide to repairing your credit for more information.
Instead of paying for credit monitoring, get it for free. Many financial institutions and credit card companies now offer free credit score tracking, so check to see if it comes with any of your accounts. Or you can get a free credit monitoring tool, such as Credit Karma or Credit Sesame.
Resolution #4: Start saving for retirement
Short-term and emergency savings is one thing, but you also need to save for the future. This type of saving requires a different strategy.
More and more employers offer retirement savings tools like a 401(k).
If you aren't enrolled already, talk to your HR department, and get enrolled as soon as possible. Ask them if the company provides "matching," where the company offers to match the contributions you make. For example, a common match structure is that your company will contribute 50 cents for every dollar you contribute, up to 6 percent of your annual salary.
If you are enrolled in your company's plan, review how much you're contributing. Make sure you're contributing at least up to the match limit, and see if you can contribute more.
Next, you'll want to talk to your 401(k) plan advisor. If you don't have their contact information, you can get it from your HR department.
Set up an appointment and review the allocations you have, which invest the money you save. Make sure your allocations are optimized for today's economy and work with the plan advisor to make adjustments where needed.
IRAs offer unique benefits versus a 401(k). For instance, a Roth IRA offers tax-free withdrawals when you retire.
So, consider diversifying your retirement savings. Find a fiduciary financial advisor who can help you set up an IRA and then set up automatic payments to pay into that account every month.
Resolution #5: Buy a home
Buying a home is an exciting step in your financial life. Good planning and preparation can make the homebuying and mortgage approval processes easier.
A good credit score makes it easier to qualify for a mortgage and helps you secure the lowest interest rate possible. Download your credit report for free through annualcreditreport.com. If you find mistakes, go through the credit repair process to fix them.
A housing counselor will help you evaluate your finances and create a customized action plan to ensure you are mortgage-ready. They will help you discover how much home you can afford so you can narrow your search and shop for the right home.
This 8-hour course goes in-depth on how the homebuying process works and what homebuyers need to know to be successful. Upon completing the course, attendees receive a certificate that's good for one year. This certificate is required to qualify for many, valuable down payment and closing cost assistance programs.
If you are ready to connect with a HUD-certified housing counselor, call 1-800-435-2261.