Many employees say they're not ready for a hurricane or other emergency – even though their bosses think they are
With Hurricane Matthew walloping Haiti and bearing down on the United States, it's not just homeowners and renters who are fretting about the storm. A new study from the National Safety Council reports more than a third of employees have no clue about what to do at work when disaster strikes.
Oddly, while employees say they're worried about what a natural disaster could mean at work, their bosses believe everything is just fine…
"34 percent of workers in the United States do not feel well trained in emergency practices, including evacuation."
"75 percent of managers and supervisors say their employees are well trained to handle an emergency."
That "disconnect" worries the National Safety Council.
"A disaster can occur at any time, without warning, and workers must be ready to respond," says John Dony, an NSC director. "Employers are responsible for ensuring not only a safe work environment, but also the proper training so employees return home every day safe and sound."
Some industries are more prepared than others, Dony says – 83 percent of public transportation employees "feel they are equipped to handle an emergency," but that number drops to 51 percent for "food service workers."
The NSC didn't break out their results by region, but Consolidated Credit president Gary Herman learned long ago that people tend to think they're immune from many natural disasters based on where they live.
"If you live in Florida, you might expect hurricanes. But the state also has tornados," he says. "And as New Jersey learned from Hurricane Sandy in 2012, these storms aren't just southern phenomena."
That's one reason Herman compiled this disaster map, which shows just how much of the nation is vulnerable to Mother Nature…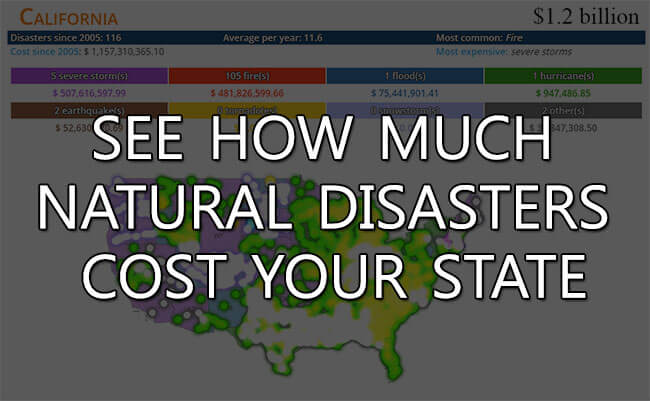 Why is the president of a nonprofit credit counseling and debt-relief agency so concerned about natural disasters? Because they're directly related to debt.
"There are four major causes of financial catastrophes," he says. "Divorce, accident, illnesses – and natural disasters that cause so much damage, they wipe out any savings."
That's why Consolidated Credit compile a detailed report called Planning for Disasters – as well as a follow-up report called Surviving the Aftermath of Disasters. If your debt is already a disaster even without a storm, don't wait for a storm to make it even worse. Call Consolidated Credit at (844) 276-1544 now for a free debt analysis from a certified credit counselor. Sunnier times may come sooner than you think.