How Many Credit Cards Do I Need?
Deciding how many credit lines you need open at any given time.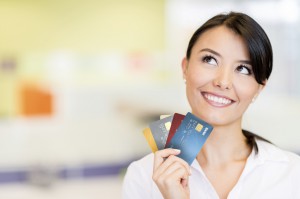 These days, it seems like everyone has their own special credit card that they're sure you absolutely can't live without. But while any number of weird credit cards exists in the marketplace, do you really that many accounts open at once or are you simply creating a recipe for disaster with debt?
The number of credit lines you need really depends on personal preference and your ability to manage the debt. At the same time though, it's important to note that the number of accounts you have does have some impact on your credit score. With that in mind, we've put together the information below to help you understand how the number of credit cards you have relates to your credit score and what this means for your overall financial strategy.
Just keep in mind that all of the strategies below really only apply if you are financially stable and able to manage debt effectively on your own. If you are having trouble with debt, another credit card probably won't get you where you need to be. Instead, call Consolidated Credit today at (844) 276-1544 for a free debt and budget evaluation from a certified credit counselor.