U.S. Household Debt Hits $12.7 Trillion
Is America stable enough to handle the risk of all the debt this time around?
Each week, Consolidated Credit searches for financial research that can help you deal with your debt and budget. This week…
The interesting study
The Federal Reserve Bank of New York released new numbers for U.S. household debt levels. The current data shows where American households stand with debt after the first three months  of this year.
The big result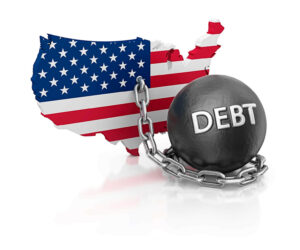 Total U.S. household debt hit a new peak at $12.7 trillion. Total consumer debt is now higher than it was in 2008 just before the Great Recession. Although this is a sign that consumers have recovered enough to borrow at healthy levels, it could also mean trouble. Can the average American family afford to pay back everything they owe now?
The fascinating details
Student loan debt now makes up 11% of total household debt

That's a 5% increase since the third quarter of 2008 right before the crash
Student loan borrowers owe $1.3 trillion, in total

Mortgage debt makes up 68% of total debt

That's a 73% decrease since 2008, meaning the housing market has still yet to fully recover from the crash

Auto loans make up 9% of all debt

That's up 6% from 2008, totaling $1.1 trillion
What the article does mention is credit card debt. According to the latest Federal Reserve data, total U.S. household credit card debt decreased during the first quarter of 2017. Total U.S. credit card debt is just shy of $1 trillion; it's $999,800,000,000 to be exact. Total credit card debt hit $1 trillion at the end of December of last year. However, at least some consumers focused on eliminating debt since.
What you can do
"It's critical to make sure you borrow within your means," says Gary Herman, President of Consolidated Credit. "Taking on debt can be beneficial to reach your financial goals. However, at a certain point you can reach levels that are unsustainable. That leads to financial distress, higher costs with increased interest charges, and a higher potential for bankruptcy."
Herman advises that increased credit card debt spending can often be the tipping point. When you take out loans, the lender reviews your debt-to-income ratio during the underwriting process. If  your debt level is too high, you won't get approved for the loan.
By contrast, you can open a credit card and run up a balance even if you're already near your maximum sustainable level of debt. You may be on the cusp of financial distress and a few extra charges can send you over the edge.
"Take some time as a household to evaluate your debt level. Ideally, your debt-to-income ratio should be below 36% for a stable financial outlook," Herman explains. "If you see your debt is higher than it should be, make a plan to pay off debt. You primary focus for debt elimination should be high interest rate credit card debt first, then student loans."
Continue learning about this topic
Want to know more about consumer debt and average household spending in America? These two infographics can help you understand how the average household spends their budget and what consumer debt really looks like in the U.S. today.