Free Resources for Rebuilding Your Credit
Rebuilding your credit step-by-step to achieve the credit score you want.
If you've faced challenges with debt, there's a good chance you've taken some damage to your credit. But the good news is that your bad score won't last forever and there are steps you can take to rebuild your credit, so you can recover quickly. Some steps can start to improve your credit in just 30 days and most of these steps for rebuilding your credit can be accomplished in as little as six to twelve months.
These resources will walk you step-by-step through the process of rebuilding your credit. You'll learn how to review your credit reports and dispute any mistakes or errors you may find. Then we'll explain how to take positive actions now that can quickly offset any penalties you've incurred in the past. If you have questions, just hit the Ask a Question button at the bottom of the page to get in touch with our certified financial coaches.
Video: Learning how to read your credit report
Your credit report contains vital information that determines whether you get approved for loans, credit cards, property rentals and even pass an employment check. So, it's important to be able to read your report to know what it says and identify potential errors that could be damaging your credit score.
Welcome to the Game of Good Credit! If you want to win, you need the right strategy and you must be able to move effectively through your credit report. From start to finish, there are six sections that can come into play.
The starting point is personal information. This includes basic details likes your name, address, employers and aliases. As you move along, check that everything is correct – especially for aliases. Because if you get confused for another player it can set you back significantly.
The second section you pass through is also the largest – credit history. You move through each account to review payment history and account status. Remember each late payment sets you back, bit by bit. And the longer an account goes unpaid, the further it will put you back. Accounts in good standing with a positive payment history help you move forward. But if you fall behind you can also land on other negative items, like collections, charge-offs, repossessions and foreclosure, which can really cost you credit-wise.
The next section is where you encounter credit inquiries. Too many hard inquiries from authorized credit checks can set you back here.
The next section covers public records, like civil lawsuits and court judgments. If you don't have any of these records on file, this section may not appear and you can skip ahead. But if you owe something like bad child support, it can slow you up. And you may have to payout in order to get moving again. This section also includes third-party collection accounts. These can put you back in a big way, so it's best to avoid them.
Next, you'll run into a section for consumer statements. If you lose a dispute to remove a negative item, you can add a consumer statement that explains what happened. The effect of these statements on your game is always neutral.
Finally, you'll encounter a summary of your rights under the Fair Credit Reporting Act. This isn't really part of the game, so much as a list of rules for fair gameplay. If you read this it helps you understand your credit better so it's easier to win. You can learn about all of the rights protected by federal law, so it's easier to win and achieve the best score possible.
It's important to note that each credit bureau has their own version of your credit report. So, fields may not be exactly arranged the same from one bureau to the next. While the board may look a little different, gameplay should be the same.
For more information on winning the game of good credit, visit ConsolidatedCreidt.org.
Infographic: Cleaning up your credit report
An FTC study in 2013 found that 1 in 4 credit reports contains an error and 1 in 20 contain an error that would damage the consumer's credit score by 25 points or more. So, it's in your best interest to review your credit report regularly so you can spot any errors. When you find them, follow these instructions to clean up your credit report.
Self-Help Guide: Rebuilding your credit
Once you clean up your credit report to correct any mistakes, it's time to take action to rebuild your credit. You can't erase negative items that you legitimately incurred. But the good news is that you can quickly offset them with positive credit actions now. If you follow this advice, you could see your score improve dramatically in the next 6-12 months.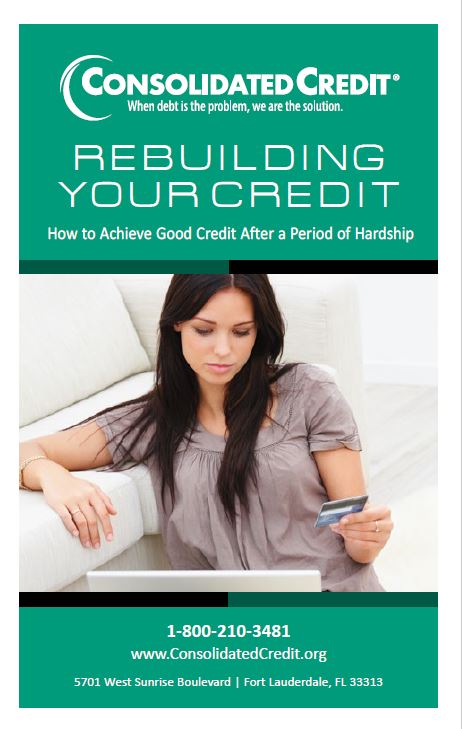 Good credit is essential, but if you've face challenges with debt then your credit score may be lower than you'd like. The good news is that you can quickly offset past credit issues with positive actions now. This guide will teach you how to rebuild your credit step-by-step, so you can reestablish good credit.
Video: How do credit inquiries impact your credit game?
In our next Game of Good Credit video, we explain the ins and outs of credit inquiries. Learn the difference between hard and soft inquiries, how long they remain on your report and how they affect your credit score.
Welcome, to the Game of Good Credit. Winning at the Game of Good Credit means taking the right actions to achieve a high score. So, let's look at how credit inquiries can affect your score.
A credit inquiry happens when you authorize someone to run a credit check. Creditors and lenders run credit checks when you apply for financing. They look at your gameplay history to assess your creditworthiness.
In addition, employers, landlords and even insurance companies can run checks. They review your credit to evaluate risk. Even when you check your credit, it creates an inquiry on your report.
For the most part inquiries have a neutral impact on your credit game – they don't move you forward or back. You can check your credit as often as you want and it won't create a negative item or set you back. Employment and insurance related inquiries have a neutral impact, too. And even when a creditor checks your credit to extend a pre-approved offer the effect is neutral. So, while all these inquiries appear on the field, their effects are neutral. That's why these are referred to as "soft inquiries."
However, if you apply for a loan or credit card, that creates a "hard inquiry." One or two hard inquiries within a certain time is fine – the effect on your game is still neutral. But if you have credit applications – one after another – within a six-month period, then it becomes an issue that can set you back from the high score you want.
If you apply for a mortgage or car loan and shop around, each lender runs a credit check when you request a quote. HOWEVER, in this case you don't get penalized for comparison shopping. All the inquiries get grouped together so the effect is neutral. Just keep in mind that the same thing doesn't happen with credit cards or other types of loans.
For more information on winning the game of good credit, visit ConsolidatedCredit.org
| | |
| --- | --- |
| Have any questions about credit reports or credit repair? Ask our certified financial coaches, so you can start rebuilding your credit with the right information. | Ask a Question |