Money Management Resources
It's time to make your money work for you!
Managing your money effectively takes the right accounts and the right strategy. People often don't take the time to make sure their financial institution and basic accounts meet their needs. But doing so can help you achieve stability faster so you can reach your goals.
Write down your goals and think big! –Melissa Brock, Benzinga #SaveMoney
Click To Tweet
With that in mind, Consolidated Credit has put together this series of free money management resources. They can help you understand the difference between credit unions and banks and give you a roadmap for choosing the right accounts and help you avoid common money mistakes that lead to added costs and debt. If you have any questions, just hit the Ask a Question button at the bottom of the page to get more information from our certified financial coaches.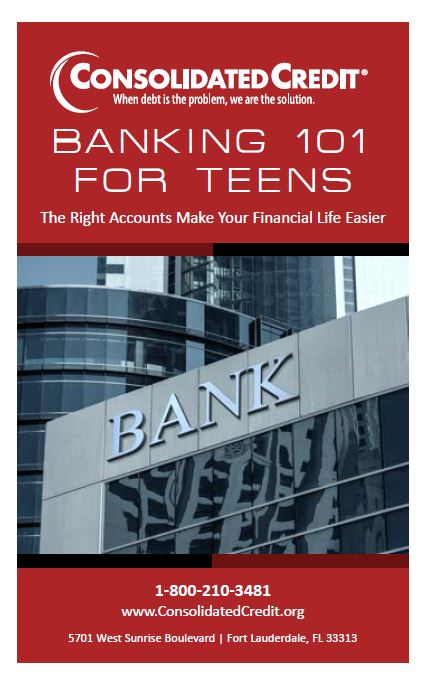 The right checking and savings accounts make it easier to manage your money. This guide helps kids and teens learn about banking basics. Learn how checking deposits and withdrawals work, how savings helps your money grow, and how to avoid fees.
Video: Save money using your money
Choosing the right accounts and financial tools can help you avoid fees and grow your savings faster. This video teaches you Penny Wise ways to save money using your money and tells you how to avoid Pound Foolish choices that can lead to higher costs.
Penny Wise shoppers know how to manage money to save money. When you're Penny Wise, you have accounts that minimize fees. You use Direct Deposit to avoid deposit fees and get instant access to your funds. Pound Foolish doesn't shop around for accounts or they use check cashing stores because they think banks are bad.
Penny Wise makes sure to maintain a savings account that's federally insured. They also check the rate to know how fast their money will grow. Pound Foolish savers never check rates and rarely get beyond basic saving plans. They let fear and lack of knowledge keep them from better tools, like investments. Penny Wise savers use cash equivalents to supplement savings for more growth. And they even explore higher-risk investments that can offer a greater return.
Pound Foolish never shops around for financing or credit, so they wind up paying more. And they don't pay off debt quickly to keep interest charges low. Penny Wise pays off balances in-full every month to use credit interest-free. And they always use a low APR card for big purchases. Pound Foolish gets on a debt treadmill where their balances never go down. And they don't consider options like credit counseling that can help them get off.
For more saving tips, visit ConsolidatedCredit.org
Simple Savings Calculator: See how much you can save!
Want to know how much growth a savings account or investment product will give you? This free simple savings calculator allows you to see how different rates and contribution amounts can make an impact on how quickly you can save.
| | |
| --- | --- |
| If you have questions about how to manage your money effectively, ask our team of certified financial coaches to get the answers you need to be successful. | Ask a Question |