Consolidated Credit In the Community
Outreach and support programs that help build a better world for us all.
Helping clients overcome financial challenges is only half of what we do. Consolidated Credit is an active member of the community, providing support for national and local nonprofits, as well as partnering with organizations nationwide to provide critical financial education programs to help those in need.
The information below outlines Consolidated Credit's recent involvement in the community. If you would like to learn more or explore partnership opportunities for your organization, please call us at 1-888-294-3130 to connect with our outreach team today.
Please use these links to jump to specific featured events and initiatives:
Community Outreach Events
Consolidated Credit Partners with the Palm Beach County Library System to Promote Financial Literacy in the Community
The Palm Beach County Public Library System wants to help residents find the free resources they need to build financial literacy. Consolidated Credit is proud to help in this initiative, providing over 40 educational booklets for adults and teens in English and Spanish.
[Adam S. Davis, Director of System Services, Palm Beach County Library System] One of the things that I'm really excited about in partnering with Consolidated Credit is that we're offering financial literacy opportunities through different methods. I think there's always going to be a need to learn more about finances, credit, owning a house – honestly, just living in the United States.
Just by talking with Consolidated Credit about our program for the next year, I've learned a lot.
[Maribel De Jesus, Multicultural Outreach Services Librarian] Lifelong learning is something that we do at the library. Financial literacy is something that's very important, and for our Hispanic community as well, not just for adults, but for children. And we're very fortunate to also have it available in Spanish.
[Adam S. Davis] Palm Beach County Public Library System celebrated its 50th-anniversary last year in 2019. We offer a ton of services to the community. We have a bookmobile. We have an adult literacy unit. We have talking books for the blind. And if you're homebound, especially during the pandemic, we can actually send books home for free to anybody who's locked down.
Like all organizations, we quickly had to move from in-person activities to online activities. Some of the challenges have been technical. We've had to learn new platforms to provide our activities online. During the lockdown, one of the things we did was move from in-person research to text chat, email, and phone research. We also provided help by offering unemployment applications to the public. We also worked with other community partners to address other needs that they have, such as food access and access to other social services.
When I was approached by Consolidated Credit to put on a series of events throughout the year related to financial literacy, that's right up our alley.
Webinar: Protecting Your Credit During COVID-19
On May 7, 2020, Consolidated Credit's Director of Housing Counseling and Community Development Maria Gaitan co-hosted a Zoom webinar with Latonya Hamilton-Webb of Hamilton Mortgage Associates and Lettely Foster of Hamilton and Associates Real Estate Firm.
The webinar focused on helping consumers understand new credit risks brought on by the coronavirus and economic shutdowns that followed. Participants learned how to protect their credit from new identity theft risks, how deferment and forbearance options could impact their credit and payments, and how to budget to avoid credit damage caused by increased credit card use.
Through the 1-hour webinar, people learned how to overcome new challenges to maintain stability and continue striving to achieve goals like buying a home even though the crisis.
Small Business $ense Readiness Training
In 2019, Consolidated Credit partnered with Comerica Bank to offer the Small Business $ense Readiness Training Program. This 6-week workshop helps small business owners, startups, and entrepreneurs become business-ready in their communities. We held two workshops in Riviera Beach in 2019, as well as in the City of Plantation. More events like this are planned for 2020.
[On-screen text] Business $ense Readiness Training – City of Plantation, Florida – 2019
[Maria Gaitan, Community Outreach Director, Consolidated Credit] Hello. I'm Maria Gaitan and I'm the Director of Community Outreach at Consolidated Credit. We are here tonight at the graduation ceremony at the Business $ense Readiness Training.
We are please and proud to have partnered with Comerica Bank and with the City of Planation. We're proud to bring this education to startups and small business owners who want to grow and prosper in the City of Plantation.
[Gary Herman, President of Consolidated Credit] Hi, my name is Gary Herman, President of Consolidated Credit Counseling and I'm here tonight to help congratulate the new business owners that have participated in the new business owner program. Also, I want to thank the City of Planation and especially Comerica Bank for partnering with Consolidated Credit Counseling on this terrific program.
[Nick Sortal, City Council Member, City of Planation] This is a way to invest in Planation and make our city better. There are a lot of people that have great ideas, but the idea is how can we coach them up to help them do the best that they can. In Plantation here, we want to help people succeed.
Consolidated is among the leaders in teaching fiscal responsibility. They always do outreach, they're always trying to help people.
[Monique "Mo" Corker, External Affairs Marketing Manager, Comerica Bank] Tonight we had the awesome time to hear all of our graduates come and do their business pitch. Sixty-second business pitches are not that easy for everyone, but our graduates have been trained for the last six weeks to believe in their business and pitch it as well.
The Business $ense training is important because we need thriving businesses to have all the tools necessary so that they can go out and actually be powerful in the communities that they serve.
Working with Maria at Consolidated Credit is what we at Comerica Bank say is raising expectations with our community partners. We gave Maria an idea. Maria has taken it and now we're ready to bring it into 2020, so we look forward to you signing up for our next Comerica Business $ense Workshop.
[On-screen text] For more information contact [email protected]. 954-377-9220
2019 Thanksgiving Food Drive, in Partnership with LifeNet4Families
Each year, Consolidated Credit hosts a food drive for Thanksgiving to support a local charity called LifeNet4Families. This organization helps provide support to people experiencing hunger, homelessness, and poverty in South Florida. This year, we're proud to have donated 575 pounds of food ahead of Thanksgiving.
[On-screen text] Consolidated Credit Proudly Supports LifeNet4Families by Donating Over 575 Pounds of Food for Thanksgiving
Melanie Geddes, LifeNet4Families President & CEO: LifeNet4Families provides a gateway to stability for people who are experiencing hunger, homelessness, and poverty. And our community is so diverse, there's so many different needs.
There are people who are working every day, who just find themselves struggling between paying for food for themselves and food for their pets. You'd be surprised how something as simple as an aerosol deodorant can make a difference for someone who doesn't have it. Or a belt for a gentleman that's trying to go on a job interview but can't find pants that are his size.
So, the ways that the community, here, needs us and the ways that the community respond help us to be able to do what we do here every day.
Corporations, individuals, businesses can get involved in several ways. One is just simply volunteering time. What people don't realize is that every single day LifeNet is open. On every given day of the week we need help, at least 20 volunteers. Also, we're totally under-resourced, we have so many people with great needs. And in trying to meet all the needs of the people in our community, we need your help. And the way that you can help is to donate clothing, donate food, donate hygiene products and most importantly donate your resources, donate funds because every dime we use to really make a difference in the lives of others and we're counting on the community to support us.
Consolidated Credit has been so amazing – what a huge support and friend of the agency you guys have been over the years. Without Consolidated, I don't know how we'd even get through some of our tougher times because the food always comes right on time when we need it most. And not just with food, but with resources and volunteer assistance and a senior staff and a leadership team that really, really cares about charity. And with the support that Consolidated gives, they involve their whole organization, all of the staff is involved.
That means so much to us and the people we serve because it's nice to know that an entire community of people are socially responsible and care. And we're so appreciative of everything you've done for us over the years. And this year alone we've received over 575 pounds of food and we can't be more grateful.
Staff: Thank you, Consolidated Credit!
[On-screen text] Happy Thanksgiving from Consolidated Credit
Identity Fraud Workshop at NBC6 Miami
Identity theft doesn't just affect individuals, it affects businesses as well. With that in mind, NBC6 Miami invited Consolidated Credit's financial coaches to host a workshop for their staff in September 2019 to educate them on identity theft prevention techniques. Over 45 staff members learned how to keep their information safe and how to quickly deal with fraud when it happens.
Annual Statewide Affordable Housing Conference
On August 26th, 2019 Consolidated Credit's housing team attended the Florida Housing Coalition's Annual Conference. We joined more than 800 affordable housing advocates, lenders, developers, administrators, and policymakers to learn from a broad range of experts about new cutting training and support for consumers.
MLK Building Financial Blocks teaches responsible saving and spending
Consolidated Credit partnered with schools and churches to teach a MLK lesson often overlooked
[On-screen text] Martin Luther King Day Parade 2019: A financial literacy partnership
Thomas Bambenek, Regional Mortgage Manager – BB&T: The main role for my side of the bank to be here today is for mortgage financing and to provide good housing to people in our community. By bringing the BB&T and working with Consolidated Credit, we think we could expose the community to the advantages we can bring to them and homeownership.
Maria Gaitan, Director of Community Outreach – Consolidated Credit: We at Consolidated Credit are proud to be a financial education partner with BB&T. Their support and commitment to educate the communities they serve is a great example of corporate leadership.
[On-screen text] Bring Financial Education to your Community!
Contact us Today: [email protected], 954-388-9077
In October 1967, Martin Luther King Jr. spoke to Philadelphia high school students and said, "Our slogan must be learn, baby, learn so that we can earn, baby, earn."  King understood that true equality includes financial freedom.  So in the week leading up to Martin Luther King Jr. Day, Consolidated Credit offered free lessons and resources about saving and spending your money. It went so well, Consolidated Credit is looking to repeat these free events next year.
The program, called MLK Building Financial Blocks, kicked off January 15 at Nova Southeastern University in Davie. Consolidated Credit hosted a workshop for students and professors, distributing financial education booklets to students and professors.
That same day at Deerfield Beach High School, Consolidated Credit hosted a workshop and provided students with booklets on the topics ranging from "teenagers and credit cards" to "budgets are cool to learn about in school."  Best of all, students in the workshop received train-the-trainer instruction and other information they can use to mentor even younger students during their week of service.
The very next day, January 16, at Broward College's North Campus, the school's associate director for Military and Veteran Affairs set up a resource table with financial education booklets to give away to students and professors. Consolidated Credit provided all the materials and guidance for the table. On January 18 at Sunland Park Academy in Fort Lauderdale, Consolidated Credit distributed booklets to students on different financial topics.
On January 19 at the Hollywood Broward Library, Consolidated Credit presented a workshop on sound money management, specifically to prepare attendees to become mortgage-ready. Meanwhile, volunteers gave away financial education booklets to patrons and introduced free programs from the Volunteer Income Tax Assistance (VITA) program.
Most ambitiously, Consolidated Credit partnered with three churches on January 20. Along with National Aid Foundation, Consolidated Credit provided financial education booklets to volunteers to pass out at these churches primarily serving the Haitian community.
The monthlong MLK Building Financial Blocks program culminated on January 21 at the Fort Lauderdale MLK Day Parade. Consolidated Credit partnered with BB&T Bank to provide their "Bank Bus" as in-kind donation. The Bank Bus has six computers to run free credit reports. A half-dozen attendees did so, and Consolidated Credit handed out more than 800 out financial booklets.
In all, more than 6,200 booklets were distributed during these events, says Agustina Gimenez of Consolidated Credit Solution's community outreach team.
"We'd hoped to increase awareness of money management during these MLK-related events, and we exceeded even our own high expectations," Gimenez says. "Best of all, the lessons don't end with these events. The long term impact will be the confidence acquired through information in the financial education booklets and workshops, which will encourage attendees to break out of their comfort zone. They'll grow and challenge themselves to have a more stable and sustainable financial plan."
Concludes Consolidated Credit president Gary Herman: "Financial insecurity is rampant in this country, and it doesn't discriminate. It afflicts young and old of every race and religion. Consolidated Credit's mission is to help everyone achieve financial freedom – any day of the year."
Proud partner of the United Way
Consolidated Credit is a proud member of the United Way of Broward County. In fact, our organization sits on the Chairman's Board and we work actively with the United Way to create significant lasting change in the community in the areas of Education, Income and Health – the building blocks for a better life – which positively impacts people's lives.
[On-screen text] United Way of Broward County
Kathleen Cannon, United Way of Broward County CEO: I would definitely recommend somebody to Consolidated Credit. Folks get into a great deal of difficulty with debt. So, they start charging on their credit cards, they're overextended and that they don't realize how long it really takes to get out of that predicament.
So, Consolidated Credit is one of the things, that you really come in and help people move past their debt. United Way, we work with our funded partners, our other nonprofits and often what we do is work with those organizations to bring Consolidated Credit in, so that Consolidated Credit can do seminars and workshops with the staff of those agencies.
And we have found that all of our partners working in nonprofit, we're so busy taking care of clients and consumers and the community that sometimes we forget about taking care of ourselves. I know folks who have been tumbling out of control. It's one call and they felt better. They came in, they met with people and worked through the coaching and really got great assistance. And I know that those folks have referred people as well.
If together we can work with our residents who are struggling, those residents will eventually become financially stable, will be consumers of service, will open businesses, will be blossoming and blooming. So, the synergy between United Way and Consolidated Credit is really community oriented.
Military Outreach and Recognition
Consolidated Credit is committed to hiring National Guard, Reservists, and Veterans
In 2019, Consolidated Credit was proud to be recognized by the Broward area ESGR (Employer Support of the Guard and Reserve) chapter for our commitment to hiring National Guard Members, Reservists, and Veterans.
[On-screen text] Consolidated Credit is proud to support our Military men and women as they return to civilian life.
[Rebecca Heinl, Broward Area Chair, ESGR] Hi, I'm Rebecca Heinl from ESGR. I'm the area chair from Broward Country. It's my pleasure to be with Consolidated Credit today and be a part of the affirmation that they have made to support our military in the times that we need them all. Thank you so much for having us here today. It's our pleasure.
[Gary Herman, President, Consolidated Credit] From my heart I cannot express enough how honored I am on this really terrific occasion to have everyone here to help honor the work that the people at Consolidated Credit Counseling and the entire team do to help support our community, and more specifically the Reservists, the Veterans, and their families. Just to help the community and really appreciate being recognized for the work our team does. Thank you, again.
We join other employers in pledging that we fully recognize, honor, and comply with the Uniformed Services Employment and Reemployment Rights Act. We will provide our managers and supervisors with the tools they need to effectively manage those employees who serve in the Guard and Reserve. We appreciate the values, leadership, and unique skills Service Members bring to the workforce and will encourage opportunities to employ Guardsmen, Reservists, transitioning Servicemen, and Veterans. We will continually recognize and support our Service Members and their families in peace, in crisis, and in war.
We're very honored. Thank you.
Thank you.
[Rebecca Heinl, Broward Area Chair, ESGR] You're welcome. Thank you for all you do.
Veterans Housing Summit
On August 10th, 2019 Consolidated Credit teamed up with the Veterans Association of Real Estate Professionals (VAREP) to host a free homebuying seminar exclusively for Veterans and their families. Attendees learned about VA home loans and how to successfully navigate the homebuying process.
[On-screen text] Consolidated Credit, Veterans Association of Real Estate Professionals
Maria Gaitan, Consolidated Credit Housing Director: Welcome. Good morning. We're here at Consolidated Credit at the Housing Summit for Veterans. We are collaborating today with the Veterans Association of Real Estate Professionals, with Wells Fargo Bank, the Loan Depot, and a number of other companies that will help Veterans make the dream of owning a home a reality.
My name is Nayda Reyes and I am the President for the Veterans Association of Real Estate Professionals in Broward County. I'm also a real estate agent. Our main goal is to service our Veteran community. And one of the most important segments of our being a VA rep here in the local community is to collaborate with other organizations, nonprofit organizations, that also have the same goal that we do, which is the Veteran.
We were lucky enough and very honored to be working with Consolidated Credit Solutions, so we can go ahead and put together a Veterans Housing Summit for Veterans and teach them everything they need to know about the VA home loan program, budgeting, their credit, also payment assistance.
Hi, my name is Jeanette Perdomo. I'm with Action Title Agency.
Hi, my name is Mario Cerrato. I am a U.S. Marine Corps Veteran. I served six years as Corporal and I am the Vice President of the Veterans Association of Real Estate Professionals and I also have a job. My job is I'm a branch manager at Loan Depot, the 5tgh largest lender in the U.S. and I'm happy to be here sharing this opportunity to give back to our Veterans and partnering with Consolidated Credit.
Good afternoon, my name is Barnaby Robles, Branch Manager with Wells Fargo Home Mortgage. But today I am Petty Officer First Class Barnaby Robles, former United States Navy Submariner and we are here in partnership with Consolidated Credit for our Veterans Housing Summit, where we are educating Veterans on the benefit of homeownership and the benefits that apply to them in the case that they want to purchase a home.
My name is Phil Weiss and I'm the owner of Weiss Home Inspections.
Hi, I'm Patricia Clawson Hamilton and I'm Alex Hamilton and we are Clawson Insurance in Weston, Florida. We're happy to be here collaborating with Consolidated Credit Solutions and the Veterans Association of Real Estate Professionals to help Veterans find their home and make wise financial decisions.
My name is Wiley Hughes. I'm a Veteran of the United States Marine Corps and I am here because my wife and I, we want to buy a house.
Hello, my name is Azaria Tomlinson and I'm a Veteran of the United States Navy. I came today so that I can learn about all the Veteran benefits available to me to help with the purchasing of my first home.
Maria Gaitan, Consolidated Credit Housing Director: It is the end of the day and I am so happy to have been here, meeting all these Veterans who want to become a homeowner, and who came today to learn all the steps required to make that a reality. Thank you to all the presenters and to all the Veterans, I invite you to call a HUD-certified housing counselor at 1-800-435-2261 to make an appointment, so we can work with you directly to help you make the dream of homeownership a reality.
Department of Defense acknowledgment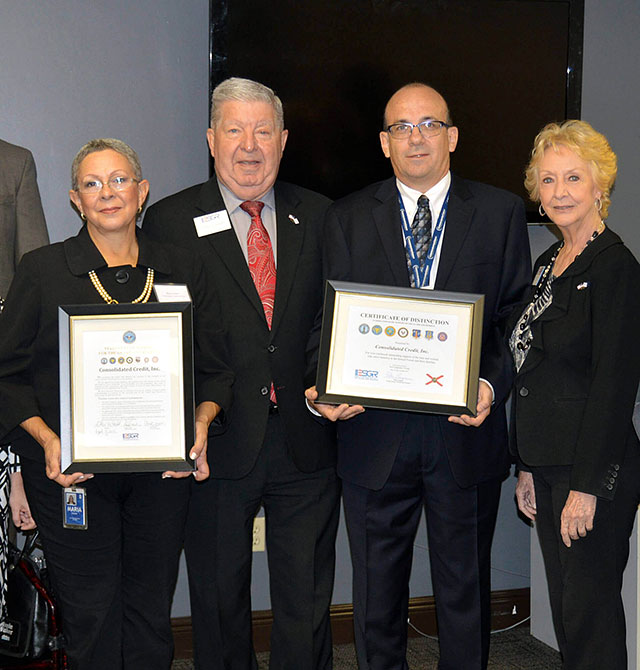 In 2015 Consolidated Credit received a Certificate of Distinction from the U.S. Department of Defense for our continued outreach and support of the men and women who serve in our Armed Forces. A Statement of Support for the Guard and Reserve was also signed, reaffirming our organization's commitment to help military families, reservists and veterans find the financial help and education they need to be successful.
"We are committed to helping Americans who serve with dedication in our Armed Forces to get ahead here at home," says Hilton Sher, Vice President of Consolidated Credit. "Whether an individual is actively serving, on reserve, or has already transitioned to civilian life as a veteran, they face unique financial challenges that require specialized assistance, education and readily available resources for personal financial growth."
In 2015, Consolidated Credit has partnered with the Broward County Urban League and United Way's Mission United Supportive Services Committee to hold monthly workshops for Veterans who are at risk of becoming homeless. The workshops are designed to provide tools and community resources that Veterans can use to resolve their hardships.
U.S. Army Garrison-Miami recognition
In 2014 Consolidated Credit was proud to receive a letter of recognition and appreciation from the U.S. Garrison Manager here in South Florida. This letter recognized the ongoing financial education initiatives Consolidated Credit offers to service members and their families to promote better financial education.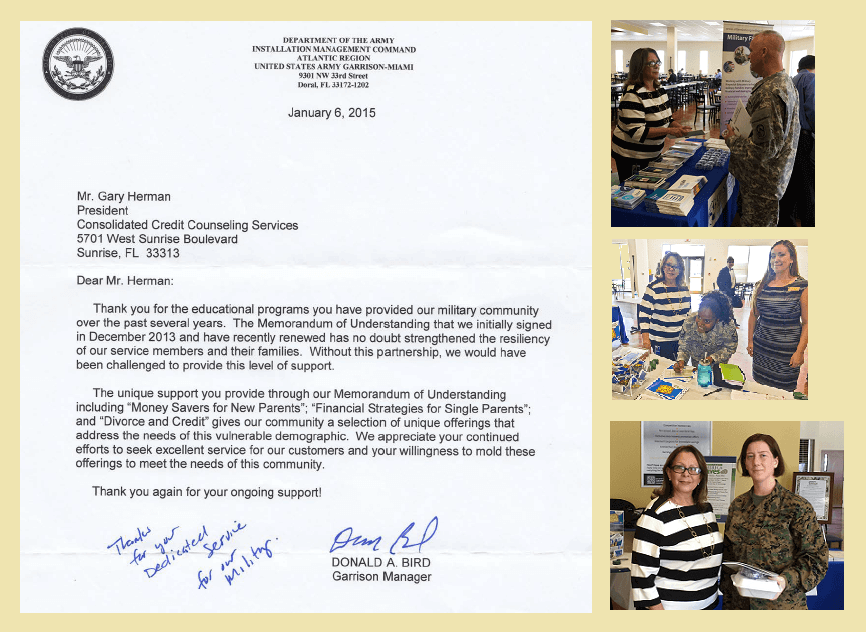 On August 7, 2015 Consolidated Credit was proud to participate in the U.S. Army Garrison – Miami Community Fair Celebration. Partnering with Army OneSource and the Florida Military Alliance, we were able to provide financial education and resources to over 1,000 of Florida's military service members and their families.
Consolidated Credit celebrates 25 years of financial literacy
"You make one call to Consolidated Credit and here's what happens,"
"Freedom! (Freedom!) All across America people are celebrating their freedom from credit card debt they're using Consolidated Credit."
"Consolidated Credit when debt is the problem, we are the solution."
"The debt suckers Hi-Rate and Hi-Pay are everywhere. Because Debt sucks!"
"Hi, my name is Gary Herman, President of Consolidated Credit and I'm proud to announce that we're going to continue to be here for as long as the community needs us, and we thank everybody for your support."
-Gary Herman, President of Consolidated Credit
"If you're not working on a budget get to a place like consolidated credit."
– Barnaby Robles, Branch Manager Wells Fargo Mortgage
"When you work with Consolidated Credit there are ways to improve your credit score."
– Gregory T. Gentille, Vice President, Producing Sales Manager, Suntrust Mortgage, Inc.
"I've been working with Consolidated Credit. I've had them come out to the school do special programs for our veterans."
– Oscar Feliciano, Associate Director of Military and Veterans, Broward College
"I've been encouraging them to sign up for homebuyers' education class, you guys offer the 8-hour class."
– Evett M. Francis, Community Access and Engagement, Fannie Mae
"Homeowners, but also in how we market financial products and how we really think about the stability of a family really over the long run."
– Eric Selk, Executive Director, New Hope Alliance
"Having tools like this is very important to everyone I mean whether it's our members or not, I think it's really important to get that out there and try to educate as much as we can."
– Lori Cooke, We Florida Financial
"You folks do a phenomenal job, and it's so important to educate everybody plus our men and women that serve our country."
– Peter Caspari, Employer Outreach Director, U.S. Department of Defense
Consolidated Credit's outreach efforts started with the creation of free financial publications with five fundamental titles and now has expanded to over 40 publications in English and 15 in Spanish.
Credit Dojo is an interactive 16-part financial education course that puts a fun spin on basic financial literacy topics to help engage the audience. It allows users to work at their own pace to truly grasp the information.
Consolidated Credit offers free monthly financial webinars that covers seasonal and trending topics live webinars give a user the opportunity to interact with a financial coach and the on demand allows people to learn around their busy schedules.
In the past 25 years we have helped over 6 million people our debt management program rules multiple debts into a single consolidated repayment schedule our certified credit counselors help consumers to see where their money is being spent, teach them how to budget, and negotiate with creditors to reduce or eliminate interest rates, as well as stop penalties and fees.
Consolidated Credit has been serving the Hispanic community in the United States in Puerto Rico for over 15 years. They offer a full Spanish website with specific content to help Hispanics with personal finances in video format webinars social media presence and articles tailored to the Hispanic community.
Consolidated Credit is a pioneer in financial education launching its first website in 1998 from then to now their focus has been to spread information and tools that help people become financially stable and prosper. Innovation and ease of use has been key and Consolidated Credit being successful.
Consolidated Credit is approved by the US Department of Housing and Urban Development to provide housing counseling personal attention from HUD certified counselors teach consumers financial concepts and how to assess their financial picture to enable them to take the steps to fulfill the American dream of homeownership.
Education is offered in person and online making the program's accessible to the masses often the options solutions and advice counselors provide can mean the difference between success as a homeowner and foreclosure.
Consolidated Credit's business product is KOFE which stands for Knowledge of Financial Education. The financial wellness online platform builds on consolidated credits 25 years of counseling experience to provide a two-part approach to financial education through a combination of self-help resources tools and interactive features combined with one-on-one financial coaching users can build a strong foundation that leads to long-term financial stability.
Consolidated Credit employees say:
"5 years, 1 year, Over 20 years, 15 years, 3 and a half years, 17 years, a year and a half, 3 years, 19 years, 10 years, 6 years, 3 years, 20 years, 11 years, 10 years, 17 years, 22 years."
"I work with great people they're always supporting of me."
"We help millions of people get out of financial debt."
"It's a great working environment. The opportunities there are so many angles has so many facets to what we do."
"I love what we do, and I believe in what we do."
"You don't feel alone your part of an organization that values you and respects you."
"I spend nine hours here you know, you get close to these people you really do."
"Everybody is very friendly it's a great camaraderie a lot of teamwork everyone's very willing to help."
"It's very lively. We have a lot of longevity."
"Here at Consolidated, we are a family."
In-house financial education
Consolidated Credit's Community Outreach Team proudly offers the following in-house programs.
Consolidated Credit's Financial Education Advisory Council is made up of Consolidated Credit senior staff members and community leaders who serve as ambassadors of our financial education programs as a whole. The council comes together to use their experience, resources and knowledge to promote financial education and support relevant programs here in South Florida.
Through its Housing Outreach team, Consolidated Credit participates in several HUD-approved programs, including the Making Home Affordable Program.  In this third quarter of 2015, Consolidated Credit's HUD-certified Housing Counselors reached over 1,423 eligible homeowners for Post-Modification Counseling. The team also works with Florida residents to help them navigate and take advantage of Florida's Hardest Hit Fund Program. The team also offers First-Time Homebuyer Courses, reaching 97 prospective homeowners through locally offered free workshops in the third quarter of 2015. The course is now also offered online through Ehome America; 40 prospective homeowners have taken advantage of this online resource since it launched this year. Joseph Cvelbar, Consolidated Credit's Director of Housing, was invited to be a panelist at the Consumer Lending Regulatory Compliance Conference in New York.

The Military Outreach program was greatly expanded in 2014 through partnerships with organizations like Southern Command and Army OneSource in order to reach more military service members, veterans and their families with critical financial education and support. Through these partnerships Consolidated Credit was able to host dozens of military-focused webinars and local seminars throughout the year. The Housing Department Manager, Maria Gaitan is a member of the United Way "Mission United" initiative, as well as the Supportive Services committee and Housing for Veterans sub-committee. Consolidated Credit was also the representative counseling organization invited to participate in a Veterans Outreach Event organized by U.S. Senator Marco Rubio.
Financial education partnerships
The following information outlines financial education partnership programs. Companies and nonprofit organizations alike work with Consolidated Credit to promote financial wellness as a part of their benefits packages – helping their staff to understand their financial world so they can be more focused at work. The list is in alphabetical order if you're looking for a partnership with a specific organization.
Boca Raton Regional Hospital. Consolidated Credit partnered with the hospital to provide an online portal of financial education resources and tools to help its 2,100 staff members find stability and achieve success. This support helps staff members address financial challenges in their daily lives, so they can focus on the industry-leading programs they run in oncology, cardiovascular disease, orthopedics, women's health and neurosciences.

Department of Treasury. Working in direct coordination with the U.S. Treasury Department, Consolidated Credit launched a robust multi-session program in the first quarter of 2014 designed to help homeowners understand and take advantages of HAMP mortgage modification initiatives offered by the federal government.
Early Learning Coalition of Miami-Dade/Monroe. In 2014 Consolidated Credit partnered with the Early Learning Coalition to provide financial education and onsite workshops for the coalition's 300+ employees. We also regularly participate in their Benefit Wellness Fairs.
Eau Claire Area School District. This new educational partnership for 2015 with the eighth largest school district in Wisconsin. Consolidated Credit provides online and offline educational resources to all employees for 12 elementary schools, 3 middle schools, 2 high schools and 2 charter schools.
F & A Federal Credit Union. Consolidated Credit partnered to bring financial education and tools to the 44,000 members of this credit union. F & A Credit Union serves Los Angeles County Forestry employees, employees of the Fire & Agricultural Departments, as well as families of cities that contract services with the LA County Fire Department.
Miami Lighthouse for the Blind and Visually Impaired. Established in 1931, this is the oldest and largest private agency serving the visually impaired in Florida. Consolidated Credit provides educational support and onsite workshops for employees so they can find stability and focus on serving members of the community.

This independent nonprofit organization works in conjunction with local government agencies in Miami-Dade County to provide financial coaching and wellness programs to residents. Through their partnership with Consolidated Credit, Operation Hope has been able to expand their services to include free housing counseling and credit counseling services, as well as a wider range of financial education resources and tools.

TOUCH Broward. This collaborative effort between more than 20 organizations and coalitions to support efforts that reduce financial disparities and improve the well-being of Broward County residents as a whole. Consolidated Credit provides monthly workshops, as well as small-group and one-on-one coaching and financial education materials.
The Tree of Life Ministries of Orlando. This nonprofit organization was created to serve the homeless population of Central Florida with the goal of helping people get a new start on life. Consolidated Credit provides members with budgeting and saving seminars and financial education materials to help them become self-sufficient through money management and financial training.

This pre-college preparatory program for youth in grades 9-12. It is designed to challenge high school students to develop the right skills, habits and attitude required to succeed once they move on to post-secondary education. Consolidated Credit's partnership allows students to gain access to key financial topics that are critical for their success after graduation.

Villa Madonna of West Palm Beach. Consolidated Credit developed a partnership with Villa Madonna in order to provide financial education seminars to Spanish speaking senior citizens who live on fixed incomes. Classes also taught methods to prevent identity theft, which seniors often fall prey to in an increasingly technology-based world.
Community relations
Consolidated Credit is an active organization in the community. Each year, the company and staff members dedicate time, resources and financial support to over 20 organizations. The following list outlines some of these endeavors; they are listed in alphabetical order by the event name if you are searching for something specific.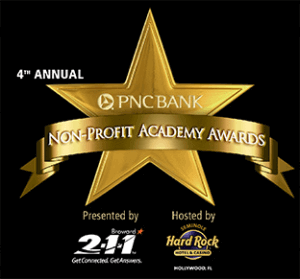 Andy's Pasta Dinner. Consolidated Credit also sponsored the 12th annual pasta dinner that raises money for LifeNet4Families. More than $118,000 was raised for the South Florida Cooperative Feeding Program. Consolidated Credit proudly supports LifeNet4Families and participates in this annual event each year.
American Heart Association. Consolidated Credit is a supporter of the American Heart Association and assisted with the kick off their Broward Heart Ball with this special event designed to bring awareness to the American Heart Association's mission on a local level for their continued support.
Food Drive for LifeNet4Families. Each year Consolidated Credit participates in LifeNet4Families' annual food drive. In 2014, employees held a drive throughout the month of December, collecting over 350 boxes and cans of food for the organization.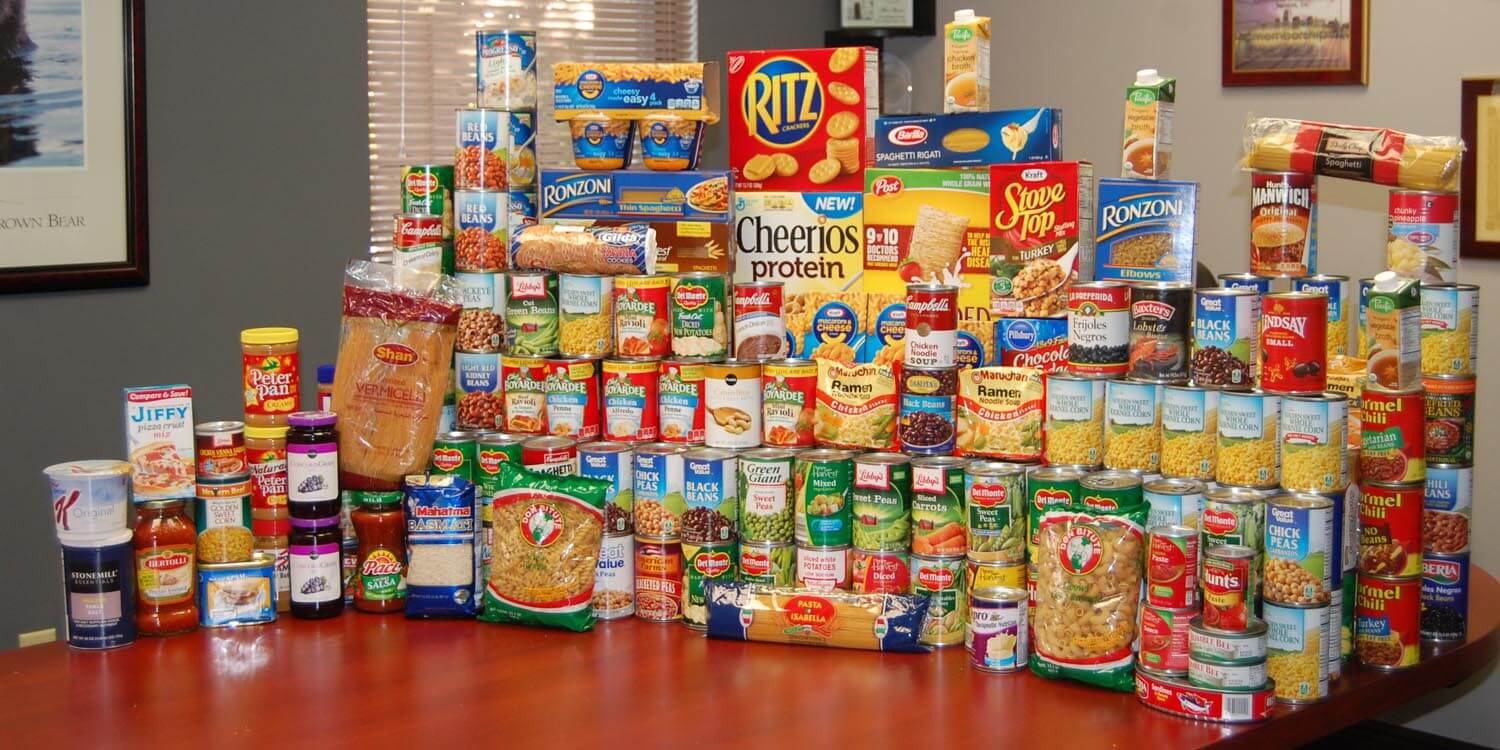 Henderson Behavioral Health Toy Drive. Consolidated Credit also participates annually in the holiday toy drive for Henderson Behavioral Health. This year, Consolidated Credit was able to donate over 150 toys for children of families experiencing economic hardship.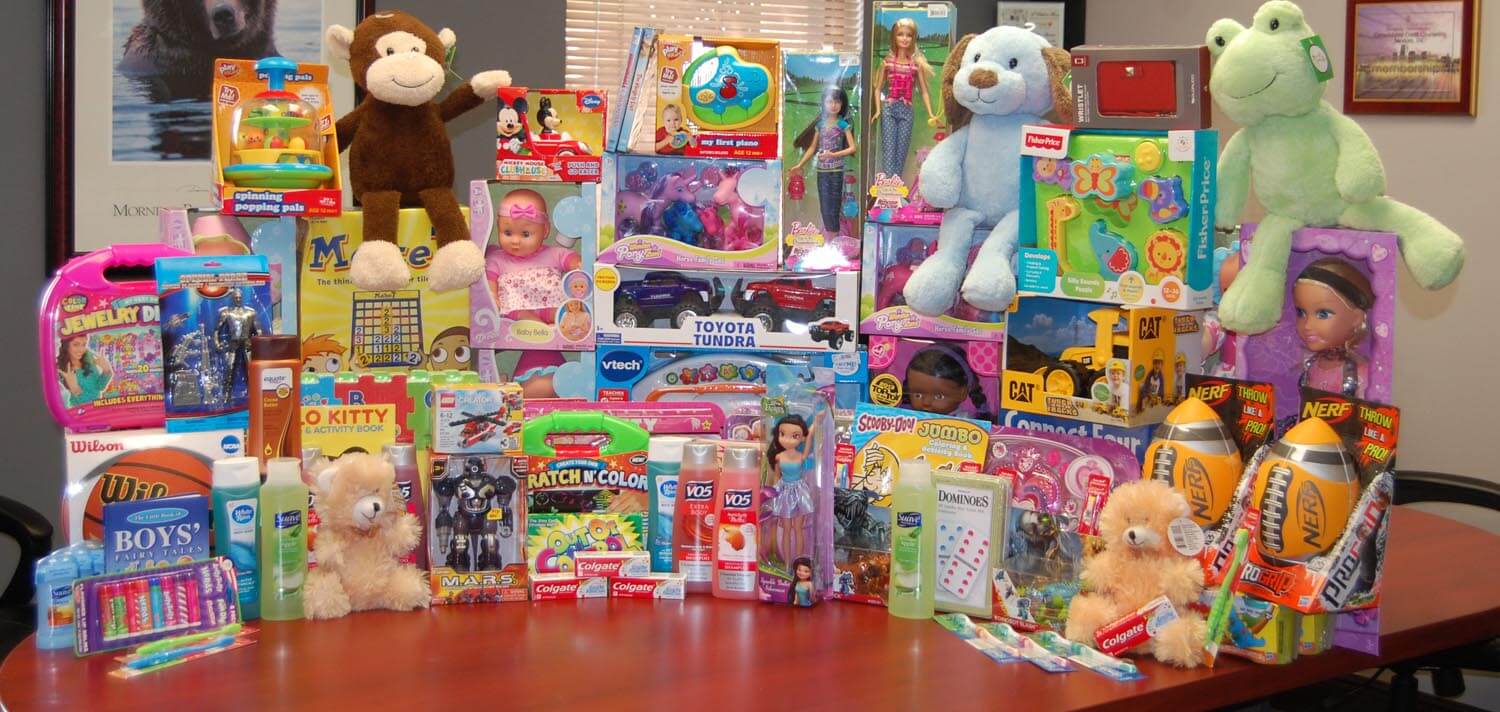 Junior Achievement 2014 Bowl-a-Thon. Consolidated Credit actively supports Junior Achievement of South Florida, with teams of employees participating each year in JA's Bowl-a-Thon. Staff members raise money and bowl in teams at the final event. In 2014 our staff was able to raise over $17,000 to support JA's mission of empowering youth to achieve economic success.

Mind, Body, Soul-utions Gala. Another event to support the efforts of Henderson Behavioral Health to provide accessible and cost effective behavioral healthcare services to community members throughout South Florida. Consolidated Credit sponsored the gala held in March designed to raise money and recognize Henderson's efforts that reached over 25,000 people in 2013 alone.

This critical program supports U.S. military service members, veterans and their families who live in Broward County. Through a partnership with Consolidated Credit, Mission United is able to provide ongoing webinars and local seminars and workshops designed to help those who serve to find financial success. This program reaches hundreds of service members and veterans every quarter, with resources and materials that focus on everything from housing counseling to effective strategies for transitioning to civilian life.

Reid & Fiorentino Celebrity Golf Classic and Call of the Game Dinner. Consolidated Credit participated in this event in March of 2014, lending our resources, time and money to support. All of the proceeds generated from the event benefit Lauren's Kids, a nonprofit organization dedicated to preventing child abuse and providing rehabilitation services to abuse survivors.
Technology Leadership Camp. Consolidated Credit hosted high school students who attended this event organized by the City of Lauderhill Police Department in partnership with the STEM-MED school. The 21 students in attendance receive instruction on a variety of financial topics, from How to Afford College to The Psychology of Spending.
United Way of Broward County's 2014 Mayor's Gala. As a proud member of the United Way Chairman's Circle in Broward county, this is just one of the events that Consolidated Credit participated in over the course of 2014. This gala recognized the efforts of the 31 mayors within Broward County who work with the United Way to provide significant and positive changes for members of their communities.
United Way of Broward County's 2014 Rock United. Consolidated Credit sponsored this event held in September raised over $30,000 for local community initiatives. Each band participating in the event raised $1,000 and seven bands battled it out while earning funds to support community needs.